'Better Call Saul' Season 1 Spoilers: Episode 4 Reveals Where Saul Goodman Got His Name; 'Hero' Recap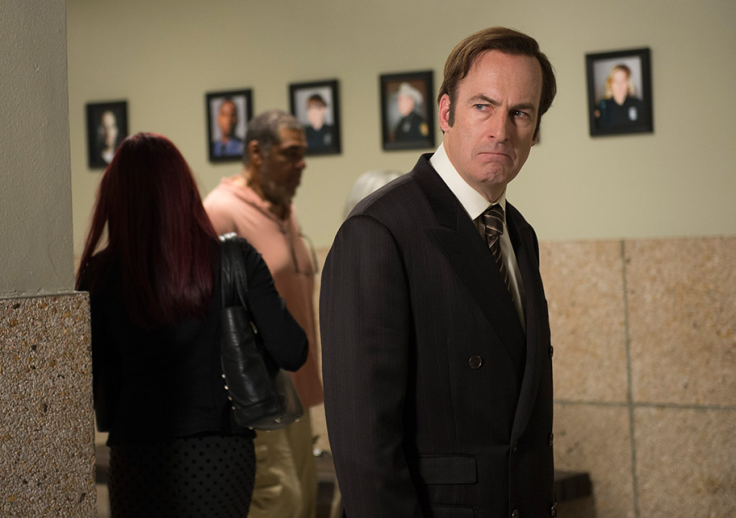 Former "Breaking Bad" fans have been enjoying watching lowly public defender Jimmy McGill (Bob Odenkirk) slowly transforming into the sleazy Saul Goodman in "Better Call Saul." In episode 4, "Hero," fans got the most revealing peek yet at how Jimmy McGill will eventually become the classic "Breaking Bad" character, including the origin of the Saul Goodman name.
The first scene in the episode showed an even younger Jimmy – from his Slippin' Jimmy days – out drinking with a new friend named Stevie (Kevin Weisman). Walking in an alley after leaving a bar, Stevie asked Jimmy for his name. Jimmy replied with a rather telling joke.
"Saul," said Jimmy. "S'all good, man."
The play on words may just be the origin of Saul Goodman – the lawyer alter ego Jimmy will eventually assume before his "Breaking Bad" days.
In Saul's first appearance on "Breaking Bad" – Season 2, episode 8 – Saul told Walter White (Bryan Cranston), "My real name's McGill. The Jew thing I just do for the homeboys. They all want a pipe-hitting member of the tribe, so to speak."
Apparently, there is more to the story of the name than just wanting to sound Jewish.
Episode 4 of "Better Call Saul" also revealed the origin of Saul Goodman's successful law practice. After Jimmy found the Kettlemans in the desert, he tried to convince the couple to hire him – with their embezzled money – as his lawyer. They refused, telling him he was "the type of lawyer guilty people hire." Instead the criminal duo offered the lawyer a substantial bribe.
Later, in his office, Jimmy laundered the bribe, funneling the thousands of dollars into made up retainers, and uttered a prophetic statement – "Upon this rock I will build my church."
Jimmy used the bribe proceeds to buy a fancy suit – while eyeing up some fancy ties that looked an awful lot like the colorful garments he was famous for sporting in "Breaking Bad" --curl his hair at the salon, and procure a billboard that essentially copied the Hamlin, Hamlin & McGill logo – and the exact look of Howard Hamlin (Patrick Fabian). When the big law firm came after him, demanding he remove the billboard, Jimmy staged a publicity stunt, saving the worker who was taking down the billboard after he pretended to fall. The stunt earned Jimmy some much needed press and his first real clients.
Saul Goodman & Associates is only a matter of time now!
What did you think of "Hero"? Tweet your thoughts to @Ja9GarofaloTV
© Copyright IBTimes 2022. All rights reserved.
FOLLOW MORE IBT NEWS ON THE BELOW CHANNELS