Beyoncé And Jay Z Album: What To Expect From The Rumored Collaboration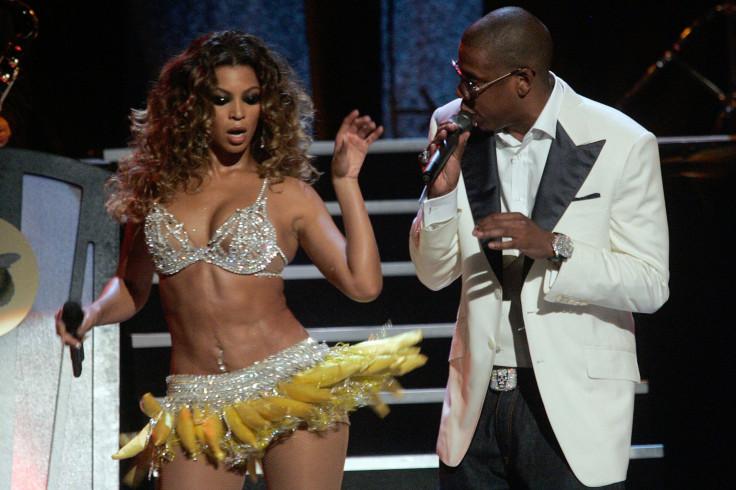 Beyoncé and Jay Z already shocked fans with the "On the Run" tour in July, which was their first tour together. Now, the power couple is reportedly making an album together. Beyoncé and Jay Z have already collaborated on a number of hit songs, including "Bonnie & Clyde," "Crazy in Love," and "Forever Young." Fans could expect even more duets from hip-hop's favorite team based on a new report from E! News.
Karli Henriquez, vice president of pop programming at Dash Radio, tells E! News the married musical pair is putting together a "huge" new album, and Dash's DJ Skee added that it is set to be released in late 2014 or early 2015. So what can we expect from this new album?
Talk About the Elevator Fight
On May 5, after the Met Gala in New York, Solange, Beyoncé and Jay Z got into an elevator at the Standard Hotel with Beyoncé's bodyguard. Solange is seen yelling and kicking Jay Z in a video obtained by TMZ. Beyoncé seems to do nothing as she stands next to her husband. At one point, Beyoncé's bodyguard has to restrain Solange but that doesn't deter her from kicking Jay Z. Toward the end of the video, Beyoncé seems to block Solange from Jay Z and, despite the lack of audio, it appears she says something to her husband.
The family later released a statement, which said, in part: "Jay and Solange each assume their share of responsibility for what has occurred. They both acknowledge their role in this private matter that has played out in the public. They both have apologized to each other and we have moved forward as a united family."
While Beyoncé briefly addressed the situation on her remix to "Flawless," saying, "Of course sometimes s---- goes down when there's a billion dollars on the elevator," we can probably expect Beyoncé and Jay Z to further address the matter on their upcoming album.
Talk About Divorce Rumors
Did they create divorce rumors to raise ticket sales for their "On the Run" tour? Was there ever trouble in paradise? Beyoncé and Jay Z may finally speak out about the breakup rumors that plagued the couple since the infamous elevator fight. The entrepreneur reportedly cheated on his superstar wife with protégés Rihanna and Rita Ora, as well as singer Mya and a VIP hostess in New York named Casey Cohen. A source even told the New York Post in August, "I'm definitely not sure that they'll make it to Paris. There are lawyers that have now joined the tour, and they're not here just to see them perform. They are here to help hash things out." Jay Z and Beyoncé had their final two shows for their tour in Paris this past weekend.
Blue Ivy Speaking
Beyoncé already created an amazing amount of buzz when she dropped her self-titled album in December without prior promotion. Even more exciting was that Blue Ivy was featured on her final track, aptly titled "Blue." It was the first time fans got to hear Blue speak, as she called out for "mommy." Then, this year at the MTV VMAs, Blue Ivy clapped for her mom as Beyoncé accepted the Video Vanguard award, and she could be heard saying "mommy," which made the audience ecstatic. Expect more from Blue Ivy on Beyoncé and Jay Z's first full album together.
© Copyright IBTimes 2023. All rights reserved.