Biden Believes China Will Not Invade Taiwan; Says There's No 'Imminent Attempt'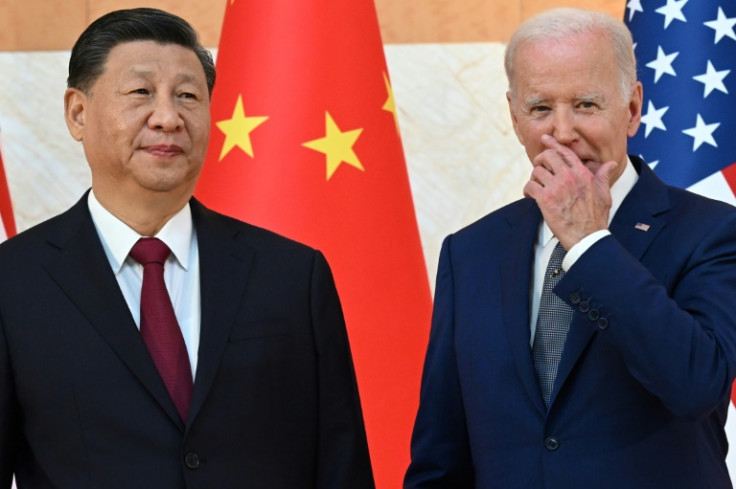 KEY POINTS
President Joe Biden doesn't believe a "new Cold War" is brewing between the U.S. and China
Chinese President Xi Jinping told Biden the Taiwan issue is the "first red line" of U.S.-China relations
Biden and Xi agreed to maintain communications after their first in-person meeting
President Joe Biden does not think China will invade Taiwan, following his first and closely-watched in-person meeting with Chinese President Xi Jinping.
"I do not think there's any imminent attempt on the part of China to invade Taiwan," Biden was quoted by Fox News as telling reporters Monday after meeting Xi on the sidelines of the G20 Summit in Bali, Indonesia.
The president stressed that his administration's policy on Taiwan has not changed, as he urged Xi to peacefully resolve cross-trade issues.
Biden also dispelled concerns about whether there is a brewing "new Cold War" between the U.S. and China, describing Xi as not overly confrontational but instead "the way he's always been: direct and straightforward."
But Biden warned his Chinese counterpart that any "aggressive" actions on Taiwan could put peace at risk.
On the other hand, Xi told Biden that the Taiwan question was at the "very core of China's core interests" and was the "first red line" that must not be crossed in relation to the U.S.-China bilateral ties.
The Chinese leader urged Biden to translate America's commitment to resolving Taiwan issues into concrete actions, according to a report by the Chinese state-run news agency Xinhua.
The highly-anticipated meeting, which lasted nearly three hours, came after China broke off routine communication lines with the U.S. following the unprecedented visit of House Speaker Nancy Pelosi to Taiwan in August.
The two leaders discussed a wide range of issues, including competition, climate change and the threat of North Korea.
Xi told Biden that he opposed the "weaponization of economic, trade, scientific and technology exchanges" after former President Donald Trump launched a trade war against his country in 2018.
According to a readout provided by the White House, Biden raised his concerns over reported human rights abuses in Xinjiang, Tibet and Hong Kong.
Biden and Xi reiterated their opposition to using nuclear weapons in Ukraine and stressed that a "nuclear war should never be fought and can never be won."
Both leaders agreed to maintain communications between the two countries and follow up on their Bali meeting, with Secretary of State Antony Blinken planning to visit China in early 2023.
© Copyright IBTimes 2023. All rights reserved.