Big Pot Security Detail: Marijuana Security Industry Draws Military Vets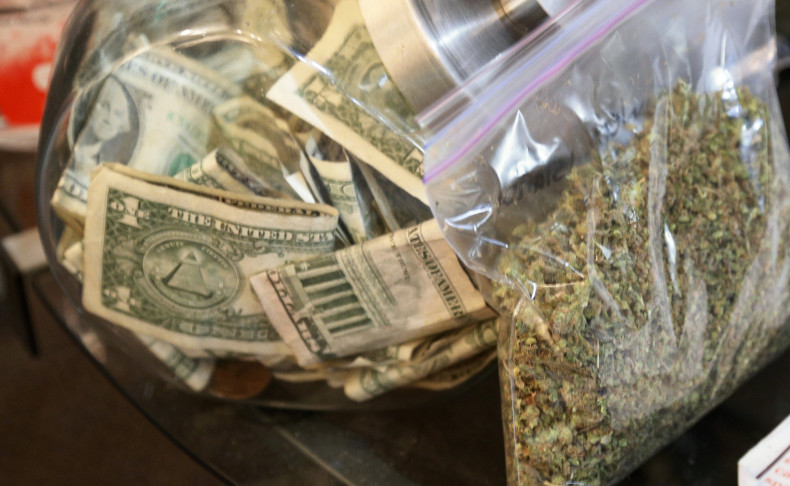 After six years as a vehicle operator in the Air Force, David Keyes could drive anything with a steering wheel and tires. During two deployments in Iraq and one in Qatar, he helped transport high-ranking officials through dangerous territory.
These days his cargo is vastly different and a lot more lucrative — legal marijuana and lots of cash. After trying various jobs as a civilian, Keyes eventually got into the cannabis security business.
"I didn't want to sit around. I think I went like a week and a half without a job," he says. But after working first at a crating company and later a crime scene cleanup service, he decided to switch industries and take a few shifts as a night security guard for a Colorado marijuana dispensary.
"And the more you think about it, a lot of the skills transfer," Keyes says, noting that it's not about the physical tasks of security work, but the discipline and ability to adapt to sometimes onerous regulations. "I took a pay cut, but I saw a huge opportunity."
The bet paid off. Today he's the operations manager at Security Grade Protective Services, a security firm based in Denver.
Keyes is not the only one to make this connection. Military veterans are a growing class of workers helping to solve a big problem in the legal cannabis industry.
Legal marijuana is one of the fastest-growing industries in the United States. The market grew 74 percent last year to $2.7 billion, up from $1.5 billion in 2013, according data from ArcView, and could be worth between $20 billion and $35 billion within the next five years, by some estimates.
The expanding pool of entrepreneurs still faces barriers. Not only are they working with a high-value product, but cannabis remains a so-called Schedule 1 substance at the federal level, which means banks are hesitant to provide services of any kind to marijuana operations.
Now, business owners not only have to look after their high-value product, but also handle vast amounts of cash each day. And the Colorado Revenue Service has to adjust its security measures around tax time to help accommodate the boxes and bags of cash that come in.
"Security is a concern," says Taylor West of the National Cannabis Industry Association. "Aside from the financial problems, the safety is one of the biggest. Employees are at risk since people know where there will be large amounts of cash."
Most dispensaries look more like banks than health food stores, with multiple security cameras, secure access doors and specially trained staff. Transport is another complication. The cannabis has to move from the cultivators to the stores, and cash needs to move between businesses and to state authorities for tax payments. Some owners prefer armored trucks, while others prefer more creative approaches, such as sending out two or three cars, only one of which has the money.
While transportation and security logistics are difficult for marijuana business owners, they are an opportunity for the right kind of security teams. Military training is a perfect prerequisite for this line of work.
"There's plenty of ex-military available who are back from overseas and having a hard time finding work," says Dan Williams, head of Canna Security America, which is based in Denver but operates in 12 states. "What you were doing over there may not transition [to other lines of work]. You were trained to do something, and that doesn't really apply to working at Starbucks."
Indeed, unemployment among veterans is a nationwide problem. Even as the United States added more than 3 million jobs in 2014, 7.9 percent of veterans who served in Iraq and Afghanistan were still unemployed, higher than the national average of 5.7 percent.
"Right now, they need jobs," Williams says. "And we can help with that."
According to Williams, ex-military members tend to have a good work ethic and plenty of past training. And he expects that within the next few months roughly 70 to 80 percent of his staff will be former military, to account for an increased demand for armed guards and transport. Most of the entry-level jobs don't pay particularly well, but there is definitely room for growth.
"When you get out, it's very difficult to transition from active duty. You can feel a bit lost in the wave of society," says Keyes. "You miss that sense of family in the military where everyone is going through the same stuff together. And this is a really huge opportunity to get that sense of family again, along with all the freedoms of being a civilian."
And the money isn't bad either. Though he started out making $12 per hour, Keyes recently got a promotion and now makes substantially more in his new position overseeing dozens of staff.
"The amount of growth I've seen in the company since I've signed up is incredible," he says.
Indeed, most companies have been seen exponential revenue growth and have been able to hire more staff over the past year. Though it's still too early for specific statistics, many businesses estimate growth rates between 300 and 400 percent since getting into the legal pot trade.
"We hit the ground running with cannabis earlier last year, and since the bubble burst on the recreational side, we've been growing exponentially," says Derek Porter, a former special operations U.S. Marine who worked on an anti-terrorism security team before he founded Security Grade Protective Services in 2012 and got his master's in security management a year later. He was also the person who hired Keyes last year.
Porter has 30 employees, most of whom are former military, but expects his staff to double within the next year or so, thanks to a unique opportunity.
While Colorado authorities are working to solve the marijuana industry's cash problem, another regulation could mean big business for Porter and others in the security and transport business. A new state law will require that all marijuana is transported to and from testing facilities using a third-party carrier. While the rule may present complications for cannabis sellers and cultivators, it and other regulations spell opportunity for the security business.
"We're expecting the floodgates to open once the hammer is dropped," Porter said. "Things like this just open up an entirely new door."
© Copyright IBTimes 2022. All rights reserved.