Big Texas Baby: Mother Gives Birth to 16 Pound Boy
UPDATE: Baby's Father is Six-Foot-Seven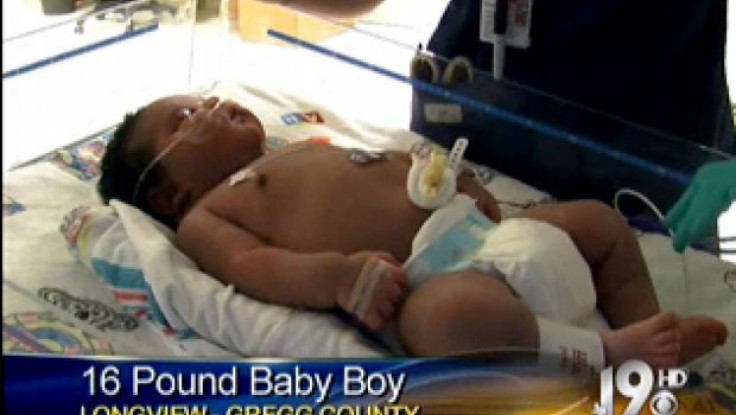 Texas is known for all things big, but a new babyboy born in Longview Monday weighing more than 16 pounds almost took it too far. Janet and Michael Brown's newborn child weighed 16 pounds, one-ounce -- emerging with a full head of hair, two feet long, and with a chest measuring 17 inches.
But doctors say the baby boy, named JaMicheal Brown, pushes the limits of what doctors like to see in a healthy baby.
It's a beautiful baby, but for health reasons we'd rather not see a baby this large, said nurse Mary Beth Smith, who helped deliver the baby. They can have a little harder time maintaining their blood sugar.
READ MORE: 'Moose'-sized Texan Baby Raises Fear of Childhood Obesity [PHOTO]
JaMichael was placed in the Neonatal Intensive Care Unit, receiving breathing and eating assistance, at the Longview hospital. Given the nickname The Moose around hospital corridors, the baby boy is believed to be the biggest baby ever born in the state of Texas. His mother had given birth to three previous children, but none of the first three were as large as JaMichael.
Guinness World Records lists the biggest baby ever born as weighing 23.3 pounds, in 1869 in Canada.
Janet Johnson, JaMichael's mother, was told by doctors just before her son's birth the baby was large, and she should expect a big baby -- weighing as much as 12 or 13 pounds. She and doctors were surprised with the larger result, perhaps setting a Texas record for the largest baby born.
When they pulled the baby out, they could tell that he was huge, the mother told KYTX-TV. And then they weighed him.
Janet Johnson was diagnosed with gestational diabetes while she was pregnant, which likely contributed to the baby's large birth weight, according to KYTX-TV.
JaMichael was born at Good Shepherd Medical Center in Longview. The hospital has asked the state's vital records department to confirm whether JaMichael is the biggest newborn in state records keeping. The hospital said he is the biggest baby born there.
A hospital spokeswoman says JaMichael's father is six-foot-seven inches tall.
All of the attention on the baby's mother, Janet Johnson, has become overwhelming, she told the Associated Press.
It's gotten overwhelming, she said. But if I had heard of someone having a 16-pound baby, I would proably want to have heard about it, too.
© Copyright IBTimes 2023. All rights reserved.