BIGVU Review: Powerful App For Video Editing & Teleprompter
This article uses affiliate links, which means if you purchase products through these links, we may earn a commission. Click here to see our
T&C
. For licensing please click
here
.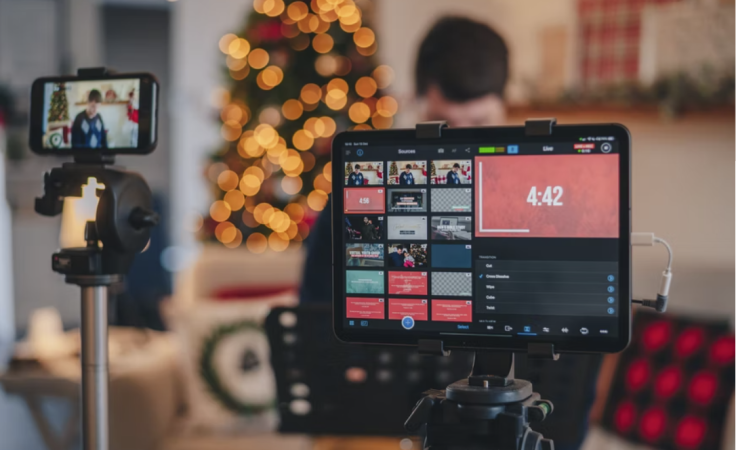 Looking for a way to take your home video production up a notch? Perhaps you want to make better video advertisements for your business? Or do you want to start your own YouTube channel?

Then a good video editing software is an important tool that you should include in your lineup of tools. Here's why you should consider BIGVU for that.
Why Use Video Editing Software?
These days, video is king. Whether for professional or personal use, videos are a great way to get yourself out there. After all, people spend hours every day on their phones scrolling and good video content is one of the best ways to engage them.
But before you do that, you need to make engaging videos and that's where video editing software comes into the picture.
Investing in good video editing (and even a personal studio) will be a great addition to your home video production setup. With this, you'll be able to make professional-looking videos. Eventually, you can make this your career, whether for yourself or to service clients, as video production is a very in-demand service.
A lot of video editing apps also come with powerful teleprompter and captioning features, making it easier for your videos to look polished and professional.
If this sounds like something you can use, then BIGVU is the solution for you, and here's why.
BIGVU Review – Powerful Video Editing App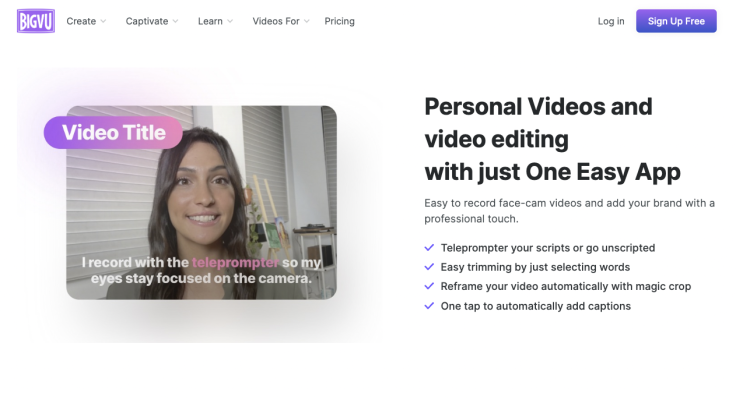 Designed to be your personal TV studio, BIGVU is a comprehensive video tool and program that provides easy access to video editing, automatic captions, music and green screen replacements for your Android or iOS smartphone.
This app has all the features you need to make great videos, including a wide range of templates and graphics, easy-to-use editing tools and of course, the ability to easily share your videos on every online platform to reach more people. For example, you can share your videos with your followers/friends on social media or embed them on your website or blog for better branding.
What's more, these tools are comprehensive enough for professional video editing use and with enough practice, you should be able to get paying clients. You can use it for advertising materials for small businesses, in case you're planning to put up one or you'd want to offer your service to potential clients.
You can even track how well your videos are performing via the built-in analytics tool, giving you good insights.
Best Features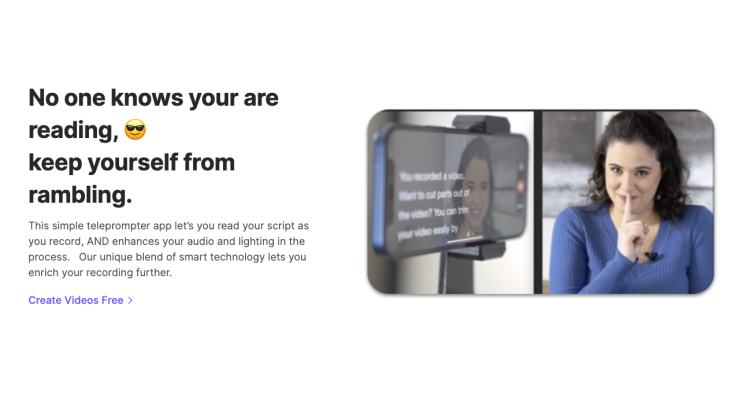 Of course, BIGVU wouldn't be one of the best video editing apps for no reason, here are its benefits:
Teleprompter Feature – One of BIGVU's best features, the teleprompter helps you create engaging narration by scrolling the text across your camera screen as you read. This helps you stay focused and on track, making it very useful for public speaking or video narration.
All-Access Control - BIGVU gives you complete control over all its tools. You can control the scrolling speed, monitor your audio in real-time, lock the auto-exposure or fix the lighting to make yourself look better.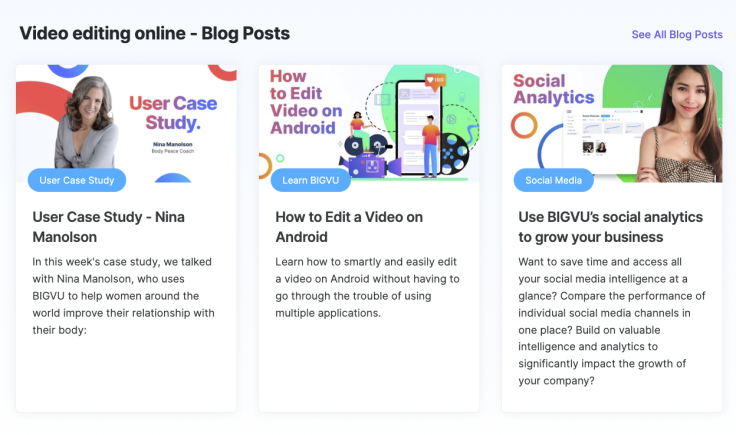 1-Click Subtitles – Business owners know how powerful videos are as a marketing tool. As such, it's important that all your videos have subtitles to attract a wider audience. Lucky for you, BIGVU lets you overlay subtitles to your videos without spending too many hours. All it takes is a few minutes and you're good to go.
Motion Tilting – Since BIGVU is a top-tier video creation platform, it also offers motion tilting, which lets you display headlines on the lower-third screen section. This is a great way to capture your audience's attention.
Green Screen Replacement – BIGVU offers Chrome key capabilities, which is an effect that lets you replace the green screen in your videos with any background of your choice.
Aside from that, BIGVU lets you upload all your videos in a shared cloud workspace, automatically transcribe your videos to provide closed captions and is available on both Android and iOS.
Pricing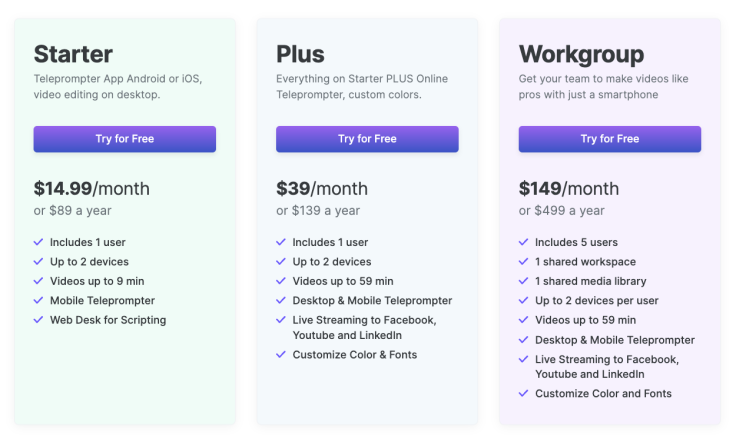 As for pricing, you'd be pleased to know that BIGVU is also affordable. You can start making professional-quality videos today for only:
While the pricing plans are already affordable, you can get more savings through any of the lifetime deals that AppSumo is offering for a limited time only. You can also try BIGVU for free before availing the paid plans.
The BIGVU Difference
Minimalistic but immensely powerful, BIGVU is an essential app for creators that don't always have the time or budget to invest in a complete desktop setup for video editing. By targetting the smartphone market, BIGVU is a comprehensive video tool for anyone, making it easier for everyone to start making engaging videos.
On top of its features, it also has a collaboration feature that makes it easy to work with other people, while the pricing is very affordable compared to its competitors.
Lastly, it's easy to use and requires no prior editing experience to start making professional-looking videos. Learn more about BIGVU by clicking here.