Bill Clinton's 'Terrible Record Of Women Abuse': Sexual Harassment And Assault Allegations Plague Hillary's Husband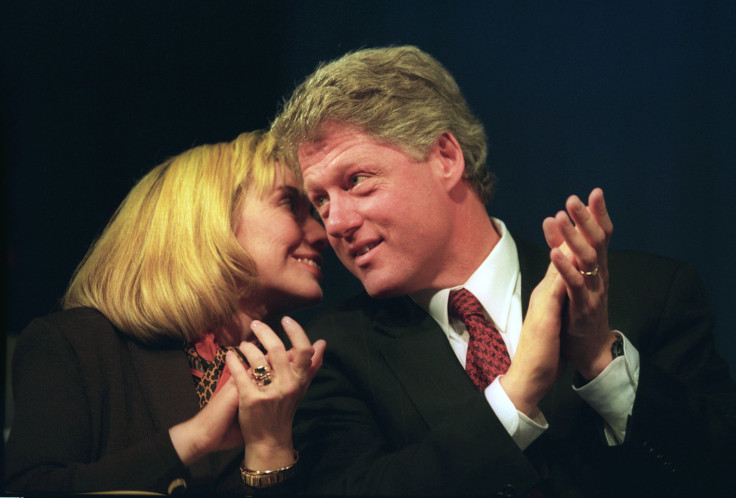 Donald Trump has stirred up controversy once again by bringing up Bill Clinton's previous sexual dalliances as a tactic to hurt Hillary Clinton's presidential campaign. After the Democratic presidential front-runner announced her husband would be campaigning for her in 2016, Trump tweeted that the former U.S. president had a "demonstrated penchant for sexism" and a "terrible record of women abuse."
These tweets, and Trump's comments backing them up, come as the latest move in an escalating feud between The Donald and Hillary Clinton. After Trump made vulgar comments about Clinton's bathroom break during the third Democratic debate, she responded by saying the New York billionaire has a "penchant for sexism," and now he has turned those words back around on her.
In response to Trump's tweets, a Clinton campaign spokeswoman said the former secretary of state would not allow Trump to intimidate her. "Hillary Clinton won't be bullied or distracted by attacks he throws at her and former President Clinton," spokeswoman Christina Reynolds said in a statement, ABC News reported . "When his insults are directed at women, immigrants, Asian-Americans, Muslims, the disabled, or hard working Americans looking to raise their wages, Hillary Clinton will stand up to him, as she has from the beginning. Donald Trump's words are demeaning, his policies are just as destructive. Hillary Clinton will challenge Donald Trump and all the other Republicans who will rip away the progress we've made."
But what is Trump talking about with regard to the 41st president? The Donald is referring to Bill Clinton's extramarital affairs and the accusations of sexual misconduct that have been leveled against him over the years. Here is a quick guide to the most important points in Bill Clinton's history with women not named Hillary.
Monica Lewinsky:
The most well known affair is, of course, the one that got the 41st president of the United States impeached. The former president had an affair with former White House intern Monica Lewinsky between 1995 and 1997 — during the middle of his presidential career. Lewinsky said she had nine sexual encounters with the then-president that involved fellatio and other sexual acts, the Associated Press reported. She has maintained that these encounters were consensual, but has spoken out in recent years about the pain she says she endured from taking the blame for the affair and its aftermath.
Gennifer Flowers:
Flowers, a former Arkansas state employee who claimed to have a 12 year relationship with the former president, was the first of his mistresses to appear during his White House years. While Bill Clinton was running for president the first time in 1992, the Star tabloid reported her claims. At the time, the Clintons vehemently denied the claims, but then six years later, then-President Bill Clinton he had sexual relations — but only once — with Flowers in 1977.
Paula Jones:
Also a former Arkansas state employee, Jones accused the 41st president of sexual harassment in 1997, alleging that he propositioned her and exposed himself to her in a hotel room in Little Rock, Arkansas in 1991. The case precipitated his impeachment, and Bill Clinton eventually settled with Jones in 1998, paying her $850,000 to drop the lawsuit, the Washington Post reported .
Juanita Broaddrick:
Broaddrick, volunteer in Bill Clinton's first gubernatorial campaign, accused the former president of sexually assaulting her in 1978. She told her story to "Dateline NBC" and a number of other news outlets, but could not remember the date or month of the incident, which led some to doubt her story, the Washington Post reported . The Clintons have denied her account is true.
Kathleen Willey:
A former White House volunteer and Democratic activist, Willey has also accused the former president of sexually assaulting her and has continued to speak out against the Clintons. She now runs a website called "A Scandal A Day" on which she writes against both Clintons.
There have been other women who have claimed affairs and sexual encounters with Bill Clinton over the years, but very few of the women in and around the former president's life have provided substantive evidence to back up their stories. Despite the many rumors and few admitted instances of infidelity, the 41st president has never been charged with sexual assault or other sexual misconduct.
After his impeachment trial, Bill Clinton finished out his term as president, and since then has become one of the most popular presidents in history. As Hillary Clinton prepares to charge ahead toward the first primary contests in 2016, she is counting on her husband 's popularity to help her out with voters, and likely hoping that his past does not come back to haunt them.
© Copyright IBTimes 2023. All rights reserved.