Billionaire Currency Trader George Soros Warns Against Investing Public Pension Money In Hedge Funds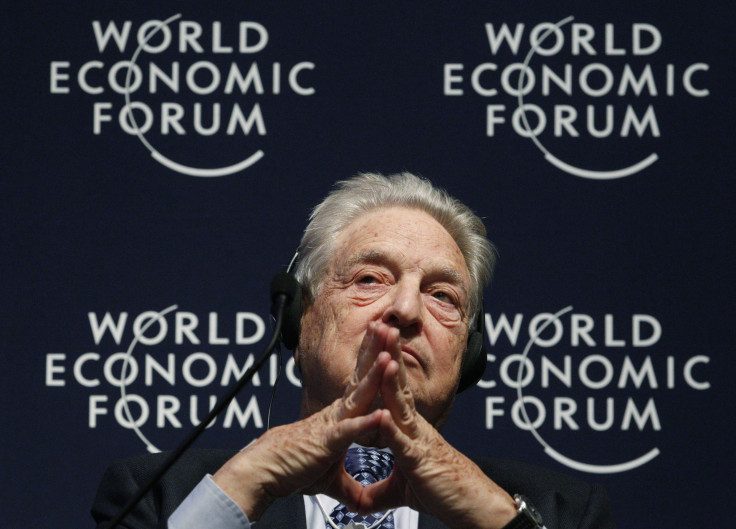 DAVOS, Switzerland -- Another towering figure in the financial industry is warning major pension systems to beware of investing retiree money in hedge funds. During a Thursday meeting at the World Economic Forum, billionaire investor George Soros cited management fees charged by hedge funds in arguing that steering billions of dollars of public employees' money into such products is imprudent.
"Current market conditions are difficult for hedge funds," said Soros, who recently retired from his currency focused hedge fund business. "Their performance tends to be equal to the average plus or minus a 20 percent management fee." He said that while "you will always have some hedge funds that will provide outside performance ... to put a large portfolio into a hedge funds is not a winning strategy."
Public pension systems currently have roughly $470 billion worth of investments in hedge funds, according to data compiled by Prequin, a financial research firm.
Soros made his comments only months after Warren Buffett issued a similar warning. A few months after Buffett's comments, the United States' largest pension system, the $296 billion CalPERS, or California Public Employees' Retirement System, made national headlines when in September it ended most of its hedge fund investments.
CalPERS' move has been seen as a potential trend setter. In October, the $20 billion San Francisco pension system tabled a proposal to invest in hedge funds, and in December, New York Gov. Andrew Cuomo, a Democrat, vetoed legislation to increase the amount his state can invest in such high-risk vehicles.
The shift out of hedge funds has now moved to Europe. Earlier this month, the $184 billion Netherlands public pension system dumped its hedge fund investments. A top official told Reuters at the time: "With hedge funds, you're certain of the high costs, but uncertain about the return."
In other remarks at the World Economic Forum, Soros urged world leaders to more forcefully intervene to challenge Vladimir Putin's regime.
"Russia has become a mafia state in which the rulers use the resources of the country to enrich themselves and to maintain themselves in power," he said. "They preserve the outward appearances of democracy such as holding elections, but there is no rule of law and no arrangements for a legitimate transfer of power."
Of Russia's standoff with Ukraine, he said: "Ukraine should be able to defend itself militarily as long as Putin maintains the pretense that the separatists are acting on their own, but it urgently needs financial assistance. I believe Europe will respond favorably... Much depends on the next few days. Not only the future of Ukraine but also the future of the European Union itself is at stake. I believe the loss of Ukraine would be an enormous loss for Europe. It would allow Russia to divide and dominate."
© Copyright IBTimes 2023. All rights reserved.
FOLLOW MORE IBT NEWS ON THE BELOW CHANNELS