Bishop Eddie Long's New Birth Missionary Baptist Church Future Uncertain: Report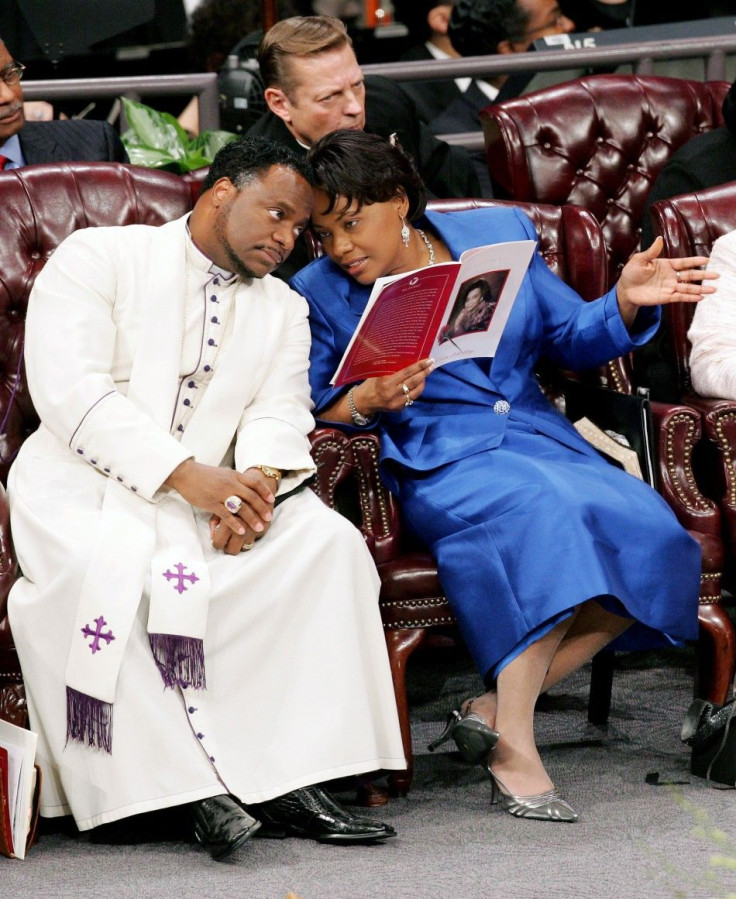 Bishop Eddie Long's announcement of his departure from the New Birth missionary Baptist Church on Sunday has uncertainty for the future of the church, The Associated Press has reported.
Long announced that he will be taking a break to focus on his family, following his wife's divorce filing. The Atlanta megachurch pastor has been caught up in a sexual misconduct case with four men since last year.
His wife, Vanessa, on Thursday filed for divorce but took it back hours later. The church issued a statement that Vanessa Long had a change of heart. However, an attorney for Vanessa Long released a statement noting that the bishop's wife intends to follow through with the divorce proceedings.
According to The AP, the New Birth church, which once had 25,000 members, now has a battered reputation, a dwindling membership and is facing an uncertain future.
A church is bigger than its pastor, Goldie Taylor, attended New Birth in the past, told The AP. For too long, the New Birth family has acted as if it is smaller than its pastor. Its challenge going forward will be its ability to flip that and become a church without walls again.
Long has held the senior pastor position at the church since the late 1980s when it had a few hundred members. He later dismissed the church's board of directors and took control of the church, watching it grow to 8,000 members in five years, according to The AP.
He was a technology savvy leader who later owned a Bentley, private jet and lived in a home that cost more than a million.
In September 2010, it alleged that Long used his lifestyle to get younger men to have a sexual relationship with him in exchange for expensive gifts. Members of the church stood by Long, despite the allegations and said he was innocent of the allegations.
A settlement was made out of court eight months later, The AP reported, noting also that the Long has never admitted any wrongdoing.
The case was settled out of court in late May.
According to Christian Today, the plaintiffs were paid a large sum for the settlement. It reported that Long allegedly paid $15 million to the four plaintiffs and a fifth accuser, Maurice Robinson, who wasn't named in the lawsuit.
That report also noted that in September, Long made a request to have three of the men - Jamal Parris, Spencer LeGrande and Centino Kemp - repay the settlement money because they allegedly broke the confidentiality agreement in publicly speaking about the case.
Once the money was paid, it was like you're hiding something, Donielle Marshall, a New Birth member since college, told The AP. Did you lie to us? I look at him as just a common man, full of fault, but also a disgrace.
Some who have left the megachurch for a smaller one told The AP that the members of New Birth will now need to return to community outreach and not focus on Long.
With New Birth being as large and prevalent as it is, every church in the area has felt the impact, Rev. Kenneth Samuel told The AP.
He also said it is possible for the church to carry on.
© Copyright IBTimes 2023. All rights reserved.