Black History Month Quotes 2016: 35 Inspirational Sayings From African-American Leaders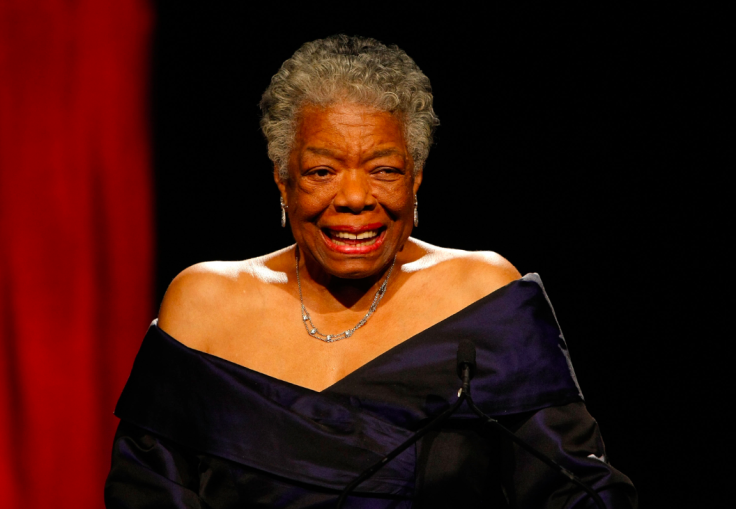 For nearly 40 years the accomplishments and contributions of African-Americans are recognized in February with Black History Month. In celebrations of Black History Month, 35 inspiring quotes from black leaders and prominent African-American figures have been provided below:
1. "Change will not come if we wait for some other person or some other time. We are the ones we've been waiting for. We are the change that we seek." -- President Barack Obama
2. "Bringing the gifts that my ancestors gave, I am the dream and the hope of the slave. I rise. I rise. I rise." -- Maya Angelou
3. "Do not call for black power or green power. Call for brain power." -- Barbara Jordan
4. "Darkness cannot drive out darkness; only light can do that. Hate cannot drive out hate; only love can do that." -- Martin Luther King Jr.
5. "Whatever we believe about ourselves and our ability comes true for us." -- Susan L. Taylor
6. "In recognizing the humanity of our fellow beings, we pay ourselves the highest tribute." -- Thurgood Marshall
7. "Have a vision. Be demanding."
 -- Colin Powell
8. "For Africa to me ... is more than a glamorous fact. It is a historical truth. No man can know where he is going unless he knows exactly where he has been and exactly how he arrived at his present place." -- Maya Angelou
9. "When I dare to be powerful – to use my strength in the service of my vision, then it becomes less and less important whether I am afraid." -- Audre Lorde
10. "Defining myself, as opposed to being defined by others, is one of the most difficult challenges I face."
 -- Carol Moseley Braun
11. "Where there is no vision, there is no hope." -- George Washington Carver
12. "Love makes your soul crawl out from its hiding place." -- Zora Neale Hurston
13. "I refuse to accept the view that mankind is so tragically bound to the starless midnight of racism and war that the bright daybreak of peace and brotherhood can never become a reality. ... I believe that unarmed truth and unconditional love will have the final word." -- Martin Luther King Jr.
14. "Never be limited by other people's limited imaginations."
 -- Dr. Mae Jemison
15. "I had no idea that history was being made. I was just tired of giving up." -- Rosa Parks
16. "For I am my mother's daughter, and the drums of Africa still beat in my heart." -- Mary McLeod Bethune
17. "I have observed this in my experience of slavery, that whenever my condition was improved, instead of increasing my contentment; it only increased my desire to be free, and set me thinking of plans to gain my freedom." -- Frederick Douglass
18. "The cost of liberty is less than the price of repression." -- W.E.B. Du Bois
19. "Success is to be measured not so much by the position that one has reached in life as by the obstacles which he has overcome while trying to succeed." -- Booker T. Washington
20. "Surround yourself with people who take their work seriously, but not themselves, those who work hard and play hard." -- Colin Powell
21. "You really can change the world if you care enough." -- Marian Wright Edelman
22. "Diversity is not about how we differ. Diversity is about embracing one another's uniqueness." -- Ola Joseph
23. "Freedom is never given; it is won." -- A. Philip Randolph
24. "The battles that count aren't the ones for gold medals. The struggles within yourself -- the invisible, inevitable battles inside all of us -- that's where it's at." -- Jesse Owens
25. "Never underestimate the power of dreams and the influence of the human spirit. We are all the same in this notion: The potential for greatness lives within each of us." -- Wilma Rudolph
26. "Just don't give up what you're trying to do. Where there is love and inspiration, I don't think you can go wrong." -- Ella Fitzgerald
27. "Hate is too great a burden to bear. It injures the hater more than it injures the hated." -- Coretta Scott King
28. "We should emphasize not Negro history, but the Negro in history. What we need is not a history of selected races or nations, but the history of the world void of national bias, race hate, and religious prejudice." -- Carter Woodson
29. "Laundry is the only thing that should be separated by color." -- Unknown
30. "The African race is a rubber ball. The harder you dash it to the ground, the higher it will rise." -- African proverb
31. "Black people have always been America's wilderness in search of a promised land." -- Cornel West
32. "Every great dream begins with a dreamer. Always remember, you have within you the strength, the patience, and the passion to reach for the stars to change the world." -- Harriet Tubman
33. "Racial superiority is a mere pigment of the imagination." -- Unknown
34. "In this country American means white. Everybody else has to hyphenate." -- Toni Morrison
35. "Where there is no struggle, there is no strength." -- Oprah Winfrey
Follow me on Twitter @mariamzzarella
© Copyright IBTimes 2023. All rights reserved.