Oklahoma City Rape Trial: Black Women See Guilty Verdict As A Milestone In Long History Of Injustice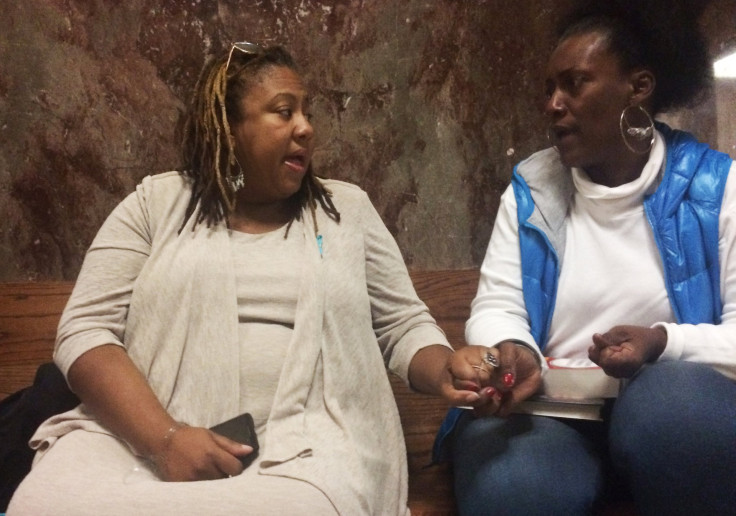 Oklahoma City native T. Sheri Dickerson sat alone in quiet reflection Friday, just outside the county courtroom where jurors affirmed what she and many others had known for months. A local police officer had sewn fear and distrust in the community by preying on seemingly vulnerable black women and raping them.
"There was liberation and there was vindication," Dickerson, an associate minister at Expressions Community Church who supported the officer's victims, said in a phone interview after a jury this week convicted former Officer Daniel Holtzclaw in a 36-count case involving 13 women. "A lot of people were literally able to inhale and breathe for the first time since this all started," she added.
But Dickerson and others still fear the outcome of this case would continue to be a rarity in a justice system that has been slow to believe black sexual-assault victims and reluctant to guard their well-being. "Many of us feel that we don't matter," said Dickerson, who is black. "The black woman — I think we're finding our voice. And we're learning to raise it and use it."
Black women across the nation watched with bated breath as an all-white jury read 18 guilty verdicts in Holtzclaw's serial rape trial Thursday. Watchers of all ethnic backgrounds said they were disappointed with the lack of media attention given to Holtzclaw, a white and Asian-American man who denied raping any of his accusers. Although sexual assault by police officers is a real problem throughout the U.S., some activists have said Hotlzclaw's case is a milestone in a long history of black women as victims of sexual assault and domestic abuse — who have with far fewer allies and see less justice than their white counterparts.
"I've asked people to name the last time they heard of a white man being convicted of raping a black woman, and they couldn't because [justice] doesn't happen," said writer and activist Feminista Jones, who was among the first to raise national awareness of the Holtzclaw case through social media last year. "This is historic," Jones said in a phone interview Friday. "This is huge. But we don't know this history. Black women can be raped, we are raped and black women matter."
Holtzclaw, 29, a former Oklahoma City officer, used his authority to target poor and black local women, who had outstanding municipal infractions, and force them into exposing themselves and performing sexual acts, including oral sex, prosecutors said. The 13 accusers' ages ranged from 17 to 57, some claiming the abuse took place in 2013. The jury found Holtzclaw guilty of rape against just eight victims. He could face life in prison at a sentencing hearing Jan. 21.
In the era of slavery in America, black women endured rape, forced breeding and physical assaults as a means for profit and brute intimidation, according to historians. After slavery was abolished, black women who came forward to report sexual assaults — whether committed by white or black men — were often vulnerable to revenge from their attackers and shunning within their community. That's not unlike white women who are victims of rape and sexual assault, except that existing racist stereotypes about the virtue of black women stretching back to the U.S. colonial era made them even less believable among whites, said Kali Gross, professor of African and African diaspora studies at the University of Texas at Austin.
Gross said the Holtzclaw verdict is still problematic because of the split verdict: The jury did not find that the evidence presented by prosecutors proved the stories of five accusers. "I had braced myself for a Jim Crow justice redux," Gross, a black woman, said in a phone interview Friday. "Black womanhood has been disrespected in the justice system since its inception," she added. "When you think about statutes that did not criminalize the rape of black women, it promoted the notion that we don't have any virtue to protect."
White and black men have been found guilty of rape in cases brought by black women. Many people are unaware of the 1959 case of Betty Jean Owens, a young woman in Tallahassee, Florida, who was kidnapped and sexually assaulted by four white Florida A&M University students. The four men were found guilty of raping Owens seven times and were given life sentences, despite attempts by their attorneys to label the victim a jezebel, a racist term used to discredit black women as being sexually aggressive or promiscuous. But sexual assaults committed by police officers raise the stakes for women who report those crimes, largely due to fear of revenge and further mistreatment by other officers.
Jeffrey Pelo, a former police sergeant in Bloomington, Illinois, was found guilty of 35 counts of aggravated sexual assault against four women from 2002 to 2005, according to media reports. Pelo, who is white, as are his rape victims, was serving 440 years in prison as of 2008.
A yearlong Associated Press investigation into sexual misconduct by police officers in the U.S. found nearly 1,000 police officers lost their jobs over a six-year period for rape and sexual assault. The report, released in November, raised alarms among rape victims, especially black advocacy groups who contend African-American women are particularly vulnerable because of history. Sexual assault by police is compounded by black women's disparate rate of intimate partner violence.
The U.S. Census Bureau estimates there are 20.6 million black women and girls living in the country, or about 7 percent of the U.S. population. In 2005, black women accounted for 22 percent of the intimate partner homicide victims, according to the Institute on Domestic Violence in the African-American Community.
Advocates like Dickerson in Oklahoma City said they are hopeful justice can be served again for black women, but want more of them to feel comfortable to report all forms of violence they may face. The Holtzclaw case "made it glaringly clear that, except for the grace of God, it could have been me," Dickerson said. "My prayer is that [the verdict] will remove some of the fear to report it, relieve the stigma and remove the shame attached to the victims."
She added: "It will place the blame and guilt on the predators themselves."
Police Attitudes Toward Abuse of Authority | Graphiq
© Copyright IBTimes 2023. All rights reserved.