Blackhawks Parade Rally: Video, Pictures, Quotes, As 2015 Stanley Cup Champions Celebrated In Chicago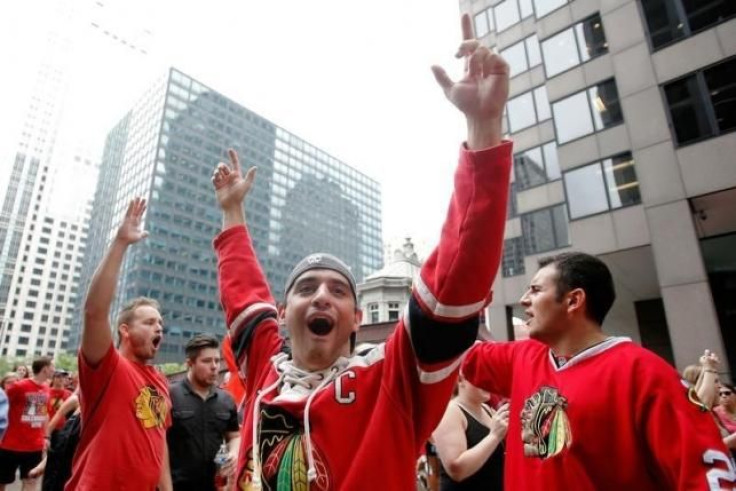 Having won their third Stanley Cup in six years, the Chicago Blackhawks celebrated with a parade in the Windy City on Thursday afternoon. Roughly two million people dressed in red and black were on hand to cheer on the NHL champions, with more than 61,000 free spots for the rally at Soldier Field on the Internet having been snatched up within minutes.
There had been worries of rain, but it would stop less than an hour before the players, coaches and personnel boarded the bus, which went from the United Center to the full-capacity Soldier Field. The rally could not be held at Grant Park due to the conditions following the rain.
The Blackhawks defeated the Tampa Bay Lightning in Game 6 on Monday to take the series, 4-2. Chicago previously won titles in 2010 and 2013 under head coach Joel Quenneville. The Blackhawks now have six total titles, after wins in 1934, 1938 and 1961.
On one bus, Patrick Sharp and Brent Seabrook carried Lord Stanley's Cup, along with Conn Smythe Trophy winner Duncan Keith.
"Let's do it again, eh?" Keith said. "Four sounds better than three."
Once again, goalie Corey Crawford used expletives in a celebration. Crawford shouted into the microphone: "F***ing right, Chicago!" In 2013, Crawford yelled, "F***** right, Chicago! Biggest bunch of beauties in the league, f***** worked their n*** off for this trophy! Wooo! No one will ever take this away from us! We're the champs!"
Captain Jonathan Toews was a bit more gracious and diplomatic.
"We are part of the best organization in sports in the world," Toews said. "And we play for the best fans in the world."
"We've done this a couple times before, but it's still unexpected what's actually going to happen during the parade," Patrick Kane said. "It's always an adrenaline rush and looking forward to it. ... That thing, wherever you bring the Stanley Cup, it's going to draw a crowd and draw attention. Wherever we seem to go, especially with that thing, people seem to flood and try to come out and see everything."
Like many politicians before him, Mayor Rahm Emanuel attended the rally and was booed. Emanuel didn't make a speech, but was thanked by Blackhawks CEO John McDonough.
© Copyright IBTimes 2023. All rights reserved.