'The Blacklist' Season 3 Spoilers: Did A Main Character Just Die In Episode 18? Shocking Ending For 'Mr. Solomon, Conclusion' [RECAP]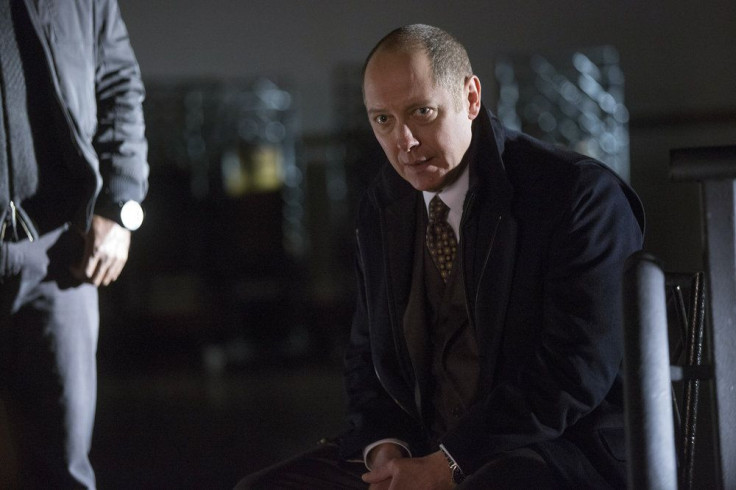 Red has done all he can to protect Liz throughout three seasons of NBC's "The Blacklist." In episode 18 of Season 3, the two met a life-changing event that not even Red could save her from. What played out would leave fans with their jaws on the floor in one of the most shocking moments in the history of the show.
Episode 18 begins with Tom (Ryan Eggold) and Liz (Megan Boone) driving away from their "shotgun" wedding. Liz believes her mother is the one that sent a team of mercenaries to take her and that she did so because of Red (James Spader). Mr. Solomon (Edi Gathegi) learns that Liz has escaped the church and he has his team withdraw so they can pursue Liz and Tom.
The task force makes it out of the church, but figures that Solomon is leaving because he heard police sirens. Red calls Liz and gives her a place to go to get off the street. Just when she thinks they're in the clear, Solomon and his men crash into the side of their car. Tom tries to drive away from Solomon, but he ends up crashing the car into a tractor-trailer.
Liz and Tom escape the car before Solomon can get to them and they're able to hide out in a building. Although they get away from Solomon for the moment, Liz notices blood dripping down her leg and believes she got hurt in the crash.
Tom takes her to the hospital to get treated and make sure the baby is OK. Red calls her and says she's going to have to be moved because he can't protect her or the other people in the hospital when Solomon finds out where she is. While Liz is getting transported, her water breaks and she gets taken to a nightclub that's been transformed into an ICU for her.
Nick (Piter Marek) shows up to treat her at Red's request. When Red arrives, Nick tells him that due to Liz's injuries in the crash he'll have to perform an emergency C-section or the baby will die. While Nick preps for the procedure, he fills Tom in on what's going on and Tom does his best to keep it together. To make Liz feel more comfortable, he plays music for her in the club.
While Red and Tom look on with concern, Nick performs the C-Section and is able to get the baby out. However, when the baby first comes out it's not breathing. At first it doesn't look like the baby will make it, but Nick is able to get it to breathe. He then places the baby in Liz's arms, while Red looks in on her, appearing relieved.
Red goes in to see the baby, but Liz throws him out because she doesn't want him near her baby. When Red leaves to get fresh air he hears a commotion coming from where Liz is. She starts having a hard time breathing and the injury from the crash is now spreading to her lungs. To better treat Liz, Nick says he'll have to put her in a medically induced coma.
Before she goes into the coma, Liz asks Red to go in the room and apologizes for throwing him out. She tries to say she loves something while holding Red's hand, but the medicine kicks in and she goes into the coma before she can get her sentence out. Liz's condition starts to worsen and Nick tells Red he needs a piece of medical equipment that's at the hospital and there's not enough time to have one brought in. Red calls Cooper (Harry Lennix) to get the task force together to get a transport to get Liz to the hospital safely and quickly, while Tom stays behind with the baby.
The team uses a decoy ambulance to try to trick Solomon and his men. They fall for it, but thanks to some help, they're able to cut off the real transport van. Liz's heart starts to fail and Nick and Red try to keep her alive while Dembe (Hisham Tawfiq) shoots at Solomon and his men. Inside the van, Liz starts to flat line.
Ressler (Diego Klattenhoff) and Samar (Mozhan Marnò) show up with their team to take out the rest of Solomon's team, who are closing in on the van Liz is in. Solomon sees things going south and is able to get away down an ally. Ressler opens up the back door of the van and finds Nick in tears because he had to pronounce Liz dead.
Red clutches Liz's hands and kisses her before Mr. Kaplan (Susan Blommaert) tells him he has to leave before police arrive. Red tells Mr. Kaplan to keep Liz's body with them and that it's not to go to a morgue. Ressler breaks the news to Samar, and she immediately starts to cry hysterically. Back at the task force's headquarters, Aram (Amir Arison) gets the phone call about Liz and can only look at Cooper, who realizes what has happened.
Tom is with the baby at the nightclub when Red comes in to see him. Tom is crushed and doesn't think he can be a father without Liz. Red assures him that he'll learn fast, and Tom lets Red hold the baby. Tom decides to name his baby girl Agnes, which was what Liz wanted the baby to be named. Red believes the name is a good one as the baby brings a smile to his face.
© Copyright IBTimes 2023. All rights reserved.