'The Blacklist' Season 3 Spoilers: What Happened In Episode 17? 'Mr. Solomon' Recap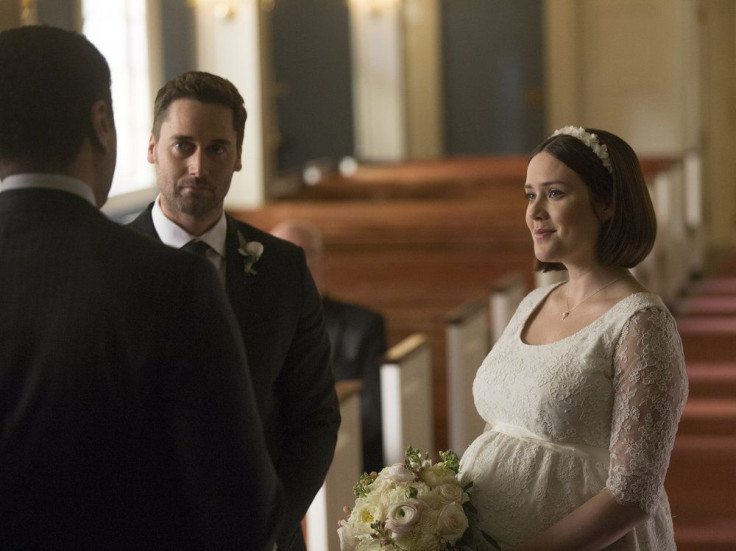 "The Blacklist" Season 3 had a "Red Wedding" of it's own in episode 17, titled "Mr. Solomon." Liz (Megan Boone) and Tom (Ryan Eggold) were finally ready to tie the knot before their baby arrives, but someone had other plans for Liz and it was up to Red (James Spader) and the task force to save her.
The episode begins with Mr. Solomon (Edi Gathegi) escaping from U.S. Marshall custody. When the agents pull over to shoot and kill Solomon on behalf of the Cabal, snipers take out all of the guards to help break him out. Solomon is then hired by a new employer.
Liz and Tom decide to be spontaneous and have their wedding that same day. When she goes to tell Red about the ceremony he tells her about Mr. Solomon's escape and that he plans on getting his hands on nuclear weapons. Liz thinks Red tells her about the case because he wants to delay her marrying Tom. She says she'll bring it to the task force, but will stay out of it and get married.
The task force agrees to look into the escape of Mr. Solomon and to stop him from intercepting nuclear weapons which are being transferred. She asks everyone to come to the wedding if they have time, but they should try to stop Solomon first. Liz wants Cooper (Harry Lennix) to serve as the minister for the ceremony and he agrees. The task force decides to act on their own to make sure the weapons don't get taken since the Air Force wants them to stay out.
Tom is running last minute errands for the wedding and stops home to get his tuxedo. When he's in his room, he hears the door open and shut and thinks it Liz. Instead he finds Gina Zanetakos (Margarita Levieva) and he holds a gun up to her. As he tries to figure out why she's there, The Major (Lance Henriksen) pops up from behind him.
Samar (Mozhan Marnò) and Ressler (Diego Klattenhoff) find the woman that's been helping Solomon with his pursuit for the nuclear weapons. After a brief shootout in a motel, Samar and Ressler are able to arrest the mercenary before she escapes in her car. The mercenary tells Ressler that Solomon knows the Air Force is planning on using a decoy convoy and they know where the real one is. She wants a deal in exchange for giving Ressler the information she knows.
The Major, Tom's former mentor, wants to know why Tom fell in love with Liz and calls Tom his "greatest disappointment" for walking away from his past life. He makes Tom get on his knees and goes to shoot him. Gina then kills The Major and saves Tom's life. She still cares about him, but agrees he's a disappointment.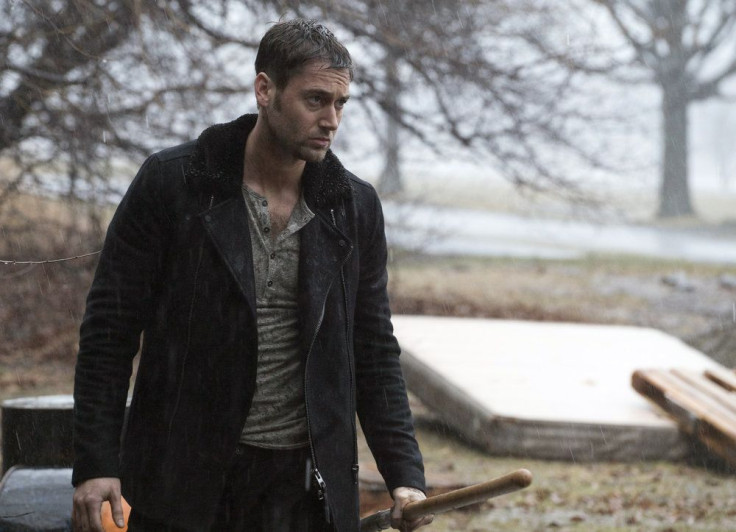 After learning the weapons could be compromised, the Air Force tells the task force to give the Mercenary whatever she asks for. Ressler learns Solomon plans on taking out an overpass to get the convoy and he goes to stop Solomon, while telling Samar to go to the wedding so at least one of them is there for Liz.
Red shows up at the church and asks Liz not to marry Tom because she doesn't know the real man he is. As he tries to convince her, Tom is shown getting rid of the body of The Major by burying him in the woods. Liz refuses to not go forward with the wedding and asks Red to get out. Cooper shows up and is able to calm Liz down and tell her she's doing the right thing by getting married because she loves Tom.
When Tom gets to the church he tells Liz what happened with The Major and Gina. He said they came after him because he's done working with them, but he can't promise no one will ever come for him again. Liz says they both have baggage and they can both bury it together and move forward into their marriage.
While Red drives away with Dembe (Hisham Tawfiq), he realizes something is off about the mercenary that didn't escape with Solomon and he decides to look into the car she was trying to escape in. Ressler and his task force find an abandoned van by the overpass, but it's empty. When Red finds the mercenary's car he finds out that she was a sacrifice. Solomon isn't after nuclear weapons, he's after Liz.
Ever since Liz came out as Masha Rostova, Red said people have been wanting to come after her and it now appears someone finally has. Red calls Ressler and tells him that Solomon is after Liz and he and his team need to get to the church.
Red arrives at church and interrupts the ceremony to tell Liz that someone sent Solomon after her to take her and that she needs to leave with him. Solomon's team surrounds the church and he calls Red to tell him to send Liz out or he's going to come inside the church and get her himself.
Liz believes it's her mother who sent Solomon and she wants to turn herself over so no one gets hurt. Solomon grows tired of waiting and sends his men in to get Liz, but she's not to be harmed. The church starts to get blown apart in a hail of gunfire as the task force fights to keep Liz from getting taken. Ressler shows up just in time to help Tom and Liz escape in their "Just Married" car. Liz and Tom are able to get away, but Solomon will continue to chase them down.
FOR FREE to continue reading
✔️ Unlock the full content of International Business Times UK for free
offer available for a limited time only
✔️ Easily manage your Newsletters subscriptions and save your favourite articles
✔️ No payment method required
Already have an account?
Log in
© Copyright IBTimes 2023. All rights reserved.