'The Blacklist' Season 3 Theories: Is [SPOILER] Dead? Take The Poll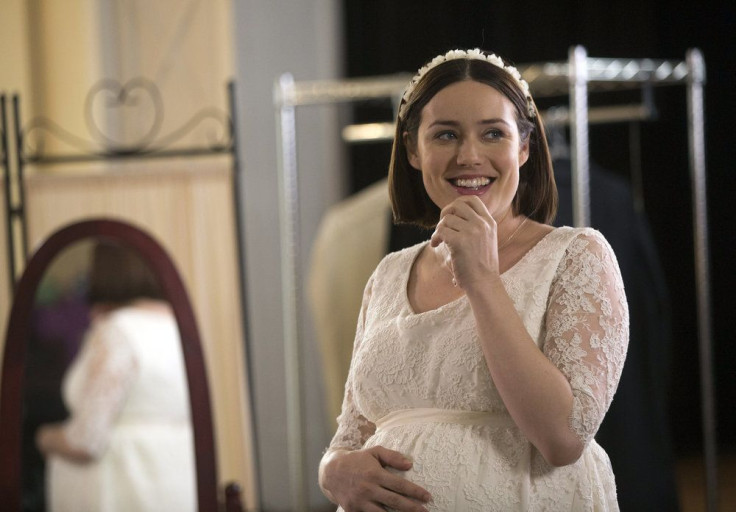 "The Blacklist" Season 3 just delivered one of the most shocking moments in the history of the NBC series. After escaping a bullet-filled wedding ceremony in episode 17, Liz tragically died following the birth of her baby in episode 18, titled "Mr. Solomon: Conclusion." It appears as though we've seen the last of the character, but there's also a chance the show could be throwing fans a curveball.
During the final moments of episode 18, Nick (Piter Marek) and Red (James Spader) did everything they could to keep Liz (Megan Boone) alive on the way to the hospital. But Mr. Solomon (Edi Gathegi) and his crew got in the way, and by the time Cooper's (Harry Lennix) task force showed up to save them, it was too late and Liz had already flatlined. This left Tom (Ryan Eggold) alone to raise their baby daughter Agnes.
In an interview with Entertainment Weekly, Spader talked about the shocking twist and made it sound as if Liz would not be returning to the show. He said Red will now have to move forward without a person he cares about and that at first he'll be "lost" without her.
"I think it's most prudent not only as just myself and what I know or don't know for that, but also in terms of the character of Reddington: Elizabeth Keen is dead," Spader dished.
Although Spader said Liz is likely gone and she was shown being taken away in a body bag, there is still hope that it's a red herring. According to TVLine, Boone is preparing to give birth in real life as well, so having her "killed off" on the show could be a way for the series to go on while the actress is on maternity leave.
Something else for fans to pay attention to that could be a sign she's alive was the appearance of Mr. Kaplan (Susan Blommaert) throughout episode 18. When Liz's baby survived the initial birth scare, everybody looked relieved, except for Kaplan, who still had a look of sadness on her face. Kaplan was also the one who took possession of Liz's body after her death, and she had a look on her face like there was more to the story. Red has already faked Liz's death once on the show, so it's possible that this time Kaplan is making it look that way.
The move to kill Liz off, even if only temporarily, would also add fuel to NBC's potential spinoff,​ which would focus on Tom. TVLine reported that one of the main villains on the show would be Solomon, which now fits perfectly. Solomon played a role in the death of Liz by delaying her move to the hospital and was in pursuit of her when Tom and Liz crashed their car causing the injuries that led to her downfall.
So it's unknown whether Boone will be returning to "The Blacklist." Do you believe Liz is really dead? Take our poll below.
"The Blacklist" Season 3 airs on NBC Thursdays at 9 p.m. EDT.
© Copyright IBTimes 2023. All rights reserved.