'Bold And The Beautiful' Spoilers: Quinn Fears Katie Will Tell Eric About Ridge
They thought they had appeased Katie and convinced her to keep their secret from Eric, but new threats from her will have Quinn extremely worried that her secret with Ridge will be spilled to her husband on the Wednesday, May 31 episode of "The Bold and the Beautiful."
After telling Katie (Heather Tom) that her jewelry designs weren't right for the new Forrester collection and wouldn't be debuted with it, Quinn (Rena Sofer) was once again faced with constant reminders from the other woman that she knows her dirty little secret on the CBS soap. Katie wound up basically threatening Quinn that if she didn't debut her designs, she would tell Eric (John McCook) that Quinn had had an affair with his son, Ridge (Thorsten Kaye), destroying her world. Now, after holding to her convictions when it comes to the line, Quinn will go to Ridge with her concerns that Katie is taking things too far.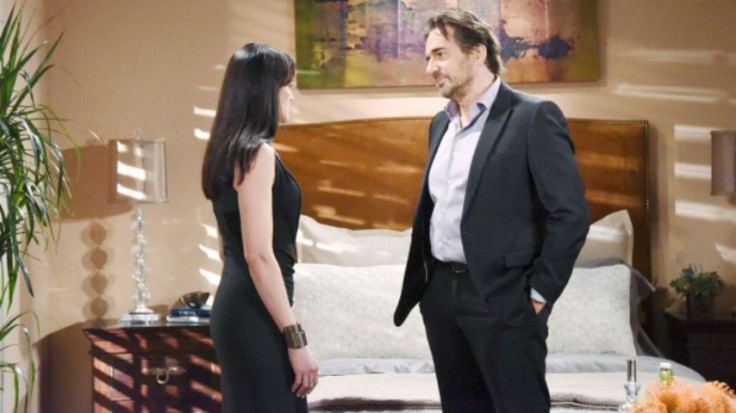 "She's holding it over my head, Ridge," she says in a preview clip. "She's waving it in my face every time that she doesn't get what she wants."
Read: Nicole Breaks Devastating News To Her Parents On "The Bold And The Beautiful"
Ridge will attempt to quell Quinn's concerns and fears, telling her that he knows Katie won't do anything to hurt Eric, which is exactly what would happen if she tried getting revenge on Quinn by spilling the beans about what she had done with him. However, Quinn will remain unconvinced that Katie is trustworthy, and will reiterate that her knowing the truth is something that could wind up taking them both down in the end.
"I'm telling you, Katie is becoming a very dangerous threat," she says.
As it turns out, Quinn may be right to be worried that Katie is going to cause more problems for her, and that she could be more dangerous than either she or Ridge initially thought.
Eric has invited Katie to join him for lunch following an initial plan to meet with a business contact falling through, and Katie accepted the invitation. Now, after hinting to Eric that Quinn is being unfair to her when it comes to showing her work to the world, and claiming that she would tell him what was going on with Quinn, Eric will demand answers from his long-time friend about what she claims to know about his wife.
Read: Sally Gives Thomas An Out From Their Relationship On "The Bold And The Beautiful"
"If something is going on, then I want to know about it. Good or bad," he says.
Now, Katie might consider actually doing the most damaging thing she can to Quinn, and if she chooses to do that, no one will be able to stop her.
"The Bold and the Beautiful" airs weekdays at 1:30 p.m. EDT on CBS.
© Copyright IBTimes 2023. All rights reserved.