Bomb Blasts Rock Thailand; Police Suspect RKK to Blame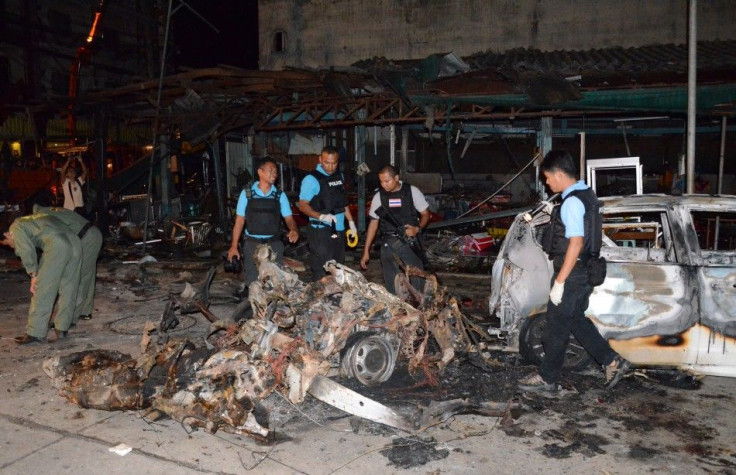 A fourth victim has died after a series of three bomb attacks rocked Narathiwat's Sungai Kolok district in southern Thailand near the border with Malaysia.
74 others were reportedly injured in the attacks as authorities dispatched two teams to hunt for the perpetrators along the Malaysian border. Forty of the injured remained hospitalized on Saturday, according to local newspaper The Nation. Seven were listed in serious condition, some with broken limbs and others with burns covering more than 50 percent of their bodies.
Officials in Thailand are suggesting that the attacks may have been a form of retaliation by a drug syndicate for a recent anti-narcotics operation.
The series of three bomb blasts tore through the town in southern Thailand Friday night. One went off outside a karaoke bar, another at the Tae Chiew Clan charity association, while the third struck the Merlin Hotel. The first two bombs appear to have been planted on motorbikes, while the third was a car bomb.
All of the blasts went off within 40 minutes of each other.
The Bangkok Post reports that a three-year-old boy and a Malaysian tourist were among the dead, while several tourists sustained shrapnel wounds.
Police suspect that there were four teams of attackers, three to plant the bombs and the fourth to detonate them, possibly from a hotel with a clear view of all three spots.
Police blocked off roads and cut mobile phone coverage in the area as they questioned suspects, believed to be Runda Kumpalan Kecil (RKK) sympathizers hired by drug syndicates to carry out the attack.The RKK is a Malay nationalist group blamed for much of the violence in Thailand's south.
The bomb attacks came hours after a Muslim police officer and a defense volunteer were shot dead in a mosque during prayers in tambon Budi, Yala's Muang district.
The attacks reflect a recent uptick of violence in the region. On Wednesday, a roadside bomb blasted a military vehicle and five soldiers were killed by suspected insurgents as they attempted to flee the scene.
Earlier in September, a teacher was shot dead and set on fire, and on Aug. 23, a bomb injured a monk, nine soldiers and three civilians as they walked to their temple.
Despite the presence of nearly 60,000 Thai troops in the region, the military has been unable to prevent frequent attacks in three southern provinces where Malay-Thai Muslims comprise a 95 percent majority of the region's 1.7 million people.
Politicians and the Thai military denounce the Islamist fighters in the area as corrupt criminals who run a weapons and drugs black market in the border region and terrorize Buddhists.
While some of the violence is criminal-based, the Islamists argue that they are fighting for economic control and autonomy. They seek to control the region and its people under Islamic law.
Nearly 4,800 people have been killed in the border region between Thailand and Malaysia since violence flared up in 2004.
Thailand's new Prime Minister Yingluck Shinawatra vowed on Friday to oversee efforts to tackle the unrest in the country's deep south. Shinawatra said she would seek the assistance of neighboring countries and discuss ways to restore peace to Thailand's three southernmost provinces.
© Copyright IBTimes 2023. All rights reserved.