Boston Red Sox Vs. Tampa Bay Rays: TV Channel, Where To Watch Online Stream, Las Vegas Betting Odds, Prediction, And Preview For 2013 ALDS Game 4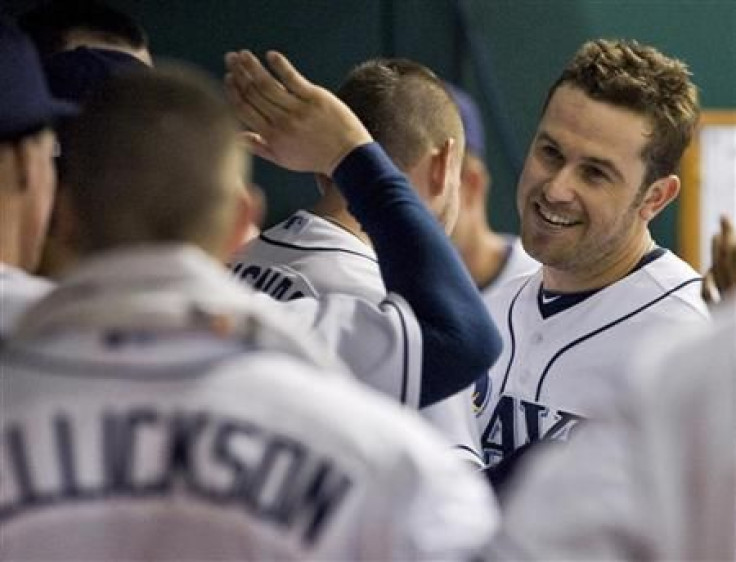 For much of the last 10 days, the Tampa Bay Rays have been playing to keep their season alive. Tuesday is no different when they host the Boston Red Sox in Game Four of the 2013 American League Division Series.
The Rays will look to extend the series to a deciding fifth game in Boston. On Monday, they avoided elimination with a 5-4 win at Tropicana Field. A pinch-hit home run in the ninth inning by catcher Jose Lobaton gave the Rays the victory.
Game Three marked the fourth "must-win" situation that the club has faced since the end of the regular season. In game No. 162, Tampa beat the Toronto Blue Jays to keep their postseason hopes alive. They followed that up with wins against the Texas Rangers, in a one-game playoff, and the Cleveland Indians, in the wild card round.
"Look at this whole week working up to today, and then this game is even more dramatic than the other games we had already won," manager Joe Maddon said after the game. "It's really an incredible day for the Rays."
Tampa Bay doesn't have much time to celebrate, though. In Game Four, their hopes rest on Jeremy Hellickson. Of any pitcher that's making a start this postseason, his struggles may be the worst. In his last 10 starts, the 26-year-old went 1-7 with a 7.53 ERA. He allowed three runs in four inningn in his only career start in October.
"I haven't really given them a good reason to send me back out there these last few months," Hellickson told the Rays' official website. "It's really nice that they still have confidence in me to go out there."
Hellickson's struggles, combined with the Red Sox hot hitting, could be a combination that, ultimately, ends the Rays' World Series hopes. In the ALDS, the Red Sox have scored just under eight runs per game with a .308 team batting average. David Ortiz has been as good as anyone in the playoffs, slugging 1.222 and reaching base in eight of his 13 plate appearances.
Boston's starter had his own problems down the stretch. Jake Peavy pitched to a 4.50 ERA in September and will take the mound for the first time in two weeks. The veteran hasn't pitched well in two career playoff starts. In 2005 and 2006, when he was considered one of the top pitchers in baseball, Peavy surrendered 13 runs in 9.2 innings.
Evan Longoria has just two hits in the series, but he's made them count. He delivered a three-run homer in Monday's fifth inning to tie the game at 3-3. The Rays second-most productive hitter in 2013, Wil Myers, left the contest with cramps. However, he's expected to in play in Game Four.
Start Time: 8:37 p.m. ET
Betting Odds: Boston-117, Tampa Bay+107
TV Channel: TBS
Live Stream: Postseason.TV
Prediction: Boston 8, Tampa Bay 4
© Copyright IBTimes 2023. All rights reserved.