Bradley Cooper Shuts Down Lady Gaga Dating Rumors Years After Steamy Oscars Performance
Actor Bradley Cooper has finally addressed the romance rumors that spread about his relationship with pop star Lady Gaga following their steamy performance at the 2019 Oscars.
In an interview published by The Hollywood Reporter on Wednesday, Cooper reflected on his onstage chemistry with Lady Gaga during their performance of the song "Shallow" from the movie "A Star Is Born."
The Academy Awards duet sparked dating rumors even though Cooper, 46, was dating model Irina Shayk at the time and Lady Gaga was engaged to Christian Carino.
Although the performance appeared intimate on stage, Cooper told THR that he and Lady Gaga choose to stay in character as Jack and Ally to help with his nerves about singing live at the awards show.
"Just from a personal standpoint, it reduces the anxiety level," he told the publication.
"They kind of fall in love in that scene in the film. It's that explosive moment that happens to happen to them on a stage in front of thousands of people. … It would have been so weird if we were both on stools facing the audience."
Even though the performance was an act, Cooper praised Lady Gaga's talent as an actress and singer. "She's just so terribly charismatic and beautiful. When I met her, I thought, 'If I can just harness that … then it's just for me to mess up,'" he said.
"But then, when we started working together, I realized, 'Oh, oh, the sky's the limit in terms of what she's able to do and her commitment level.'"
Lady Gaga, 35, previously dismissed rumors of a possible romance with Cooper in a November 2019 interview with Elle magazine.
"I mean, we made a love story. For me, as a performer and as an actress, of course, we wanted people to believe that we were in love. And we wanted people to feel that love at the Oscars," she said at the time.
"We wanted it to go right through the lens of that camera and to every television that it was being watched on. And we worked hard on it, we worked for days. We mapped the whole thing out—it was orchestrated as a performance."
"A Star Is Born" received eight Oscar nominations, including one for Best Picture. The film won the Acadamy Award for Best Original Song for "Shallow."
Lady Gaga stars in the upcoming movie "House of Gucci," which will be released in theaters on Nov. 24.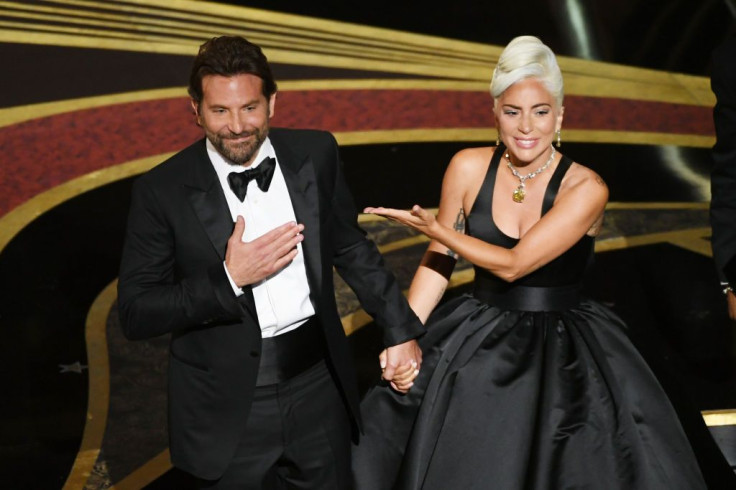 © Copyright IBTimes 2022. All rights reserved.
FOLLOW MORE IBT NEWS ON THE BELOW CHANNELS