'Breaking Bad' Walter White Mask Signed By Bryan Cranston Hits eBay For Over $24,000 [PHOTOS, VIDEO]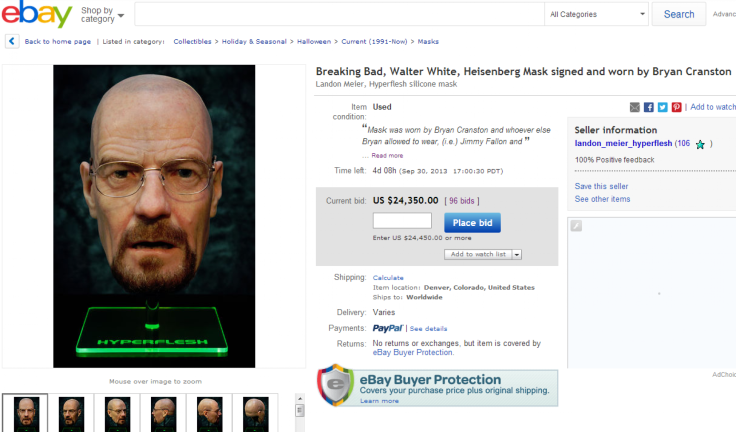 Still need a Halloween costume and have one, or eight, barrels ("Got 'em at Home Depot; filled up every last damn one of 'em too") full of money? You just might be in luck.
A mask of Walter White, the lead character from AMC's hit drama "Breaking Bad" (which will end on Sunday) has made it to eBay. The silicone mask is the same one actor Bryan Cranston wore while running around Comic-Con in San Diego in July and when he appeared on "Late Night With Jimmy Fallon" in August. In fact, it's even signed by Cranston and the mask's creator, Landon Meir of Hyperflesh.com.
However, this mask will set you back a little more than a run-of-the-mill mask at Party City. As of late Thursday morning, the Walter White mask was going for $24,350, based on 96 bids. It was reportedly created by the Denver-based artist for just $3,000 out of silicone.
The mask made its first appearance this past summer when Cranston paraded around San Diego Comic-Con wearing it. By the time he got to the "Breaking Bad" panel, the actor revealed it was him wearing it all along as a joke. Cranston's co-star Aaron Paul said Cranston was "the most professional person I've ever worked with but also the most immature man I've ever experienced, as you can tell -- which is a beautiful combination."
Cranston and his Walter White mask emerged again in August when the actor was a guest on "Late Night With Jimmy Fallon," where the host and another guest, rapper Common, also donned Walter White disguises. "This is Walter Black right here," Common said.
© Copyright IBTimes 2023. All rights reserved.