Breonna Taylor Protests: Cars Plow Into Protesters In NY, Denver; Businesses Vandalized In NC
KEY POINTS
Cars plowed through demonstrations and injured protesters in two separate incidents
Businesses in North Carolina were vandalized by a group of protesters on Wednesday night
Both drivers involved in the hit-and-run were caught and detained
Chaos erupted in several states as vehicles plowed through demonstrations in Colorado and upstate New York, while businesses in North Carolina were vandalized following a Kentucky grand jury's decision not to indict all of the three police officers involved in a March raid that killed 26-year-old Breonna Taylor.
According to a report by ABC News, two unnamed drivers plowed into demonstrators who gathered in the streets of Denver and Buffalo Wednesday night.
The incident in Buffalo unfolded around 8:45 p.m. as protesters were marching in the downtown area. A video taken by WKBW-TV showed a maroon and white pickup truck drive directly into a group of demonstrators and hit a protester on a bicycle. The driver sped away following the incident but was later stopped and detained by police.
Slow Buffalo Roll, a bicycle community, identified the victim as Karen Huffman, who was a member of their board of directors. She reportedly suffered broken bones but is in stable condition as of Thursday morning.
A similar incident occurred in Denver around 9:15 p.m. as footage showed a silver Volvo station wagon approach protesters before coming to a stop. A small group of demonstrators gathered around the vehicle and instructed the driver to turn around. However, the car began to accelerate, knocking a female protester to the ground.
The driver sped away but was later caught by police. Authorities refused to release the name of the driver and said they are still investigating the case.
The victim was recorded sitting on the sidewalk with other protesters who rushed to provide her first aid. The woman, who identified herself as Kate, said she was not badly hurt, as reported by The Denver Post.
"I was kind of going up on the hood and I was like, 'No, I'm not doing this,' and I rolled over to the side," she said moments after the incident. "He wasn't gonna stop even though I was, like, on his hood."
Multiple businesses between Main and Market streets in Durham, North Carolina were also vandalized on Wednesday night as protests erupted across the city. According to CBS 17, officers on the scene linked the damage to a group of up to 100 protesters who were all dressed in black.
Patrick Madison, a bartender at Tabernas Tapa Diner, said protesters broke their shop's window after someone hit an exploding cherry bomb with a stick towards their store. The repair, he said, would cost up to $1,000.
"It's unfortunate and it really puts a kind of dark light on some of the positivity of what's going on," Madison said. "There's always some bad seeds in the crowd but it's something we're just gonna have to deal with and get through."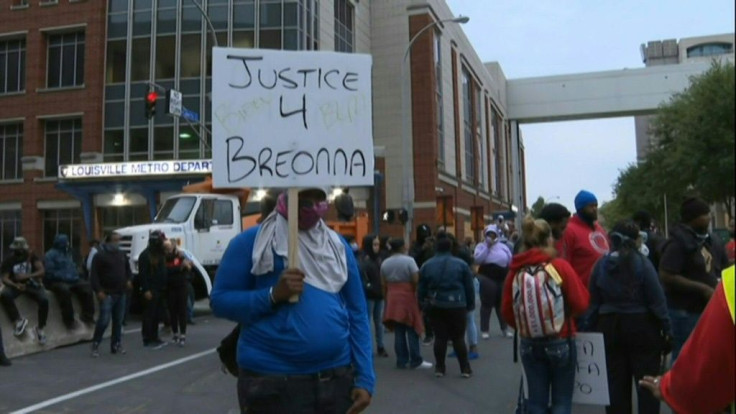 © Copyright IBTimes 2023. All rights reserved.