Broadway's Spidey Turns Two, Breaks House Record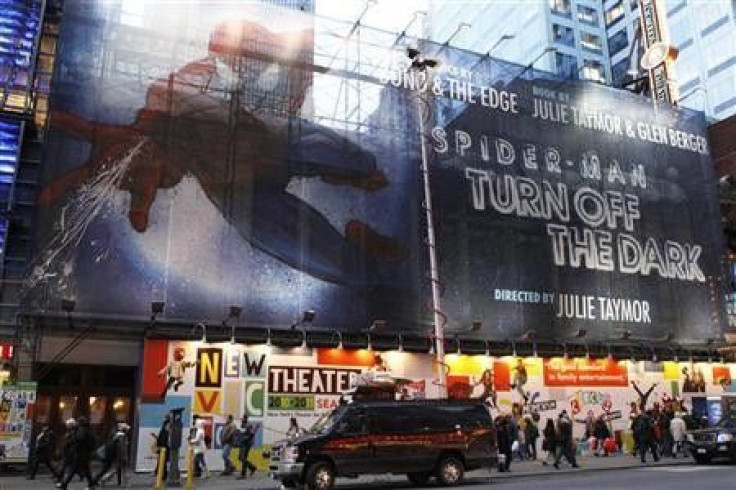 Lending some credence to the old maxim that there's no such thing as bad publicity, the infamous Broadway musical Spider-man: Turn Off the Dark has broken house records on the eve of its second anniversary.
The $70 million show, which was plagued by a series of stunt-related cast injuries in its early days, not to mention a record-length preview period which eventually brought director Julie Taymor's ouster, broke the Foxwood Theatre's house record last week, grossing $2.07 million at the box office.
Despite its troubled history -- or perhaps in part because of the media attention paid to it -- the show, which began previews on November 28, 2010, has consistently played to packed houses.
Since its June opening, which drew fairly scathing reviews even after a post-Taymor overhaul, more than 600,000 people have filled seats at the cavernous 42nd St. theater.
We were staunchly committed to getting this show open and to doing whatever we could so that 'Spider-man' would be in New York City for this year and those to come, producers Michael Cohl and Jeremiah Harris said in a statement, adding they were thrilled with the incredible response from our fantastic audiences at each and every performance.
Taymor, who won a Tony award for the still-running hit The Lion King, spent years working on Spider-man. Earlier this month, she sued the show's producers in federal court accusing them of copyright infringement and breach of contract. Her lawyers claim unauthorized and unlawful use of Taymor's copyrighted written works by the producers of Spider-Man.
Spider-Man: Turn Off the Dark, with music by U2's Bono and The Edge, closed for three weeks in April for a major revamp by a new director and officially opened in June.
© Copyright Thomson Reuters 2023. All rights reserved.