Bronx Home Explosion Live Updates: Drug Lab Suspected As NYC Firefighter Reportedly Dies Responding To Riverdale Blast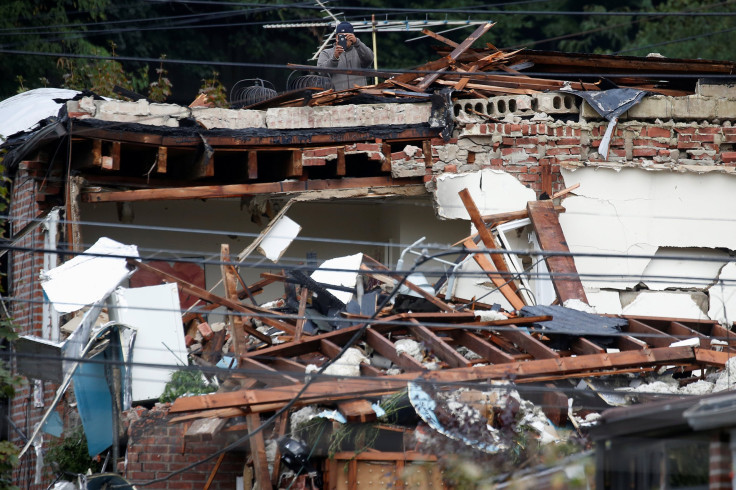 UPDATED: 11:51 a.m. EDT -- The New York City firefighter who died Tuesday morning after a home in the Bronx exploded has been identified. Michael Fahy was mourned by both the New York Fire Department Commissioner James O'Neill as well as the city of Yonkers, where he lived.
Fahy, a 17-year veteran of the department, died after he was struck in the head by debris from the explosion that has been attributed to complications from a drug lab at the home. O'Neill said during a press conference that police had been alerted recently to a marijuana grow operation on the same block where the explosion took place in Riverdale.
UPDATED: 10:14 a.m. EDT -- The person killed Tuesday morning while responding to a home explosion in New York City was a captain in the New York Fire Department, the New York Post reported. The captain's name was not immediately available.
The explosion in the city's Bronx borough, originally thought to have been caused by a gas leak, has been attributed to complications from a drug lab inside the home at 300 W. 234th street.
The captain was transported to a hospital in nearby northern Manhattan, where he was pronounced dead.
Original story:
At least one person has died and multiple people were reported injured Tuesday morning after a home explosion in the Bronx borough of New York City. Authorities suspect the explosion stemmed from a drug lab in the home located in the borough's Riverdale neighborhood, the New York Daily News reported. However, a gas leak was not immediately ruled out.
The person who died was a member of the New York Fire Department, though the circumstances surrounding the death were not immediately confirmed, according to a tweet from New York City journalist Dean Meminger. At least five other people were injured, as well.
The death was confirmed by Rep. Charles Rangel, who tweeted his condolences to the fire department which responded to the explosion in the politician's congressional district.
Reports first came in before 6:30 a.m. indicating a possible gas leak on 234th street. When first responders arrived to the scene, the home exploded.
Photos and video from the fiery scene quickly circulated on social media and showed debris strewn throughout the street in front of the home.
The explosion was reportedly caused a stir and emergency helicopters could be seen and heard hovering above.
"I thought it was very loud," local resident David Khabinsky told the New York Times. "Then five minutes later you hear police sirens, and then helicopter after helicopter after helicopter."
This is a developing story.
© Copyright IBTimes 2023. All rights reserved.