Police Brutality In Bronx? Video Shows NYPD Officers Punching, Kneeing Bloodied Man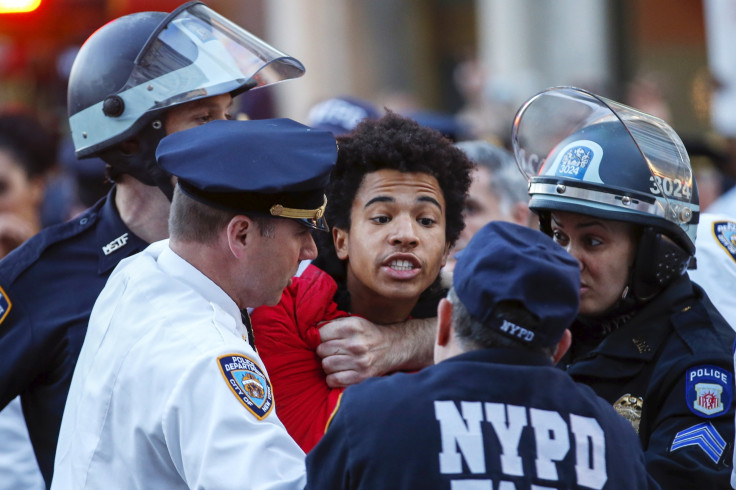 A shocking video has emerged online showing what appears to be at least two New York Police Department officers repeatedly delivering blows to a purported suspect. The exact nature of the incident was not immediately clear, but blood is splattered on the floor where the struggle took place.
The video, which is on an about 10-second loop, was posted to instagram Friday afternoon and begins with two apparent members of law enforcement — both wearing Yankees hoodies and one with his badge displayed next to a holstered gun — seeming to try to subdue the suspect, who is black and male. While details were scarce, at least one of the officers hits the suspect over and over with both a closed fist and his knee, all while the suspect is being held down by two other men, covering his head the whole time.
Warning: The video is very explicit in nature and contains graphic language.
The video was posted at around 2:30 p.m. Friday, and it appears to have been recorded in an eating establishment of sorts, perhaps a fast food restaurant.
Voices can be heard yelling in the background asking, "Why are you hitting him?" and "Stop hitting him!" The apparent officers continue to pummel the suspect.
There is evidence that a contentious struggle ocurred before the video begins, as the officer who delivered the most punches and kicks appears to have a laceration on his head from which blood is dripping. The other two men attempting to subdue the man on the ground are for the most part just holding him down.
All the while, the apparent officer hitting the man is trying to place handcuffs on the man to no avail.
The Office of the Deputy Commissioner, Public Information said the NYPD was looking into the incident. "Call back later," an operator said. "They're looking into it."
The brief clip surfaced barely more than a week after NYPD Commission Bill Bratton announced he would be stepping down from his post to work for a security company in the private sector. The announcement came amid protests organized in an effort to end police brutality and to have Bratton fired.
There have been sporadic instances of police brutality accusations against the NYPD since several of its officers employed an illegal chokehold on Eric Garner for illegally selling untaxed, loose cigarettes in the borough of Staten Island just over two years ago. The officers involved were charged for their roles but none were ever sentenced to jail time.
This is a developing story.
© Copyright IBTimes 2022. All rights reserved.
FOLLOW MORE IBT NEWS ON THE BELOW CHANNELS