Brothers Save Sister From Bear: Baden And Logan Kelly Protect Sister From Charging Black Bear [PHOTO]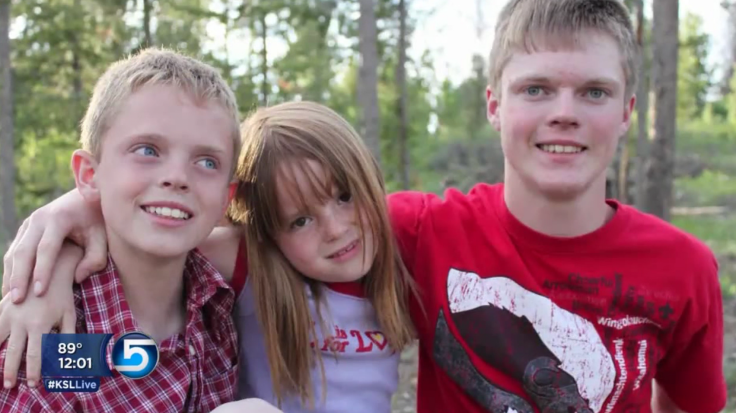 Brotherly love saved the day. That's what 7-year-old Moriah Kelly says after her two brothers were credited with saving her life from a black bear on Father's Day.
The Utah girl and her family were camping in Wyoming when bacon grease attracted a bear to their campground, NBC-2 reports. After two staffers warned the family of the nearby bear, their 11-year-old son, Baden, jumped into action. He distracted the bear long enough with shouts and waves for his family to seek shelter in a cabin – everyone except Moriah.
"I said, 'Run, Moriah,' and she didn't run, so I got to her and I started running with her, and that's when the bear started running after us," Baden told KSL. "By the time it got to about 10 feet behind us, my brother came running really fast out of his cabin and shouted very loudly."
The brothers' quick thinking allowed the siblings to reach safety.
"The moment I saw Moriah being brought up by the staff, it was just such a relief, and she jumped into my arms and said, 'Baden and Logan saved my life,' " Kamila Kelly said.
The children's' father, Brandon Kelly, says the bear tried to attack a park ranger, leading them to kill the bear, the Deseret News reports. Although his family is safe, Kelly says the experience was traumatic.
"It was really scary," he said. "It really made us evaluate what is Father's Day, how can we all get along better and do things and really just bring the whole family together?"
Wildlife safety experts say to avoid running when confronted by a bear, make noise and wave to show the animal you are human and use pepper spray, if available, the National Park Service said.
Baden Kelly says he ran to save his sister. "I feel like I did the right thing," he said. "We're just lucky that bear wasn't any older because it wasn't able to run fast enough to catch up to us."
© Copyright IBTimes 2023. All rights reserved.