BTS' J-Hope Kicks Off 28th Birthday Celebrations Early With Fans Through Live Broadcast
Dancer and "Chicken Noodle Soup" rapper J-Hope kicked off his 28th birthday celebrations a day early with a live broadcast dedicated to his fans Thursday on VLive.
True to his engaging personality, Jung Ho-Seok, more commonly as J-Hope, answered questions from ardent fans, danced in front of the camera, posed for an impromptu photoshoot with a birthday cake and showed the gift he received from BTS' oldest member Jin, Koreaboo reported.
A fan tweeted a clip of the BTS member blowing the candles on his birthday cake moments before he broke into a dance to the tune of the birthday song and wrote, "Hoseok showing his cake blowing the candles and dancing during his vlive."
Another fan tweeted a clip of the "Dynamite" singer virtually hugging the ARMY and wrote, "Should I give you guys an online hug? come here, you guys wAaaAaAAa *hugs* *more hugging sound effects*"
The birthday boy earlier revealed in an Instagram story, the peculiar gift he received from Jin. J-Hope thanked Jin and wrote on his Instagram story, "A gift that shines like his face. No worries about cleaning the toilet."
A fan tweeted a photo of Jin's present - a very expensive toilet brush and said, "2200$ worth toilet brush in front of toilet flush!! I'm so done with them."
Apart from fans, the boy band's youngest members (Maknae line) V, Jungkook and Jimin also greeted J-Hope during the live broadcast. J-Hope also assured ARMYs that V is doing well following his recent positive COVID-19 diagnosis. "Oh, Taehyung… Well, there's no need to worry too much," J-Hope said as translated by Koreaboo. "It might be funny for me to say but he's very healthy. All the members are healthy," he added.
This week, loyal supporters of J-Hope sponsored billboard ads and created original artworks in celebration of "Hope Day." Tributes to the well-loved BTS member also included charity donations.
A Ukrainian fan tweeted an ice sculpture dedicated to J-Hope by his Eastern European followers.
"Hoseok is the First Artist in the world to have an ice sculpture (tiny tan Hobi) to celebrate his birthday, this wonderful project was made possible by @btsukrprojects," @thehobiprint said.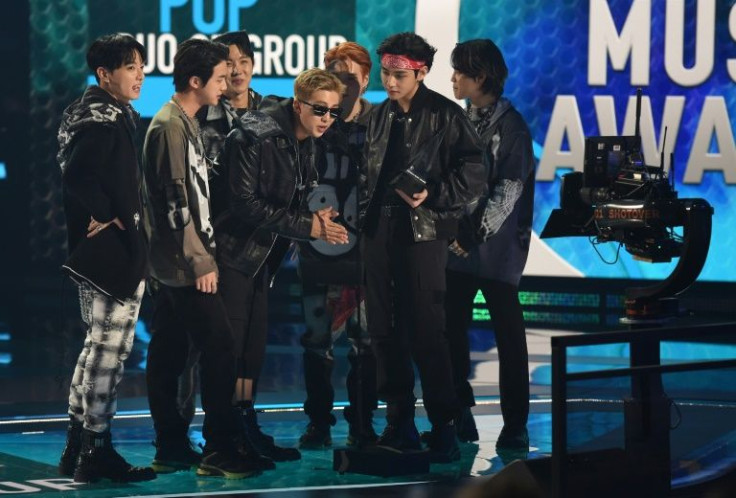 © Copyright IBTimes 2023. All rights reserved.