BTS: RM To Record Video With 200 Fans; Jungkook Has 3 Biggest Debuts On Spotify
BTS leader RM will be recording a video with his fans as part of the promotional activities for his upcoming solo album, "Indigo."
In a message on the Weverse app on Wednesday, Big Hit Music said 200 fans would be selected for the promotional video via a raffle. The event includes a small performance by RM.
The intimate performance is slated for Dec. 5 at an unannounced venue in Seoul. Members of the ARMY fandom are eligible to apply for the recording session but minors will not be allowed to participate in the event.
One fan sulked at the prohibition and tweeted, "We won't be tuning in" while another theorized why younger supporters will not be allowed to the intimate musical event and said, "No minors? Hmmmm u know what this means right? There gonna be some skin show prolyl."
Another tweeted a hilarious clip showing members of BTS in two different scenarios. "The rest of ARMYS," the user wrote above a portion showing three seemingly bored members of the boyband. "200 ARMYs seeing INDIGO," the user wrote above the portion showing the rest of the members in a playful mood.
On Tuesday, RM released the teaser trailer of "Indigo" which he described as "the last archive of my twenties."
Set against the color blue, the clip features details of RM's latest musical project via text that read: "Record of RM: Indigo. From the colors of nature, human, etc. Documentation of my youth in the moment of independent phase. Sun-bleached record faded like old jeans."
"Indigo recounts the stories and experiences RM has gone through, like a diary. The album will present a different charm of RM with various featured artists," a press release from Big Hit Music earlier this month said.
Meanwhile, RM's bandmate Jungkook achieved the record for the biggest debut songs for Asian soloists on Spotify Global for his songs "Left & Right" (with Charlie Puth), "Dreamers" and "Stay Alive."
Jungkook debuted his latest solo single "Dreamers" during the opening ceremony of the 2022 FIFA World Cup in Qatar on Sunday.
The youngest BTS member's energetic performance led fans to compare him to the late King of Pop Michael Jackson while others frowned over his participation in the event. Qatar has been criticized heavily ahead of the World Cup due to human rights violations and strict laws against the LGBTQ community.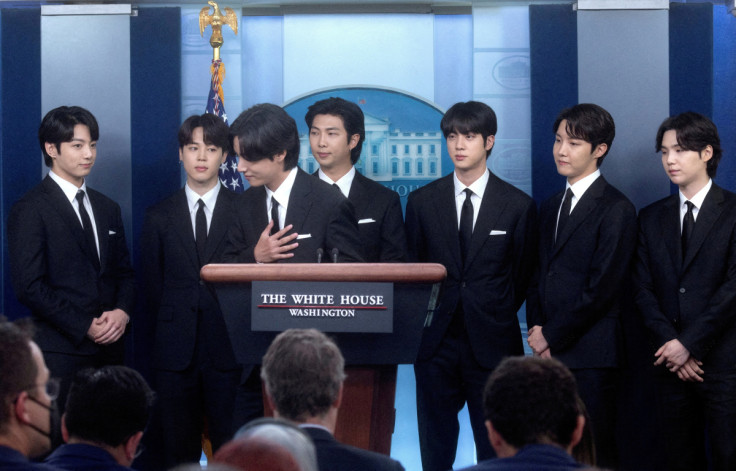 © Copyright IBTimes 2023. All rights reserved.