BTS Trends On Twitter Anew After Surprise 2022 Oscars Appearance
BTS is again among the hottest topics on Twitter following their surprise appearance at the 2022 Academy Awards.
The Billboard chart-toppers appeared in the awards show via a taped segment called, "Favorite Film Musical with BTS," shown before the crowd at the Dolby Theatre in Hollywood on Sunday.
In the short clip, the septet shared their favorite animated films and musicals.
Jimin shouted, "Coco!" just seconds before a snippet of the 2017 animated film from Pixar was shown. The movie grabbed the Best Animated Feature and Best Original Song at the 2018 Oscars. Group leader RM remarked, "It's a real masterpiece. I watched it three times and cried a lot." Jimin replied, "I didn't cry though."
V joined the conversation and said, "Truly Pixar is unbelievable."
"Overall, I like Disney movies," J-Hope said. Jin readily agreed and uttered, "Disney movies stimulate emotions well."
Will Smith, who was named Best Actor in this year's Oscars, also received a shout-out from RM after J-Hope mentioned his fondness for "Aladdin."
"I really like Aladdin," J-Hope said before a clip of the 2019 live-action remake of the 1992 animated classic showed on screen. "Shout out to Will Smith, Aladdin!" RM added.
Fans were pleasantly surprised to see the successful musical group appear in the awards ceremony especially because no announcement was made about it either by The Academy or Big Hit Music or by the group members themselves.
On Twitter, fans, known as the ARMY, congratulated the boy band for yet another important achievement in their already colorful career.
"BTS at the Oscars yes global superstars indeed," a fan wrote alongside a clip of the superstars' appearance at the 2022 Oscar awards.
Another ARMY wrote, "Seriously…it was a surprise and unexpected appearance of BTS at the Oscars*!"
Another fan reiterated that BTS is everywhere these days and said, "bts at the oscars, grammys , gma ,bbmas, amas, vmas ,Dick Clark's New Year's Rockin' Eve, multiple talk shows.... bts are truly a household name!! I'm so glad to be alive at the same time as them."
BTS is scheduled to leave for the U.S. on Monday to attend the 64th Grammy Awards in Las Vegas on April 3 where they were nominated for Best Pop Duo and Group Performance for "Butter." They will also hold four "Permission to Dance" concerts in Las Vegas' Allegiant Stadium on April 8, 9, 15 and 16.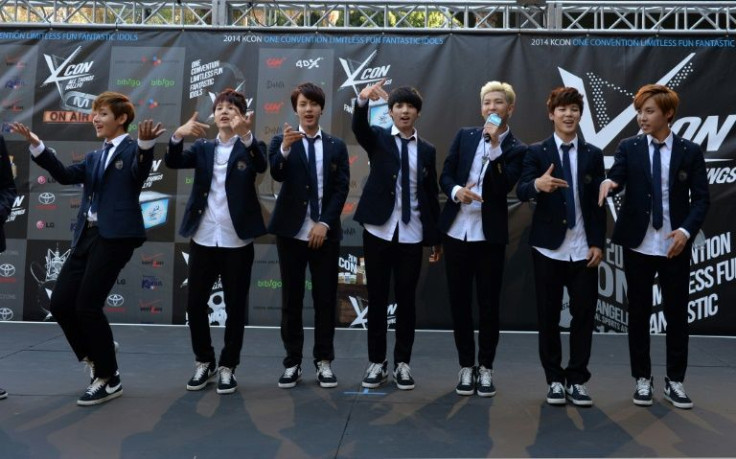 © Copyright IBTimes 2023. All rights reserved.