BTS' V, Jimin Have Adorable Cuddling Session On 'In The Soop'; Twitter Reacts
KEY POINTS
BTS members V and Jimin trended on Twitter once again after "In the Soop" BTS ver. episode 4 aired
The BFFs had a cuddle session in the latest episode of BTS' new reality show
V and Jimin are often seen cuddling and taking naps together
BTS members and longtime BFFs V and Jimin once again proved just how close they are in episode 4 of "In the Soop," a reality program that shows the South Korean boyband in a relaxed setting.
The episode, which aired on Wednesday, showed the seven BTS members enjoying another day of fun and relaxation, with V hopping into bed with a sleeping Jimin in the morning.
V, who was sent to wake up Jimin, proceeds to roll all over his sleeping pal and settle on top of him. Jimin tries to tickle V, making the latter laugh. J-Hope then finds his two bandmates having a cuddling session on the bed and hilariously leaves them to their antics.
BTS fans soon set Twitter ablaze with posts about the pair's bromance, immediately making V and Jimin trending topics on the site.
BTS fans outside of South Korea can watch all episodes of "In The Soop" on the Weverse app. The next episode will be available Sept. 16.
This isn't the first time the two have displayed their affection for each other. V and Jimin, who are both born in 1995, can often be seen cuddling and taking naps together in BTS reality shows and social media videos. The pair also released a song titled "Friends" earlier this year in honor of their friendship.
Back in 2014, V revealed that Jimin was the only BTS member he would introduce to his sister. V, whose real name is Kim Taehyung, said his close friend was his choice due to his innocence and kindness, Koreaboo reported.
"First of all, Jimin is a very innocent boy. He's very kind-hearted. And I also have a sister, I think Jimin is not that bad," V said.
Meanwhile, BTS is currently gearing up for the release of its next album, which is expected to drop later this year.
Earlier this month, the South Korean act set a record as the first K-pop group to reach no. 1 on the Billboard Hot 100 chart with its new all-English single, "Dynamite."
After its Billboard feat, the next thing on BTS' agenda is the Grammy Awards.
"We went to the Grammys at the beginning of the year and did a collaborative performance," BTS member Suga said at an online press conference on Sept. 1. "Now I would like to do a single performance with just BTS on the Grammy awards stage."
"It would be great to receive an award, but that's not going to become a reality just because we want it," he added. "For now, just getting to perform on the Grammy award stage is our goal."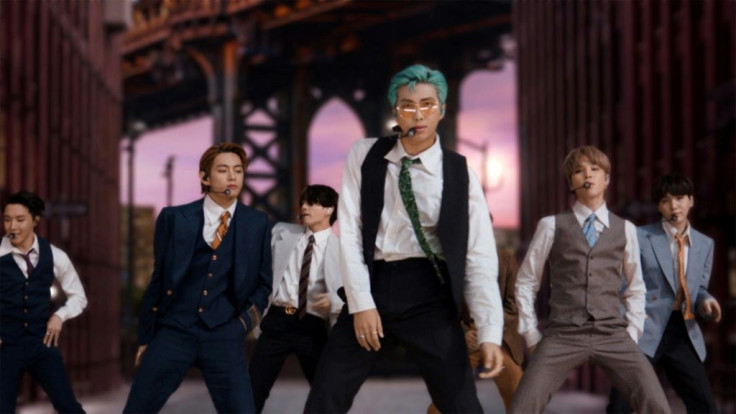 © Copyright IBTimes 2023. All rights reserved.
FOLLOW MORE IBT NEWS ON THE BELOW CHANNELS