California Gay Marriage Ban Overturned As State Prepares For Tourism Boost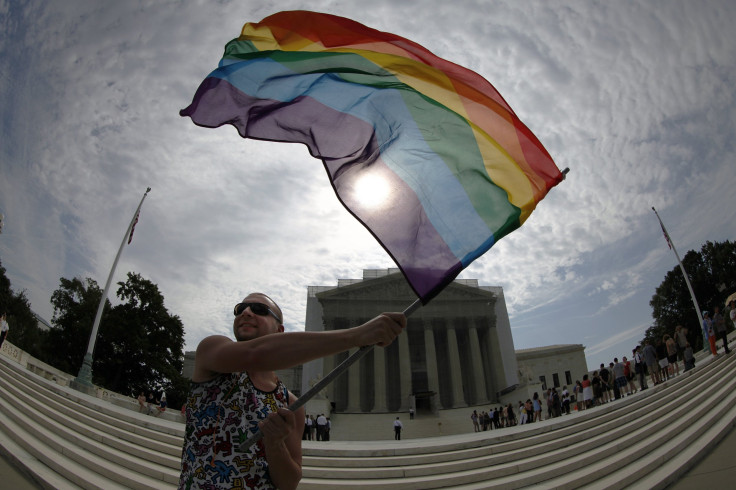 The U.S. Supreme Court laid down its hotly anticipated rulings on the Defense of Marriage Act and California's Proposition 8 Wednesday in what has been regarded as a big (though entirely victorious) win for gay rights activists: California's gay marriage ban was overturned and federal benefits will come to same-sex partners in all states that recognize gay marriage.
The Williams Institute at UCLA School of Law estimated that over the next three years, 37,000 California same-sex couples are likely to marry, pumping approximately $492 million in new business revenue into the state economy from weddings. The institute put California's lesbian, gay, bisexual and transgender community at 1.1 million adults, with nearly 200,000 individuals who are already part of a same-sex couple. "As a result of the court's ruling, more people are living in states where same-sex couples can marry than ever before," said Gary Gates, a demographer with the institute.
Yet, Gates estimated that some 5.5 million LGBT Americans, including more than 800,000 who are part of a same-sex couple, still live in states without marriage equality. Prior to the ruling, 18 percent of the entire U.S. population and 22 percent of same-sex couples lived in the 12 states and District of Columbia where gay marriage was legal. The addition Wednesday of the nation's most populous state brings that total to 30 percent of the U.S. population and 37 percent of same-sex couples who live in states that have legalized gay marriage.
In addition to the $492 million in business revenue over the next three years, the Williams Institute's research suggests that California will gain roughly $46 million in tax and fee revenue from same-sex weddings. The numbers stack up with figures released by New York City last year. Mayor Michael Bloomberg announced in July that same-sex marriage had generated $259 million in economic impact and $16 million in city revenues alone in the first year after legalization. Gay marriage licenses accounted for more than 10 percent of the 75,000 licenses issued over the 12-month period, and the city said more than 200,000 guests traveled from out of state to same-sex marriage events, booking more than 235,000 hotel room nights.
"Marriage equality has made our city more open, inclusive and free -- and it has also helped to create jobs and support our economy," Bloomberg said.
Though California does not have the novelty of being an early entry into gay marriage tourism, it does benefit from some of the United States' most spectacular scenery. Indeed, the Golden State's long stretch of coastline is already a big draw for destination weddings and honeymoons.
The Supreme Court ruling will, in theory, go into effect in 25 days on Sunday, July 21, but Californians are already preparing. Discover Los Angeles posted a link on its homepage Wednesday on how to celebrate marriage equality in the City of Angels.
"The Supreme Court's landmark ruling on June 26, 2013 has paved the way for same-sex marriage in California," the wedding guide reads. "With its gorgeous weather, world class hotels and spectacular scenery, Los Angeles is the perfect city to host an unforgettable wedding. To help you make the big decisions, we've created exclusive guides that feature all the services you'll need for one of the most important days of your life."
Meanwhile in San Francisco, Joe D'Alessandro, president and CEO of the San Francisco Travel Association, said the ruling would be a major boon for tourism, which is the city's largest industry and generates an excess of $8.9 billion annually for the local economy.
"San Francisco is where marriage equality began in 2004 and, through the legal ups and downs, we have been a beloved location for weddings, commitment ceremonies and honeymoons ever since," he noted. "People from all over the world recognize the values that we have always stood for and today's decision confirms those so-called 'San Francisco values' of understanding and acceptance.
"We hope some of those couples who were married here in 2004 will come back soon for their 10th anniversary and we look forward to welcoming many more."
© Copyright IBTimes 2022. All rights reserved.
FOLLOW MORE IBT NEWS ON THE BELOW CHANNELS