'Call Of Duty: Black Ops Cold War' Die Maschine Hack: How To Unlock Secret Music
KEY POINTS
"Call of Duty: Black Ops Cold War" features a new secret song in its Zombies map
Players have to collect three tapes to listen to the new secret song
Check out the tips and tricks on how to activate the secret song in Die Maschine
Secret songs are a staple in "Call of Duty" Zombies maps. After taking a break in "Call of Duty: Modern Warfare," the team behind the popular series returned the secret songs in the game. With tips and tricks, "Call of Duty: Black Ops Cold War," players could easily listen to the new secret music in the game's Die Maschine map.
The all-new secret song in the game's Zombies map is easy to unlock. To access it, players just need to collect three tapes that seemingly appear in the same locations. Finding the secret music is a fun and interesting diversion while finishing a lot of the mini-tasks required to complete the Zombies map and survive.
Tape 1 Location: Living Room
The first cassette tape in the game's Zombies map could be found in the original Nacht Der Untoten building's living room area. It is located inside a cabinet or refrigerator where Mule Kick could be typically found in "Black Ops 1" and the "Zombies Chronicles" of Nacht Der Untoten.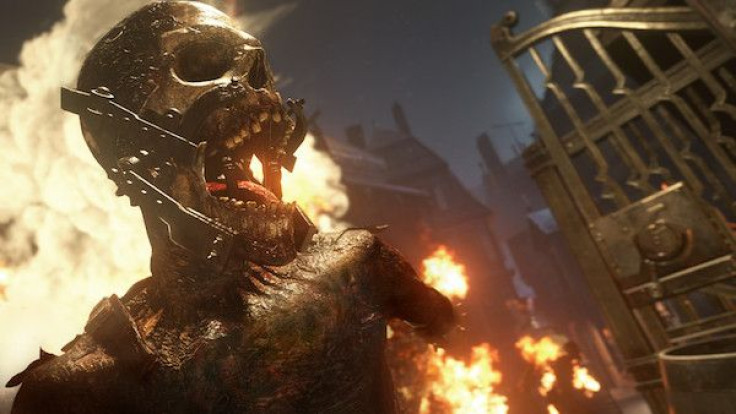 Some players might find it hard to spot the cassette tape, so they need to turn on the power first. If the power is already up but a player could still not find the cassette tape, the flashlight could be used to shine on the cassette.
Tape 2 Location: Medical Bay
The second cassette tape could be found on the wooden shelf in the second-floor office. It is on the left side as the player enters the Medical Bay. In the room just above the Speed Cola, the cassette tape would be on the far right side.
Tape 3 Location: Particle Accelerator
The third cassette tape could be recovered at the bottom level of the Particle Accelerator. From the main stairs, the player must heed to the right side and search for the tape on the edge of a gray machinery box.
The tapes always appear on the same spot in the Die Machine map of "Call of Duty: Black Ops Cold War." The tapes do not have a prompt, so players must hold Square/X or the interaction button on their PC to activate them. Once they use all three tapes, the new hidden song will begin to play for everyone to hear on the map.
Titled "Alone," the secret song is composed by Treyarch Senior Sound Designer Kevin Sherwood. Lead vocals were provided by Clark S. Nova. Scott Eckert took care of the sound mixing, Malukah did the vocal editing and Shawn Jimmerson handled the song's vocal engineering.
© Copyright IBTimes 2022. All rights reserved.
FOLLOW MORE IBT NEWS ON THE BELOW CHANNELS