'Call Of Duty: WWII' Rumor: Nintendo Switch Version On The Way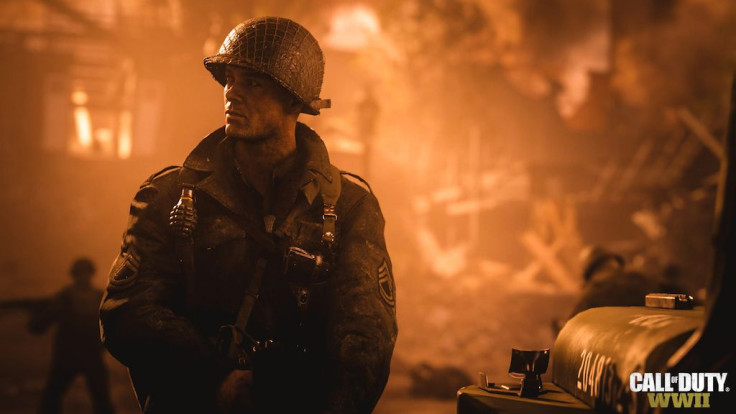 Activision's "Call of Duty: WWII" is coming to the PlayStation 4, Xbox One and PC on Nov. 3, but it looks like the game's going to be released for another console as well. A new rumor is suggesting that the upcoming World War II first-person shooter will also be made available for the Nintendo Switch.
Last Friday, Canadian game developer Beenox posted a photo on its official Twitter page showing that it is currently working on a game with the help from members of the Canadian Army. "To create games always more realistic, we have had the pleasure of receiving two representatives of the Canadian Army for us to talk about their experience and their job," the company said in its tweet, which has been translated from French. The tweet also mentioned "COD," which stands for "Call of Duty." The photo shows one guy wearing a "Call of Duty" t-shirt as well.
Beenox is the same developer that brought "Call of Duty: Black Ops 3" to the PlayStation 3 and the Xbox 360. Beenox also helped develop "Call of Duty: Modern Warfare Remastered," which indicates that it has become one of Activision's most trusted developers. Beenox actually became a wholly owned subsidiary of Activision way back in 2005.
It does make sense that Activision would bring in Beenox to develop the Nintendo Switch version of "Call of Duty: WWII" given its track record. As far as Nintendo gaming systems are concerned, Beenox has also worked on the Wii U and Nintendo 3DS versions of "Skylander: SuperChargers" and "The Amazing Spider-Man" games, as pointed out by Nintendo Life.
Activision has yet to officially announce that Beenox is indeed working on the Switch version of "Call of Duty: WWII." Nintendo will be attending E3 2017 this coming June, and it seems like a perfect place to announce the Switch version of the game, as pointed out by Game Rant. Nintendo did say that it will show off more upcoming Switch titles for 2017 during its E3 Spotlight livestream on June 13 at 9 a.m. PT/ 12 p.m. ET.
Although a lot of fans already believe that Beenox is working on the Nintendo Switch version of "Call of Duty: WWII," it's also possible that the company is working on the PC version of the game in some capacity.
The possibility of Beenox simply working on PS3 and Xbox 360 versions of "Call of Duty: WWII" has also been ruled out. Activision didn't say anything about releasing the upcoming shooter on those platforms. The game's primary developer is Sledgehammer Games, the same studio behind "Modern Warfare 3" and "Advanced Warfare." Beenox could act as a secondary developer for "WWII's" PC version.
Another possibility that's been thrown around is that Beenox might be working on an entirely new "Call of Duty" game that will exclusively be for the Nintendo Switch. Of course that is just speculation at this point since Activision hasn't confirmed anything about that just yet.
© Copyright IBTimes 2023. All rights reserved.