'Call Of The Night' Episode 5 Live Stream Details, Spoilers, Release Date
KEY POINTS
"Call of the Night" Episode 5 is airing Thursday
The episode will be out on Hidive
The anime is based on Kotoyama's original work
Nazuna's new look will be unveiled in "Call of the Night" Episode 5.
The official Twitter account of the anime has shared a small summary and spoiler stills from Episode 5. One of the stills shows Nazuna with her hair down.
Another still showcases Ko and Nazuna about to kiss each other.
In the last episode, Ko was getting better at leaving the house quietly. He wondered where Nazuna was as he remembered the time he shared a tender kiss with her.
He went out and spotted her. Ko thought it was usually impossible to find her but today she was right in front of him.
He noted that he was not in hurry to see her. Ko wondered what kind of look he should give her. Later, Nazuna appeared before him and she asked why was he acting weird.
Suddenly, Ko said that he was ready for her and wanted to become a vampire. He invited her to bite and turn him.
"Wracked by insomnia and wanderlust, Ko Yamori is driven onto the moonlit streets every night in an aimless search for something he can't seem to name. His nightly ritual is marked by purposeless introspection — until he meets Nazuna, who might just be a vampire! Ko's new companion could offer him dark gifts and a vampire's immortality," read the official "Call of the Night" anime synopsis, as per Sentai.
"But there are conditions that must be met before Ko can sink his teeth into vampirism, and he'll have to discover just how far he's willing to go to satisfy his desires before he can heed the Call of the Night!" it continued.
"Call of the Night," directed by Tetsuya Miyanishi, is based on the original work by Kotoyama. Its music is composed by Yoshiaki Dewa, while the sound direction is by Eriko Kimura.
The opening theme song of "Call of the Night" anime, titled "Datenshi" (Fallen Angel), is performed by Creepy Nuts. The ending theme song, "Yofukashi no Uta," is by Creepy Nuts.
"Call of the Night" Episode 5 is scheduled to broadcast this Thursday. Fans in the U.S. can watch the episode online on Hidive. The episode will live stream in Japanese with English subtitles.
The anime is titled "Yofukashi no Uta" in Japanese.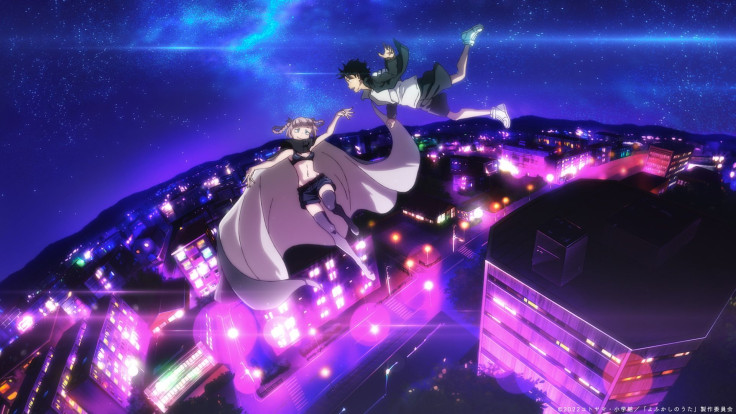 © Copyright IBTimes 2023. All rights reserved.