'Camp Rock' Director Details How Demi Lovato, Joe Jonas Were Cast
On June 19, 2008, some people knew Demi Lovato and Joe Jonas' names, but by June 21 of that same year, everyone knew their names. At least, those under 18 and their parents did. What happened between those two dates? The premiere of Disney Channel's original musical movie, "Camp Rock."
The film, which is now officially 10 years old, centered on Mitchie (Lovato), a shy girl with a gift for singing and songwriting, who attends a music summer camp while helping her mom in the camp's kitchen part-time. Slowly, she broke out of her shell and fell even more in love with music. At the same time, she started to fall for Shane (Jonas), a mega pop star with an attitude who's sent to the camp to help out for the summer. Together, the two learned what they wanted most for their musical careers, as well as for their personal lives.
"They were not huge when we cast them," director Matthew Diamond told International Business Times of the Jonas Brothers — Joe, Nick and Kevin Jonas. "I mean, they're amazing. I could not admire them more or like them more… But at the time, I think we saw them at a small club in Hollywood. They were basically touring around in a station wagon. And you know, this is like a 200-person club and you could see how excited they were."
Before Disney put this movie in the works, the network had already had huge success in this genre with the "High School Musical" franchise that kicked off in 2006. Apparently lightning really can strike twice because "Camp Rock" debuted to 8.9 million total viewers on June 20, 2008, becoming the most-watched non-sequel movie on Disney Channel. This effectively made Lovato and Jonas household names in the process.
Diamond had worked with the network before, on shows like "That's So Raven" and "Phil of the Future," so he knew what kind of qualities in the talent he was looking for to ensure they had that star quality for the movie. He found all of it and more when Lovato and Joe came his way.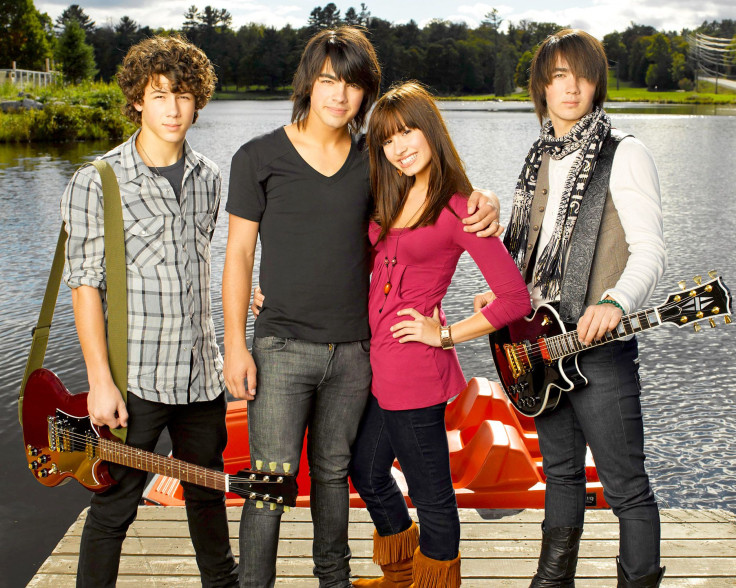 Before the current DNCE frontman auditioned for the role of Shane, Diamond revealed that they had a hard time looking for an actor to take on the role.
"We auditioned a lot of guys and then they suggested we looked at this kid, Joe Jonas," he told IBT. "He's in the band Jonas Brothers. Actually, I think I had him send two audition tapes. I wasn't that wild about the first one. I was like, 'There's something special here, send me another one.' So, I think he did… But he was great."
After seeing the solid audition tapes, Diamond knew he'd found his Shane. A singing audition wasn't necessary because he'd already been out to see Joe, along with his brothers, perform at On The Rox in Los Angeles and knew that they all "had that boy rock star thing going on."
He explained: "It was a club for 200, but there was 190 girls going crazy. So, it didn't take a rocket scientist to figure this out."
As for Nick and Kevin's acting? They didn't even worry about it because the original script didn't even call for their parts of Nate and Jason, respectively. After Joe was cast and Diamond saw the Jonas Brothers perform, they "actually refashioned the script to reflect the brothers because they hadn't been in the prior [draft]." The first draft had Shane's manager sending him off to camp to fix his bad-boy image, while the new version gave his bandmates, Nate and Jason, the honor.
"We just thought, 'Oh, this is such a great, interesting thing that he's got two bandmates to say 'You're out of control, you're going back to Camp Rock and you're going to learn to behave yourself' or something," Diamond explained. "That seemed like a much better idea than an off-screen manager."
As for Lovato, she had to both sing and act for her audition, as well as give a small dance audition. Though, the third wasn't as important as the first two skills. She was found with the help of Judy Taylor, who was the head of casting. She brought in hundreds of kids "and among the mix was Demi and we sort of all fell in love with her," Diamond said. "I certainly did."
He called her "an unbelievable talent" and explained that "she wears her emotions on her sleeve, she has a smile that lights up the sky and she sings like a dream." Still, it took a while for Disney Channel to decide to cast her. Eventually, they just couldn't deny her talents and made her the star of their next big movie.
The director said it's always hard with casting because you never can know for sure that someone will do an excellent job and viewers will love them until you start working on it. "You think that someone like Demi is a major talent, but you don't know for sure that she's gonna turn into what is now Demi Lovato," he said. "She's a sweet kid who's insanely talented. And you don't know that you have the Jonas Brothers, you've got this band and they're really special." But with seeing all that they could do in auditions, "you believe, though."
Now, 10 years later, Diamond, fans and the cast, alike, are all able to look back at the avalanche "Camp Rock" started. There was an extremely popular sequel movie, hit soundtracks, sold-out tours, future Disney Channel shows for both Lovato and the Jonas Brothers, as well as everything that's come after that. Lovato now has six albums and is working on her seventh, while performing concerts all over the world. Joe heads up his new band, DNCE, which just released its new EP "People to People," and just finished coaching on Season 7 of the Australian edition of "The Voice."
"It was a remarkable opportunity," Diamond said of working on the project. "I feel I got something really wonderful. You always give everything you have to every project. And, once in a while, you see it…make a contribution to a project like that or a talent like Demi or a talent like Joe or Meaghan [Martin, who played Tess] or Alyson [Stoner, who played Caitlyn]."
He's "very proud" of helping discover Lovato and the Jonas Brothers. As for what they all were able to create with the much-loved "Camp Rock"? He said, "I think this stuff goes on and inspires other people. That's really, really special. That's actually something to be proud of."
© Copyright IBTimes 2022. All rights reserved.
FOLLOW MORE IBT NEWS ON THE BELOW CHANNELS