Can Neymar Recover From Injury To Play The World Cup Final?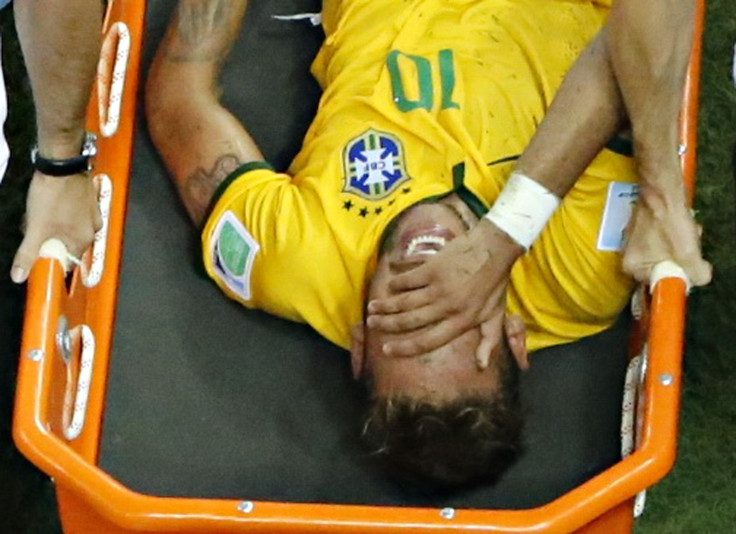 When Brazilian star striker Neymar was taken off the pitch in pain in the second half of Brazil's 2-1 win over Colombia Friday afternoon, many of the team's fans saw their World Cup dreams shatter along with one of his vertebrae.
The injury will keep the star from playing Tuesday afternoon in the team's semifinal against Germany, leaving the team short two key players as defender Thiago Silva will also sit out the match after receiving a yellow card, his second of the tournament and, therefore, an automatic one-match ban against Colombia.
But there has been rampant speculation about whether Neymar will be able to return to his team in time for the World Cup final Sunday, assuming the Brazilians make it (or make it to the losers' contest for third place on Saturday if they lose Tuesday).
The team's doctor, Rodrigo Lasmar, told Brazil's SportTV network it's never going to happen and he will need to refrain from playing for at least a few weeks to heal, according to the BBC.
"Unfortunately, he's not going to be able to play," Lasmar told the TV network. "He is very, very sad. It's not serious, in the sense that it doesn't need surgery, but he'll need to immobilize (his back) to recover."
Neymar is recuperating from the injury at his condominium in the town of Guarujá near Sao Paulo, and has said he will watch the final in Rio de Janeiro Sunday if Brazil makes it past Germany, according to the Brazilian newspaper Veja.
The paper added Neymar posted the following message on his Instagram Tuesday: "I would like to thank everybody who sent me their positive energy and I also would like to ask that we all cheer together until the last second. I would very very much like to be with supporters and with my teammates on the field on Sunday at the Maracanã," in Rio de Janeiro.
Neymar has said he already is feeling better and would be willing to grin and bear the pain and play with Brazil in the final match, but his team doctors say that is not an option.
Still, speculation continues about whether he may return to the pitch by some miracle Sunday. Brazilian media reports stated the team's staff met with Neymar during the weekend to see if painkiller injections could be used to allow him to play despite his injury, sustained on a challenge by Juan Zuñíga of Colombia, according to Australia's Sydney Morning Herald.
But Brazilian newspaper Globo said even with injections there is very little chance that it would work.
"There is no guarantee of success, the chances are small," Globo wrote.
In the end, it appears the chances are nil Neymar will return to World Cup play. Brazil's just going to have to pull it off without him.
© Copyright IBTimes 2023. All rights reserved.