Can Television Save The Music Industry? Electric Jukebox Looks To Bring Streaming To The Masses Where Apple Music And Spotify Fail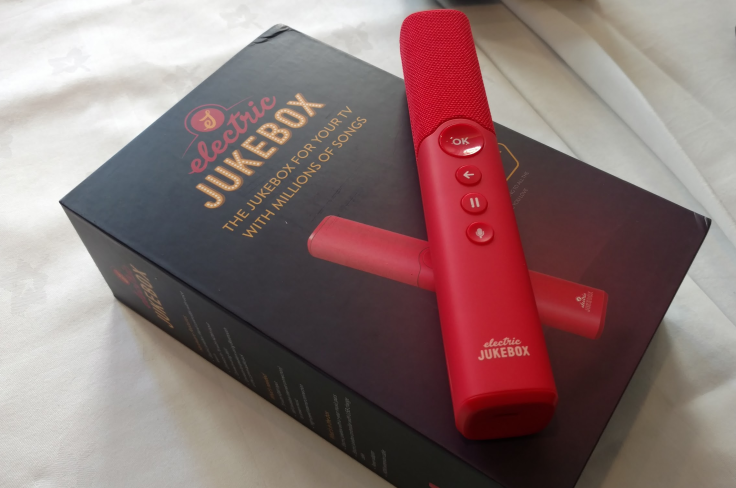 LONDON -- Television might not seem like the natural savior of the music industry, but one company hopes it can attract the hundreds of millions of people who have stopped paying for music over the last decade, by turning the TV into a music-streaming center for the whole home.
Electric Jukebox is the brainchild of Rob Lewis, who launched his first music streaming service over nine years ago and aims to people to start paying for music again. Its selling points are ease of use, lack of recurring monthly subscriptions, and a music catalog to rival Spotify and Apple.
Launching in the U.S. and U.K. in time for the holidays, Electric Jukebox will cost you $229. That gets you a dongle similar to Google's Chromecast, which you plug into an HDMI port on your TV, and a remote control resembling a Nintendo Wiimote that lets you control the interface using gestures or voice commands.
Also included in the price is a 12-month subscription to Electric Jukebox's premium streaming service, which includes "millions of songs" as well as curated playlists that will be ad-free. The interface is very stripped-down and easy to navigate, and with its references to mixtapes and icons that look like CDs, it is clear this product's target market is definitely middle America.
There are limitations, however. There is no option to download music to play back offline, and users will only be able to listen to the service in their homes because there's no smartphone app. Once the first 12-month subscription runs out, you will be able to renew for another year for $60 or use the ad-supported version that doesn't feature on-demand services.
At $5 a month, Electric Jukebox substantially undercuts both Spotify and Apple Music (both charge $9.99 a month) on price, but since it's tethered to the device attached to your TV, you can't take it with you.
All The Music In The World
According to research carried out by YouGov for the company, the majority of people listen to music in the home on a radio (52 percent) or CDs and Hi-Fi (42 percent), while the number of people listening to streaming services on hardware from companies like Sonos is just 6 percent. That, Lewis told International Business Times, represents a huge opportunity.

"The media has gone to enormous lengths to push, promote, talk about Apple Music, Spotify, Rdio, Napster for 10 years, but if we have just got six percent adoption, the reality is there is another 94 percent who love music but haven't found a path into this idea of having all the music in the world."
It is no secret that the music industry today is in a bit of trouble. Last year the industry was worth just shy of $15 billion, and while this is still a huge sum, it's down from a high in 2008 of $18 billion -- and the trend is for continued decline. The reason for this decline is the decimation of sales of physical formats like CDs, minidiscs and vinyl as well as the steady slowdown in sales of digital downloads.
The only significant growth sector is streaming: "Everyone agrees that music streaming is the promised land. It's the future for the industry, but we have been saying this for quite a while now," Lewis told an audience of music industry and media types in Bafta's headquarters in central London on Wednesday.
Lewis is not new to this business. A former Ernst & Young entrepreneur of the year, he launched his first streaming service nine years ago in Sweden, predicting that within a year everyone would be subscribing to music streaming services. Nine years later, just 40 million people have a music streaming subscription, compared to the 200 million people regularly buying CDs a decade ago. Lewis was also involved in Omnifone, a business which powers streaming services including Spotify, founded in 2003 that secured the first international licensing for unlimited music with all four major labels in June 2007.
Industry Backing
Lewis' venture is backed by some significant music industry names, and it has celebrity endorsements from Robbie Williams, Sheryl Crow and Stephen Fry, industry heavyweights like Paul McGuinness (former U2 manager), Sir Malcolm Williamson (previously CEO of VISA International), Rob Dickins (previously CEO of Warner Music), David Munns (previously CEO EMI Americas) and Alain Levy (CEO of EMI Music). It is unclear at the moment who is backing this venture financially; a company spokesperson told IBT it would have more to say on this in the coming weeks.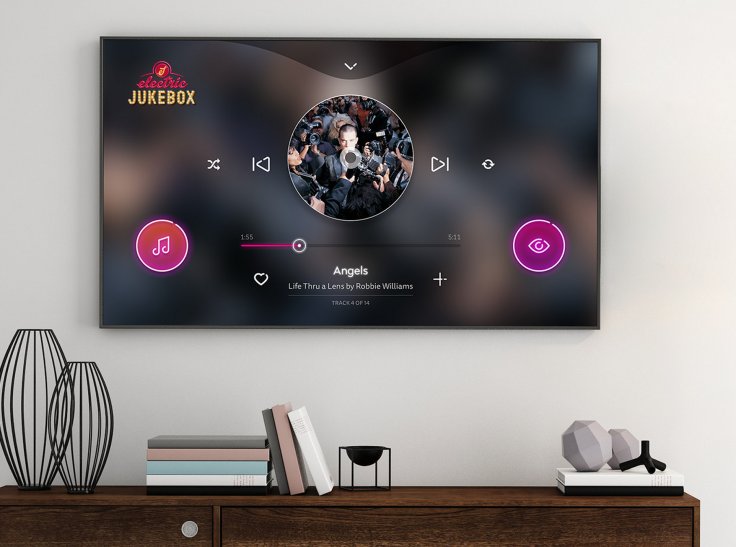 There will, however, need to be a sizeable amount of cash to burn as the company is planning a marketing campaign with celebrity endorsements, billboard ads and TV spots in the coming months -- as it aims to reach those people sitting in their living rooms listening to music on CDs.
"People have been shut out by technology because the complexity of digital is rapidly depriving people of what is almost a human right, the right to enjoy music at home," Lewis claims, promising to restore that right.
While Lewis says it is never easy to sign a deal with any record label, publisher or rights holder in the music industry, he has a proposal which none of his rivals can match.
"The reason it has been relatively positive is that the industry knows we are after a consumer base that are currently dormant. They are listening to the radio, they are listening to CDs they bought a long time ago. It's a lost generation. They used to spend a lot of money on music."
Taylor Swift Or Bust
The company is so far remaining quiet on just which labels it has signed up to the service, other than saying millions of songs would be available. When asked if Taylor Swift's latest album "1989" would be on the service -- somewhat of a bellwether for the completeness of a streaming service's catalog given Swift's previous issues with Spotify and Apple Music -- he declined to comment, though her previous album "Red" did show up in an onstage demo.
Music Streaming US Market Share | SoftwareInsider
When pushed on the service's catalog, Lewis said: "We will be much better than any free service, and will be better than any service that is premium but sits alongside a free service."
With a simple interface and a catalog of music that matches rival services at half the annual cost, Electric Jukebox seems like a guaranteed winner. "There is a market that hasn't been persuaded by premium music subscription services which has yet to be properly addressed by the online music business," Jack Kent, an analyst with IHS, told IBT. "However, the $229 upfront price could prove prohibitive for it to gain traction as a mainstream service. Also, focusing on the living room and shared music experiences will help it differentiate, but mobility and the ubiquity have been two of the main drivers of other premium music services' success."
However, Lewis is clear in who this service is for and how big it can get: "Anyone who loves music, who has Wi-Fi at home, who has a TV and wants an easy, fun way of playing music. This is not for everyone, but it is for hundreds of millions of people."
FOR FREE to continue reading
✔️ Unlock the full content of International Business Times UK for free
offer available for a limited time only
✔️ Easily manage your Newsletters subscriptions and save your favourite articles
✔️ No payment method required
Already have an account? Log in
© Copyright IBTimes 2023. All rights reserved.