Can Trump Visit UK After Anti-Muslim Retweets? Sadiq Khan Won't Welcome President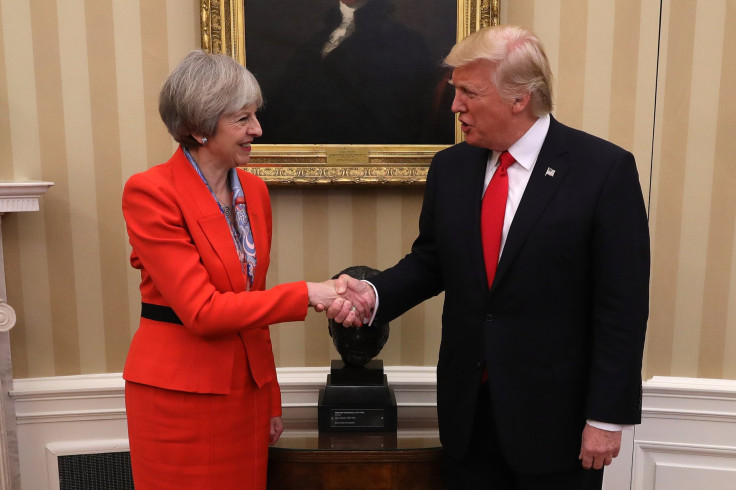 The Mayor of London, Sadiq Khan, who has a history of feuding on Twitter with President Donald Trump, released a formal statement on Thursday, condemning the POTUS for retweeting racist videos.
On Wednesday, Trump retweeted three videos posted by far-right group Britain First's deputy leader Jayda Fransen. One of them showed a Muslim man destroying a statue of the Virgin Mary, while another showed a "Muslim migrant" beating up a "Dutch boy on crutches." The third showed Muslim men pushing a boy off a building.
Trump's action, which caused the British parliament to raise the issue as a point of order in the House of Commons, evoked the following response from Khan.
London's mayor is not the only one to suggest that Trump was no longer welcome in the U.K. British lawmaker Chuka Umunna called for the president's invitation to visit Great Britain to be rescinded.
"I don't think the president of the United States, a president that has not only promoted bigotry, misogyny and racism in his own country — I don't think he is welcome here," he said the Hill reported. "I think the invite that has been made to him to come to our country in early 2018 should be withdrawn."
Umunna said that the leader of the free world is not expected to normalize hatred and that is exactly what Trump has done, which is a blatant misuse of power.
"Somebody in his position, doing what he has done and said, not only in his own country but now getting involved in the debate here, he is normalizing hatred," he said. "I think that takes us down a very, very dangerous road indeed and you've got to call it out."
British Home Secretary Amber Rudd has confirmed that Trump's visit to the U.K. has not been cancelled, despite the less-than-hospitable feeling toward the president at the moment in their country.
Trump's visit to the U.K. has been embroiled in controversy and confusion ever since he took office. According to a report by the Guardian, Trump told British Prime Minister Theresa May in a phone call that he was not looking forward to visiting her country until he knew for certain that he had the support of the public.
The report went on to mention that the president feared protests would breakout if he were to visit the U.K., following his Twitter feud with London's mayor. After Trump condemned Khan's response to the London terror attack in June, the latter called for U.K. to cancel Trump's visit.
"I don't think we should roll out the red carpet to the president of the USA in the circumstances where his policies go against everything we stand for," Khan said, the Hill reported.
Following the drama surrounding Trump's visit to the U.K., the White House confirmed in October that the president will not be visiting the country in 2017. Instead, he will be visiting "sometime next year" revealed White House Press Secretary Sarah Huckabee Sanders, the Independent reported.
Also, even though the White House did not confirm this, it was reported by many British outlets that U.S. diplomats were talking about downgrading Trump's trip from a "state visit" to part of a multi-country trip.
© Copyright IBTimes 2023. All rights reserved.