Candace Cameron Bure Wears 'Hug Like Bob Saget' Sweatshirt In New Photo
KEY POINTS
Candace Cameron Bure shared a photo of herself with Dave Coulier, smiling as they walked through an outdoor market
She honored Bob Saget with a custom-made sweatshirt that says: "Love like Jesus, hug like Bob Saget"
She said they will be selling the sweatshirt and donating the proceeds to Scleroderma Research Foundation
Candace Cameron Bure is leaning on "Full House" co-star Dave Coulier and his wife Melissa, one week after Bob Saget's passing.
On Monday, the 45-year-old actress posted on Instagram a photo of herself with Coulier, walking through an outdoor market and smiling while they chat.
In the snap, Cameron Bure honored her late co-star with a custom-made sweatshirt that says: "Love like Jesus, hug like Bob Saget."
"This has been one of the hardest weeks of my life and yet, incredibly beautiful because of family and close friends," she wrote in the caption. "Yesterday was a better day. We walked, we laughed, we reminisced."
She went on to thank Coulier, 62, and his wife, 38, for their continued support after Saget's death.
"I [heart emoji] you. I think that's all you'll hear from me again. I love you. Don't be annoyed," she wrote, adding a laughing emoji.
Cameron Bure also explained why she was wearing the custom sweatshirt while out with Coulier in Malibu, California, Sunday.
"I think it sums everything up just right. Love like Jesus, hug like Bob Saget," she concluded, noting that she had the sweatshirt made for Saget's wife, Kelly Rizzo, and the rest of her family.
"Candace, I was just about to say, I want one! Thank you, I love you," Rizzo commented.
The "Aurora Teagarden Mysteries" star's sweatshirt also received approval from other followers, who said they also want one.
"Oh my word, how beautiful!! And I need this sweatshirt!!!" Virginia Williams wrote.
"Can I order one?" B.J. Novak asked.
"Love the shirt!!!!!" Leann Rimes wrote, adding, "MASSIVE HUG SENT YOUR WAY."
"Candace, this is wonderful! I'll be buying one for sure!" Valerie Joy Wilson wrote.
"I hate to ask anything of you during this time, but I'd love one of those sweatshirts! If you sold them maybe? And maybe proceeds go to scleroderma?! Continued prayers for you!" one fan suggested.
After receiving many inquiries about the sweatshirt, Cameron Bure updated her post: "We are working to have this available for sale with 100% of the proceeds benefitting www.srfcure.org. Keep you posted!!!"
Saget was found unresponsive in his Orlando, Florida, hotel room on Jan. 9. He was 65 years old.
Cameron Bure posted several tributes to Saget last week on Instagram. In one post, she shared a snap of them hugging and smiling at each other.
"I love you sooooo much. I don't want to say goodbye. 35 years wasn't long enough," she wrote in the caption.
Saget's "Full House" co-stars John Stamos, Jodie Sweetin, Lori Loughlin, Andrea Barber, Scott Weinger, Mary-Kate and Ashley Olsen, Cameron Bure, Coulier and series creator Jeff Franklin also released a joint statement in which they shared how the late actor touched their lives. In their statement, they mentioned how powerful Saget's hugs were.
"Bob, we love you dearly. We ask in Bob's honor, hug the people you love. No one gave better hugs than Bob," they wrote.
Saget was laid to rest Friday in a private ceremony at Mt. Sinai Memorial Park Cemetery in Hollywood Hills, Los Angeles. At least 300 people attended, including Cameron Bure, Coulier and their other "Fuller House" co-stars.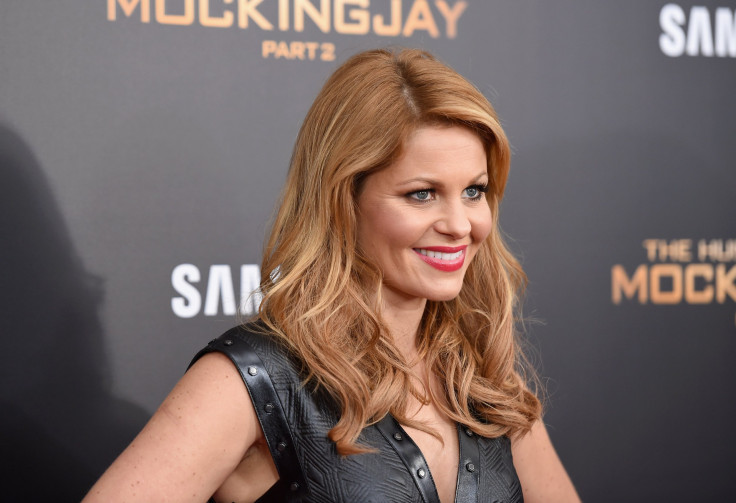 © Copyright IBTimes 2023. All rights reserved.