Carly Fiorina Made Things Worse For Doomed Ted Cruz Campaign, TV Ad Study Suggests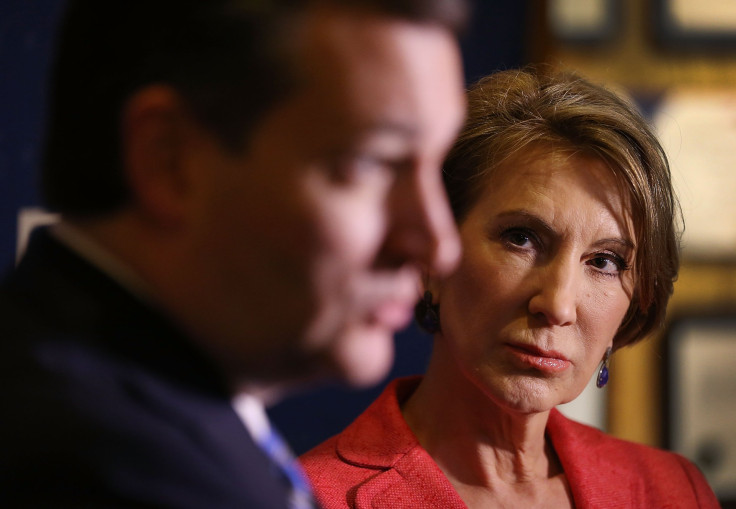 When Ted Cruz picked Carly Fiorina as his running mate two weeks ago, the move was largely seen as a desperate attempt to inject some excitement into his presidential campaign and steal a victory from Donald Trump in the Indiana primary.
At this point, we all know how that went. But now it looks like Fiorina might have been the final nail in Cruz's coffin. Not only did the former Hewlett-Packard chief fail to improve perceptions of Cruz, she actually made things worse, according to new survey data from the research firm Ace Metrix, which measured viewer sentiment for every presidential campaign commercial released so far in 2016. The firm found that the 30-second TV spot in which Fiorina introduced herself as Cruz's running mate had the most negative impact out of any campaign commercial this year.
The ad in question, which aired April 28, features a passionate and resolute Fiorina singing Cruz's praises as the camera zooms tighter and a montage of action shots featuring the Texas senator wafts across the screen. In the background, a syrupy din of inspirational music conjures up visions of any number of Steven Spielberg movies, in which ragtag underdogs beat the odds and triumph over nefarious forces.
"Jobs, freedom, security — they feel out of reach because corrupt politicians have sold us out to the insiders," Fiorina says in the ad. "Neither Hillary Clinton nor Donald Trump will fight the system. Because they are the system."
Fiorina finishes her monologue by saying, "I am honored to join Ted Cruz as his running mate."
Viewers apparently weren't buying it. Ace Metrix, which bases its results on viewer surveys, asked viewers the question, "How does this ad change the likelihood that you will vote for this candidate?"
For each ad in the study, the firm came up with an "impact score" on a sliding scale from 1 to 100, with a score of 50 indicating no strong influence either way. The Cruz ad scored 34, the lowest of any commercial in the study, meaning it generally made viewers less likely to want to vote for Cruz. Ace Metrix said it considers even 3 points above or below 50 statistically significant, so a score of 34 is resoundingly low. The ad went over particularly poorly with Democrats and Independents, and it scored at barely normal levels for Republicans, Ace Metrix said.
Ace Metrix tested almost 300 presidential campaign commercials released from January through April 2016. The ads were watched by a demographically balanced sample of 500 viewers across party lines.
On the flip side of the Cruz spectrum, the most positive score went to an ad for Bernie Sanders called "Find a Way," in which the Democratic candidate appeals to New Yorkers about the need to rebuild the middle class. The ad, which ran in New York, scored a 56.
Cruz's choice to name a running mate was unconventional, given that his low delegate count made it extremely unlikely he would be nominated to be the GOP candidate. He dropped out of the race less than a week later after losing the Indiana primary to Donald Trump.
Christopher Zara covers media and culture. News tips? Email me. Find me on Twitter and Facebook.
© Copyright IBTimes 2023. All rights reserved.