Casey Anthony plans for another baby after July 17 jail release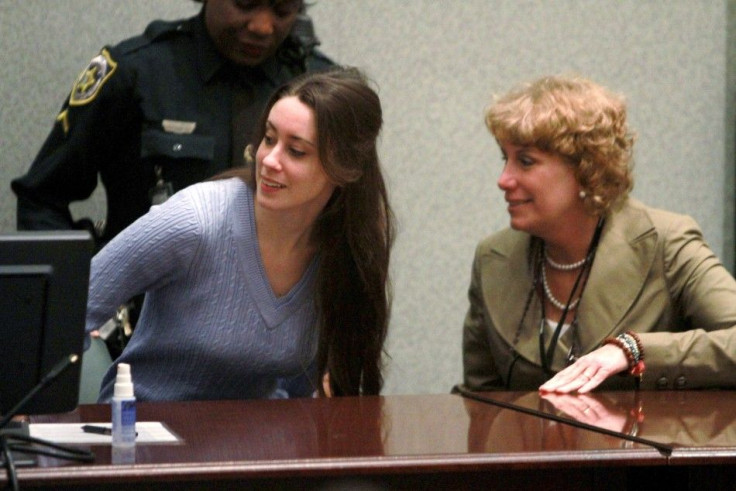 Rumors of Casey Anthony's plan to either adopt or have another child once she's released from jail began floating around soon after her trial ended with a shocking verdict of not guilty from the 12-member jury Tuesday afternoon in Orange County, Florida.
Orlando judge Perry today sentenced Anthony to four years in the Orange County jail where she was previously resided for the last three years. However, critics are alarmed that she could go free within a week from today on good behavior, after serving 1,043 days while awaiting trial.
The idea came to Casey Anthony as she slept in jail, People Magazine reported. I had a dream not too long ago that I was pregnant, Anthony wrote to another inmate. It was like having Cays all over again. People Magazine added that Anthony, in the 250-plus handwritten pages, also wrote about her life behind bars and her hopes for freedom.
The letter was released last year and takes on new meaning now that Casey's close to being set free after she was acquitted Tuesday of murdering her 2-year-old daughter Caylee. I've thought about adopting, which even sounds weird to me saying it, but there are so many children that deserve to be loved, Anthony wrote to inmate Robyn Adams while at Florida's Orlando County Jail. Let's make a deal? Let's get pregnant together?
Anthony is scheduled to be released next Thursday, but not without paying.
The Los Angeles Times reported:
Anthony was fined $4,000, or $1,000 for each conviction. She also must pay $618 in other fees.
These fines are separate from the investigation and prosecution costs state prosecutors want Anthony to pay. The four-year sentence imposed by Perry is the maximum the judge could set under the jury's decision. But unhappy Anthony opponents still gathered outside the courthouse to express their displeasure about her acquittal Tuesday on a charge of first-degree murder in connection to her daughter's death.
An earlier version of this story had an incorrect date for Anthony's jail release date, which was pushed back to July 17.
© Copyright IBTimes 2023. All rights reserved.