'Celebrity Apprentice' 2015 Spoilers: Who Was Eliminated In Episode 4? Joan Rivers Returns In Her Final TV Appearance [RECAP]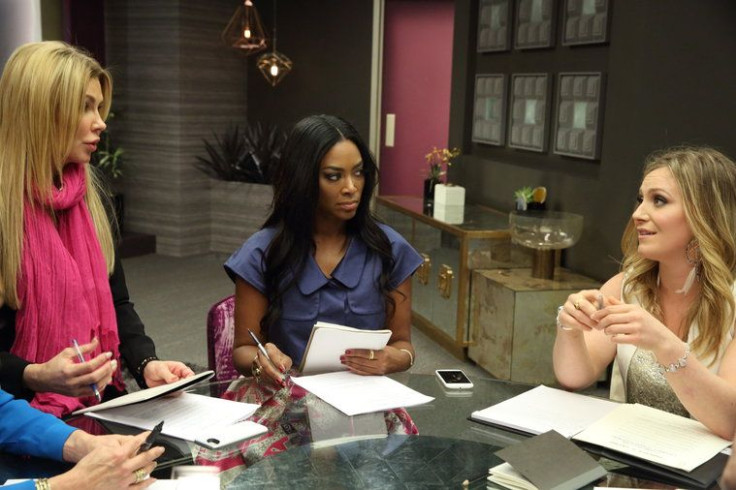 "Celebrity Apprentice" kept things moving Monday, sending two more D-List celebrities home. After firing Jamie Anderson and Terrell Owens last week, the remaining contestants reached the half-way point only to realize that the competition is still an uphill battle.
The first task saw teams Vortex and Infinity create a marketing event for Ivanka Trump's shoe company, proving there's a really fine line between synergy and nepotism. Episode One of Season 14 brought with it the conceit that the show was filmed earlier in 2014 when Keshia Knight Pulliam was fired for not contacting Bill Cosby to help with a charity project. This week's episode reminded us of that fact by including former "Celebrity Apprentice" winner, Joan Rivers, in what became one of the comedian's final TV appearance.
Team Vortex, led by an audibly reluctant Vivica A. Fox, went up against Team Infinity, which selected Kenya Moore to take the helm as the groups created two mobile Nordstrom boutiques in the middle of New York City. Moore's team created the decidedly better marketing event as Fox chased the wrong theme and led her team to accidentally create more of an outdoor café than a shoe boutique. Ivanka agreed and gave the win to Moore's team, sending Vivica into, what can only be described as, a frenzy of defensive emotions.
The 50-year-old actress went from tears to rage and from calm to shaking as the judges began to tear apart her work. The defeated project manager immediately put the blame on Shawn Johnson and Kate Gosselin, bringing them into the boardroom to face the judges' wrath. Fox has had a history of going after the young blood of Season 14 and that continued as she took down Johnson in the boardroom. The 22-year-old defended herself, but ultimately Trump took issue with Johnson's inability to step up to project manager on a task that desperately needed a young voice. Despite Fox's decisions running the team into the ground, Johnson was fired in one of the biggest head-scratcher decisions yet. Fox made all the decisions and lost yet Johnson went home for not putting herself in that position -- further proving that Trump's gut decisions aren't always governed by reason.
With Vivica and Kate saved for another challenge, it was on to the second task of the evening. Teams Vortex and Infinity, led by Lorenzo Lamas and Leeza Gibbons, respectively, had to film a "viral" commercial for the Chalk Full O'Nuts brand on a GoPro camera.
Working on a time limit, each commercial had to pick a direction and stick to it, whether it was a good direction or a bad one. Lamas' team immediately agreed to let Rivera be the star and sing the jingle for the coffee -- because nothing sells like old men with flat voices. Meanwhile, Gibbons let Ziering take the wheel on their really awkward catfight video that barely had anything to do with the product.
The feud between Kenya Moore and Brandi Glanville almost intensified as their commercial called for a fake brawl between the two stars (followed by a sexy pillow fight that was mostly just a cuddle session). Although they each teased turning the fake fight into a real one, nothing ended up happening. Brandi's real enemy in the challenge was Ian Ziering. After taking the directorial reigns, Ziering asked Glanville to leave the editing room when her constant questioning of him became a distraction. In her defense, just because the commercial won doesn't mean a few more heads wouldn't have improved it dramatically. Had the team lost, the move would have probably led to the "Sharknado 2" star's firing. Luckily that wasn't the case.
That's right, despite the awkwardness of their commercial, Rivera's song and dance number didn't quite do it for the judges and project manager Lorenzo Lamas lost the challenge for his team. With only four members left, it looked briefly like Trump was going to just fire someone on the spot. However, when he asked Lamas to select two people to go into the boardroom with him, he respectfully refused and took the bullet for his team -- basically agreeing to be fired by Trump rather than confess that two of his people performed poorly.
With Johnson and Lamas gone, left in their wake are Fox and Gosselin at each other's throats as well as Glanville and Moore ready to come to blows. As the remaining nine contestants go into the final three weeks of competition, only time will tell exactly who will be left standing as the Season 14 winner.
Odds and Ends:
-- A respectful R.I.P. to the late Joan Rivers.
-- Never would have thought I'd find myself defending Kate Gosselin but Vivica was way out of line.
-- Fox wins the award for least able to take criticism. If that boardroom table wasn't so heavy, she would have flipped it as soon as they said her outdoor café was a bad idea.
-- Geraldo Rivera suggests starring in a rap video with two middle-aged women as his backup dancers and everyone on his team allowed it? Not one "nay" vote in the bunch? For real?
-- The Kenya versus Brandi "fight" felt like a firework that doesn't go off. It demanded attention but did nothing with it.
-- Ever since they switched teams it felt like the men have just been actively trying to not accidentally sound sexist. Thank goodness Ziering finally broke the silence by asking Glanville to leave the editing room.
-- Everyone should feel bad for their involvement in those "viral" commercials. Gibbons' commercial had the "Celebrity Apprentice" camera crew in the background for heaven's sake!
-- Pretty sure Donald Trump called "The Amazing Race" a bad show. "Bleep" all you want NBC, we've got the Internet.
-- Still pulling for Ziering
-- Sig Hansen is still on the show. Just a reminder since he's had maybe 40 seconds of camera time.
-- "Celebrity Apprentice" Season 14 continues to teach us that success in business means being the most needlessly aggressive woman or the most silent man.
"Celebrity Apprentice" airs Monday nights at 8 p.m. ET on NBC.
FOR FREE to continue reading
✔️ Unlock the full content of International Business Times UK for free
offer available for a limited time only
✔️ Easily manage your Newsletters subscriptions and save your favourite articles
✔️ No payment method required
Already have an account?
Log in
© Copyright IBTimes 2023. All rights reserved.