'Celebrity Apprentice' 2015 Spoilers: Who Was Eliminated In Episode 5? Kate Gosselin Drama Heats Up With Cat Fights In The Boardroom [RECAP]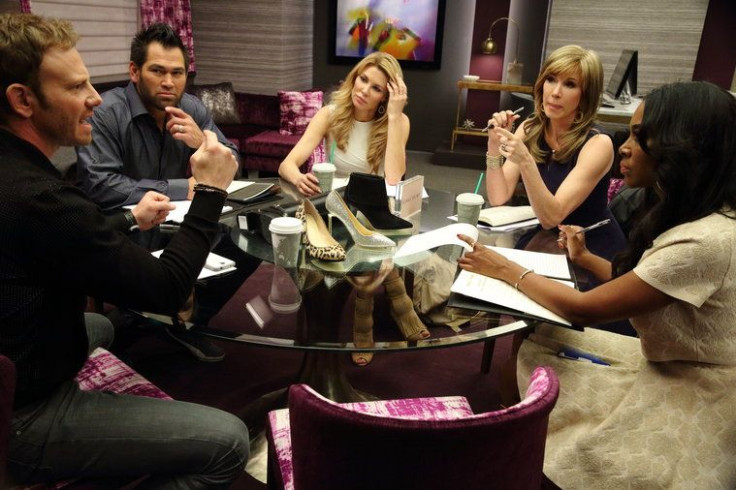 With just three weeks left until a winner is crowned, things got interesting on NBC's "The Celebrity Apprentice" Monday night. After sending home Olympian Shawn Johnson and actor Lorenzo Lamas last week, the remaining contestants were tasked with getting a party going on a Manhattan tour boat and creating an interactive set to advertise a hotel.
The first task saw Brandi Glanville step up as project manager and, given that it was a boat-centric task, Captain Sig Hansen stepped up for Team Vortex. Each team skipped the initial planning stage in the suite and moved right to their respective boats to start getting things ready.
Geraldo Rivera got the headaches started by immediately suggesting getting Civil War reenactment people to come and fire fake guns in the middle of the Hudson River. He also suggested getting "immigrant types" to come and do something when their boat approached Ellis Island (he truly didn't elaborate beyond that). While these ideas were downright horrendous, Kate Gosselin of all people was able to talk him out of them. Unfortunately, the women played their veto card too early and nothing could then stop Hansen and Rivera insisted on hiring Hooters girls to come serve people at the party.
Meanwhile, Brandi initially green lit a Mardi Gras theme for her team's party only to change her mind once she realized that Mardi Gras was not the best way to represent a tour of New York City. The abrupt change ended up being the right choice as they threw the decidedly better party. The only blemish on Brandi's stint as project manager was when her rival, Kenya Moore, came out with backup dancers to sing her song "Gone With The Wind Fabulous" (which can only be considered music in the most technical of senses). The Real Housewives star started off classy but eventually got a little too drunk on applause and found herself doing sexy moves on the ship's deck. It was not appropriate for most adults, let alone the handful of children that were present.
Ultimately, Moore's awkward musical number didn't sink Team Infinity's ship as Trump gave them the win in the boardroom. Rather than draw out the suspense, Trump made it clear that it was unacceptable for Sig Hansen to lose a task that was based on the water and made him the first "fired" victim of the night. However, Sig's firing gave Ian Ziering the ammunition to finally convince a good portion of his team that the real danger for everyone in this competition is the lunacy of Geraldo Rivera – a task he's been working on since week two.
With that, it was on to the next task of the night. For those who have been following along, they'll note that Hansen's firing left the teams too uneven to continue. To resolve that issue, Trump broke up cat-fighters Kenya Moore and Brandi Glanville by sending Moore to Team Vortex.
The teams were tasked with creating an interactive set that would highlight all the features of Donald Trump's luxury resort in Florida. Proving that she can't go more than five minutes without causing drama with another woman, Moore immediately took issue with project manager Kate Gosselin sending her out to shop. She insisted that her talents were better spent making the design look better. Gosselin put her foot down and sent Moore and Vivica A. Fox out all day to get supplies. Not done feeling slighted, Moore then turned her anger on Fox, saying that the task was taking too long because of her.
Meanwhile, Ian Ziering led Team Infinity on a relatively uneventful task. Like he did the last time he was project manager, Ziering was able to really deliver and motivate people with the prospect that he's playing for charity. The only hiccup for his team was when Brandi Glanville decided to move a prop and Ziering voiced his objection in a very rude way. The two butt heads on last week's task as well but it's hard to really call their relationship a "feud." It's really more a case of two people who don't work exceptionally well together.
Ultimately the sins of Team Vortex were the most egregious and Gosselin's team was sent to one of the most intense boardrooms yet. It was no surprise that Gosselin immediately put the blame on Fox and Moore. The two women are so dangerous with their backs against the wall that the boardroom conversation quickly devolved into a screaming match as the two ladies threw shade at each other. Fox called out Moore for her inability to work on a team and her tendency to talk herself up with no real results to back it up. Moore fired back saying that when she went up against Fox as project manager, she won. Meanwhile, Rivera sat quietly for once.
Despite the backstabbing and unprofessionalism of Kenya and Vivica's cat fight (which included the word "badonkadonk" mind you), Trump shocked everyone by firing Gosselin saying simply that it was her time. Seriously, he had almost no real reason to fire Kate other than the fact that she was the project manager. Sure she lost the task but, believe it or not, it was not due to an inability to manage.
With Gosselin gone, there's only three weeks left until the live finale. Geraldo and Ziering are still locked in a subtle chess game while Fox and Moore are now in an all out war.
Odds and Ends:
- Something about Geraldo Rivera saying "immigrants" just feels super racist. I know it's not, but he walked a fine line.
- "Screw you terrorists, we've won." – Geraldo Rivera on NYC's Freedom Tower
- "I don't trust her as far as I can throw her and I can't even pick that b---- up." – Brandi Glanville on Kenya Moore.
- Sig Hansen had an all-out meltdown when he had to do the bartender's job. That was really intense and terrifying. I wouldn't want to be the weak link on his crew.
- Kenya Moore dethrones Geraldo River this episode as the heel of Season 14.
- Sig Hansen had some beautiful words to say about the United States Coast Guard. Although he got fired, he managed to raise $25,000 for the brave men and women that protect guys like him.
- Someone needs to get a screen cap of Rivera's face during the Kenya Vivica boardroom. Never has anyone looked so uncomfortable.
"Celebrity Apprentice" airs Mondays at 8 p.m. EST on NBC.
FOR FREE to continue reading
✔️ Unlock the full content of International Business Times UK for free
offer available for a limited time only
✔️ Easily manage your Newsletters subscriptions and save your favourite articles
✔️ No payment method required
Already have an account?
Log in
© Copyright IBTimes 2023. All rights reserved.