Champions League Draw Predictions, Schedule: Chelsea vs. PSG, Arsenal vs. Monaco, Real Madrid vs. Schalke And Other Previews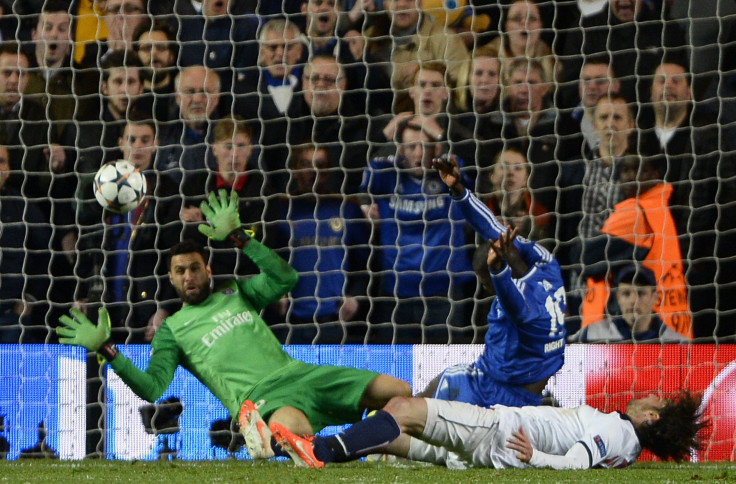 The draw for the last 16 of the Champions League has thrown together some intriguing matchups and several familiar ones. A full three of the eight ties took place last season, confirming the increasing dominance of Europe's major clubs on the latter stages of Europe's showpiece competition. Last season, all eight group winners progressed, but there is reason to believe it could be a different story this time around.
Here's how the ties shape up (the team listed first will play the second leg at home):
Chelsea vs. Paris Saint-Germain (Feb. 17 and March 11)
The current Premier League leaders take on the French champions in a repeat of last year's quarterfinal in which Chelsea dramatically clawed back a 3-1 deficit to progress at Stamford Bridge. It was a game where the difference in the coaching acumen of the two managers was laid bare and it is difficult to see the result being any different this time around. That is especially true given the improvements Chelsea have made since then. With Cesc Fabregas adding an extra creative threat and Diego Costa providing a reliable penalty-box presence, Chelsea should progress without the need for a last-gasp goal.
Prediction: Chelsea
Bayern Munich vs. Shakhtar Donetsk (Feb.17 and March 11)
A first ever meeting between these sides poses a tricky tie for one of the competition's favorites Bayern. But the side from Munich will hardly be unfamiliar with the icy conditions they'll encounter with their trip to Ukraine, and, because of the conflict in the east of the country, Shakhtar will again have to play more than 600 miles away from Donetsk, in Lviv. Shakhtar have the competition's top scorer in Luiz Adriano and another crop of exciting Brazilian talent, but Bayern will prove too strong over the two legs.
Prediction: Bayern Munich
Real Madrid vs. Schalke (Feb. 18 and March 10)
Another repeat tie from last season, and, compared to Chelsea against PSG, it would be an even bigger surprise were this one to go the other way. Real Madrid beat Schalke 9-2 on aggregate in the last 16 last term, demolishingthe Bundesliga side 6-1 in Gelsenkirchen. The Champions League holders remain every bit as devastating going forward, while Schalke, despite Roberto di Matteo taking charge, still look far from convincing and capable of shipping goals aplenty.
Prediction: Real Madrid
Porto vs. Basel (Feb. 18 and March 10)
A draw that neither side will be particularly disappointed with, but from which Porto should progress to the quarterfinals for the second time since winning the trophy in 2004. Both teams have built up significant European experience in the Champions League and Europa League in recent seasons and Basel showed the folly of underestimating them by getting past Liverpool in the group stage. Still, the greater talent, thanks to a continued smart recruitment policy, rests with the Portuguese side.
Prediction: Porto
Barcelona vs. Manchester City (Feb. 24 and March 18)
This is perhaps the most intriguing tie of the round, and yet another repeat from last season. Barcelona won 4-1 in the last 16 last term, helped by a sending off for Martin Demichelis in the first leg at the Etihad that swung things the way of the Catalan giants. Barcelona are not the complete all-conquering force of a few years ago and the potentially devastating forward trio of Lionel Messi, Neymar and Luis Suarez remains a work in progress. Last season there was a sense that City failed to seize an opportunity and lacked the belief that they could oust the European giants. Having got through the group stage so dramatically and ultimately impressively, if all their big players are fit, the Premier League champions can certainly progress. Once again, though, Barcelona's pedigree and individual magic may prevail.
Borussia Dortmund vs. Juventus (Feb. 24 and March 18)
Another of the finely balanced ties and one that brings instant memories of the last time these sides met. Karl-Heinz Riedle was on stage for the draw when a repeat of the 1997 Champions League final in which he scored twice to give Dortmund a 3-1 win over Juventus was set. Both teams have contrasting issues, with Juventus, despite progressing, still failing to convince in Europe, and Dortmund's woeful domestic form leaving them in the bottom three of the Bundesliga. It could go either way, but, especially if Dortmund get a close to fully fit squad available, their pace on the break combined with the intensity of their pressing could prove too much for the Italian champions.
Prediction: Borussia Dortmund
Atletico Madrid vs. Bayer Leverkusen (Feb.25 and March 17)
This is now the fourth time that Leverkusen have been in the last 16 since they reached the final in 2002. Once more, though, it is likely to be as far as they get. Under Roger Schmidt, Leverkusen press aggressively and are more entertaining than the one led by Sami Hyypia and dismantled by Paris Saint-Germain in the last 16 a year ago. Yet they lack the quality up front to capitalize on their chances and Atletico are ideally skilled to soak up the pressure and exploit Leverkusen at the other end for what should be a fairly comfortable win.
Prediction: Atletico Madrid
Monaco vs. Arsenal (Feb. 25 and Mach 17)
Arsene Wenger's return to his former club will certainly be a most welcome one. For the past four seasons, Arsenal have paid a heavy price for finishing second in their group by being drawn against one of Europe's powerhouses and being unceremoniously dumped out. This time they have got the opponent that every runner-up desired. Monaco, after dramatically scaling back their lavish investment in the summer and losing star men James Rodriguez and Radamel Falcao, progressed through their group despite scoring just four goals. However, with just one goal conceded, they have the defensive resilience to stem Arsenal's attacking thrust, which can on occasion lead to Wenger's men over-committing and leaving gaps at the other end. It should certainly not be taken as a foregone conclusion, but this should be the year that Arsenal again get to experience Europe's final eight.
Prediction: Arsenal
© Copyright IBTimes 2023. All rights reserved.