Charles Koch On Morning Joe: Big Donor Is 'Disgusted' With Both Parties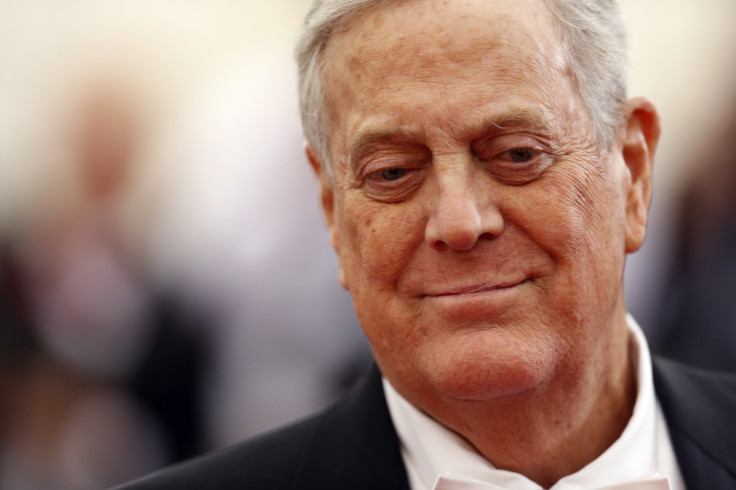 Billionaire Charles Koch, who is frequently cited as one of the biggest spenders on political campaigns, said on MSNBC's "Morning Joe" Tuesday that he and his brother, David, hadn't decided on which 2016 presidential candidate to back. Koch said he's been largely discouraged by what he's seen in the presidential pool "for a long time."
During the interview, Koch denied giving money to two Republican presidential candidates, Wisconsin Gov. Scott Walker and Texas Sen. Ted Cruz, who have been linked to the billionaire brothers. Walker dropped out of the presidential race in September. A $15 million donation to Cruz's super PAC in July was originally attributed to the Kochs but later revealed as being from Texas billionaire brothers Farris and Dan Wilks instead.
"Listen, I made a vow," Koch said. "I'm not going to publicly comment on any candidate. David said some nice words about [Wisconsin Gov. Scott] Walker and that was written up that we were giving millions to his campaign. Do you know how much we've given to his campaign? Zero."
Koch, who is based in Kansas, said he's been disgusted with politicians in both parties for a while and doesn't think that any of the current 2016 candidates could be the answer to what he sees as a country headed to disaster because of "counterproductive wars" and high government spending. He also said he and his brother have both voted for Democrats in the past. His brother, Koch said, has voted for more Democrats because he lives in New York City.
The businessman went on to indicate that he planned on raising $250 million alongside his brother to support candidates up and down the ballot in 2016, not just for the presidential race. Past leaks from Koch political organizations indicate that could be a low-ball number, as the brothers showed earlier this year that they intend to spend much more on the next election. A January leak from a Freedom Partners Chamber of Commerce meeting, a group funded in part by the Koch brothers, showed that the brothers had an $889 million budget for 2016. That number could be impacted by the generosity of donors to the cause, however.
It wouldn't be the first time that the brothers spend an eye-popping amount in a presidential election. The brothers reportedly spent $400 million in 2012, a very large number at the time.
Freedom Partners announced in October that former Florida Gov. Jeb Bush, former Hewlett-Packard CEO Carly Fiorina, Cruz, Kentucky Sen. Rand Paul and Florida Sen. Marco rubio were all serious contenders for the group's support.
During the interview, Koch also indicated that he is opposed to corporate welfare, and thinks that former President George W. Bush spent too much and was a let-down.
The Koch brothers don't frequently give interviews, but they made the exception for the two MSNBC hosts who spent a weekend earlier this year at a Koch-organized policy forum earlier this year. Upon returning from the Palm Springs, California, event, the two were championing the Kochs and some of their positions.
© Copyright IBTimes 2023. All rights reserved.
FOLLOW MORE IBT NEWS ON THE BELOW CHANNELS