Chelsea Transfer News: Rooney, Benteke, Suarez And Ilori Linked In Latest Rumors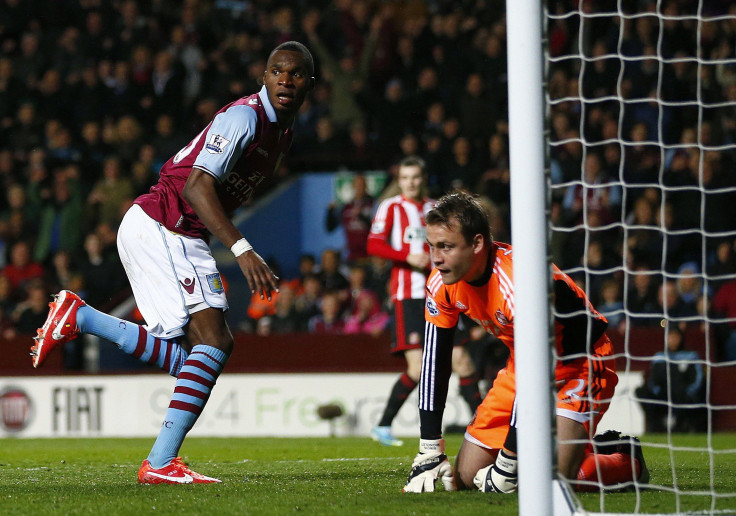 Chelsea have been dealt a fresh blow in their attempts to bring in a leading striker this summer, after the agent of Christian Benteke dismissed the chances of the Aston Villa striker moving to Stamford Bridge. Benteke handed in a transfer request earlier this week, with Chelsea one of the clubs believed to have been alerted to the development. However, it appears that the Belgium international is set on joining the Blues' London rivals Tottenham.
Indeed, the 22-year-old's representative, Eris Kismet, claimed that the chances of Benteke moving to Chelsea were the same as him joining Belgian lower league amateur side Turkese Rangers, according to the London Evening Standard. Benteke's reluctance to join Chelsea appears to stem from his doubts that he would be a regular starter in what is a crucial season for him ahead of next year's World Cup.
Yet, with Benteke having gone out on a limb with his transfer request, it remains to be seen what will happen if the notoriously tough negotiating Tottenham chairman Daniel Levy fails to meet Aston Villa's £25 million valuation. Further hope for Chelsea could come from the Daily Mail's claim that Villa would prefer to ship Benteke off to Chelsea due to ill feeling felt toward Tottenham as a result of Jermaine Jenas's loan deal in 2011.
Still, the situation could lead to further frustration in a summer when Jose Mourinho has yet to secure the forward he desires. Edinson Cavani is still deliberating over a move to Paris Saint-Germain, after the French champions were the only club to meet his €63 million (£54.2m) buyout clause, while Radamel Falcao has already gone to fellow big-Spending Ligue 1 side Monaco.
The Daily Mail reports that Wayne Rooney is Mourinho's primary target. While Manchester United manager David Moyes continues to insist that Rooney is not going anywhere, he has also failed to say whether the England international has asked to leave. With that doubt still persisting, Chelsea are said to be preparing a deal to match Rooney's wages of £240,000 a week over a five-year contract in addition to a £30 million transfer fee.
Chelsea are also one of the clubs to be credited with an interest in Luis Suarez. Arsenal have recently had a £30 million bid rejected by Liverpool for the forward, who has repeatedly made clear his desire to leave Anfield this summer. And Suarez discussed the rumours about his future in an interview with Uruguayan radio station Sport 890.
"When I'm having a chat with my brother in law and he says 'I saw Chelsea want Luis Suarez' and I say 'Ah yeah I see you're eating up what the press say,'" he said, according to Sky Sports.
"There have been no offers yet, but Liverpool know exactly what is going on and what I want. My agent is in charge, he knows what I want, I am resting and relaxed. I am due back in about ten days, on the 21st of July [for a friendly with Melbourne Victory]... a phone call could change everything."
In other news, Metro has claimed that Chelsea are looking to outmuscle Liverpool in the quest to sign young Sporting Lisbon central defender Tiago Ilori. Liverpool are said to have had two bids for the 20-year-old, who Sporting value at £8.5 million.
© Copyright IBTimes 2023. All rights reserved.