Chelsea Vs. Tottenham: Prediction, TV Channel, Live Stream Info, Team News For Rivalry Match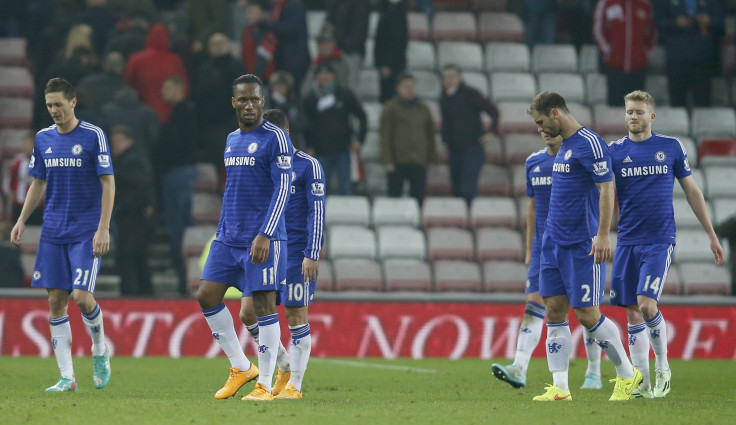 Just a few days ago, the chances of Chelsea not winning the Premier League title seemed about as likely as the prospects of Tottenham ending end their 24-year winless streak at Stamford Bridge when the sides meet at Wednesday. But events over the weekend mean the odds of both, still somewhat fanciful occurrences, have increased ever so slightly.
Chelsea remain unbeaten this season and have the comfort of a six-point gap atop the Premier League table, yet they dropped points for only the third time this campaign and showed some rare vulnerability in a goalless draw with Sunderland on Saturday. Having failed to break down Gus Poyet's men at the Stadium of Light, the home side came close to taking all three points with some notable late chances. Yet Mourinho insists that the result will do nothing to alter his team's confidence.
"[The reaction has been] normal," he said at his press conference on Tuesday ahead of the visit of Tottenham. "What do you want the team to do or feel when the team is doing a perfect season?" he said. "Top of the Premier League, top of the group in the Champions League, quarterfinals in the Capital One Cup, not losing a match in four months.
"The team has to feel very, very well. When the defeat arrives, we have to feel the same way. We are doing things very, very well and it's not a bad result, when a bad result arrives, that is going to change our self-belief and self-esteem."
Still, Chelsea's resolve will be further tested against their London rivals by the unavailability of top scorer Diego Costa. While the Spain striker may have been fortunate to escape being sent off against Sunderland, he did pick up a yellow card that means he now faces a one-match suspension. Again, though, Mourinho has played down the significance on his team.
"We trust [Loic] Remy and [Didier] Drogba the same way we trust Diego," he said. "It's our way of work -- forget Diego we trust the other two."
While Chelsea have had a minor blip, Tottenham secured perhaps their most impressive result of the season, in coming from behind to beat Everton on Sunday. The start to Mauricio Pochettino's reign has hardly been an overwhelming success, but Tottenham have now won six of their last seven matches in all competitions and three on the bounce. As a result Spurs sit seventh in the Premier League table, just two points away from a coveted place in the top four. They have also been boosted by Roberto Soldado scoring his first goal of the season to clinch the win over Everton. As they aim to get a first ever win at Stamford Bridge in the Premier League era, Tottenham will be able to call upon Kyle Naughton, after the defender served his suspension.
Prediction: The result of this London derby is not as easy to call as it was before the weekend. Chelsea showed signs of fatigue against Sunderland and it will be interesting to see whether Mourinho begins to rotate his lineup more with a hectic run of fixtures in December. Tottenham, meanwhile, showed signs of taking on board Pochettino's desire for continuous energy and pressing against Everton. Still, it would be a huge surprise were they to end their winless streak on Wednesday.
Pochettino may be encouraged to follow Sunderland's lead and set up his team to sit back against Chelsea. Yet that is not the Argentine's natural style and it is doubtful whether he has the reliability in defense to count on such a strategy. And going forward, despite the endeavor of Harry Kane, Tottenham still don't have the required fluidity for a top side. Chelsea will likely raise their level for the challenge of their local rivals and, while they will be hampered by the absence of Costa, should emerge with the three points.
Chelsea 2-0 Tottenham
Kickoff time: 2:45 p.m. EST
TV channel: NBCSN
Live stream: NBC Sports Live Extra
© Copyright IBTimes 2023. All rights reserved.