'The Cheshire Murders': HBO Documentary Reveals An Added Level Of Horror To Unspeakable Connecticut Crime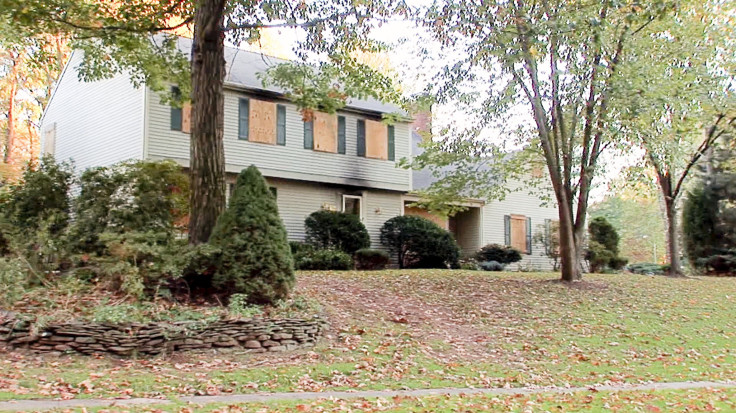 The circumstances surrounding the small-town murders of Jennifer Hawke-Petit and her two young daughters, the subject of the chilling HBO documentary "The Cheshire Murders," are so impossible, so unreasonable, that it's hard to believe they happened at all.
"When it hits you on a gut level it kind of shuts down your brain," said David Heilbroner, a former prosecutor who co-directed "The Cheshire Murders" with Kate Davis.
On July 23, 2007, six years ago Tuesday, the Petit family – William, Jennifer and their daughters Haley, 17, and Michaela, 11 – were the victims of a home invasion turned triple murder at the hands of Steven Hayes and Joshua Komisarjevsky, career burglars who had never killed before. After holding the family hostage for hours in their Cheshire, Conn., home, Hayes drove Jennifer to a nearby Bank of America branch, demanding that she withdraw $15,000 in cash or her family would be killed. Less than an hour later, Jennifer was dead of strangulation, and Haley and Michaela were dead of smoke inhalation after the killers doused the home with gasoline and set it on fire. Jennifer was raped and Michaela sexually assaulted before they died. William Petit, who was severely beaten and tied to a post in the basement, managed to escape and crawl to a neighbor's home for help just before the house went up in flames. All of this happened while the Cheshire police were setting up a perimeter just outside the home, on a quiet but populated residential street.
For Jennifer Hawke-Petit and her two daughters to die that Monday, everything that could have gone wrong must have; multiple lifetimes' worth of bad luck had to have descended on this good-natured, respectable family in the hours between a Sunday afternoon trip to the grocery store and the violent deaths less than a day later.
Komisarjevsky, who is repeatedly alluded to in the film as a suspected pedophile, became interested in Jennifer and Michaela when he spotted the mother and daughter in a grocery store the day before the killings. Guessing, correctly, that they were part of a prosperous family who lived in a nice home, he followed them there from the grocery store and made plans to come back later that night with Hayes to burglarize the place. What happened next and why remains a mystery; the only thing that is certain is Hayes' and Komisarjevsky's guilt: Both offered to plead guilty and accept life in prison without the possibility of parole. But the prosecution demanded the death sentence, and the killers' fates became entangled in a politically charged legal battle around the death penalty in the state of Connecticut.
For a film that shines a light on incomplete police accounts and timeline gaps, "The Cheshire Murders" leaves us with many unanswered questions. At what point did the burglary become murderous, and why? Why was Jennifer allowed to walk out of the bank alone with $15,000 in cash, when just a few minutes' delay could have allowed police to apprehend Hayes there? What were the police outside the home doing while Jennifer and her daughter were being assaulted? Perhaps because the film begins with burning questions about why law enforcement did not meaningfully intervene sooner, it's easy to expect that the documentary will examine with a fine-tooth comb what appears by all accounts to be a tragically flawed police response.
But "The Cheshire Murders" does not purport to be a substitute for, or to correct, a botched investigation; and in any event, the Cheshire police were far from forthcoming about some important details. Instead the film devotes much of its time to the effects the crime had on both the victims' and the perpetrators' families.
"From the start we wanted to look at the ripple effects of a crime like this," Davis said. "It was important for us to look at the families of the perpetrators, who suffered terribly."
"There were a lot of red flags that people didn't look closely enough at," Heilbroner said. "There were opportunities for people to intervene on Joshua's behalf to prevent him from becoming the criminal that he became."
Indeed, interviews with Joshua Komisarjevsky's former caseworker, defense attorney, family and girlfriend reveal that he was a brilliant but troubled young man who excelled at concealing his apparent capacity for violence and whose life could have perhaps gone another way. Steven Hayes' brothers, conversely, do not appear in interviews to be at all surprised that Steven was involved in such a horrific crime, and are perhaps less sympathetic toward him than Jennifer's kindly, broken-hearted parents, who struggle to reconcile their religious objections to capital punishment with their quiet determination to see justice served.
One need not go further than the comment sections of news stories about the crime to find that William Petit, a prominent physician, was viewed with suspicion by a segment of the general public that questioned why he was able to escape just before the house caught fire, how he recovered so quickly from his life-threatening injuries, and why he was sleeping on a couch on the porch at 3 a.m. when Komisarjevsky and Hayes arrived at his home. In "The Cheshire Murders," only a passing reference is made to the possibility that Petit was more than a victim – in the offices of the Hartford Courant where reporter Colin Poitras, who worked tirelessly to extract information about the crime that the police were reluctant to disclose, dismissively alluded to rumors that Dr. Petit was somehow involved.
Petit was never a suspect, and it does not appear that anyone familiar with the case – including the filmmakers – has a shadow of a doubt. "He was really suffering," Heilbroner said. "It was obvious the minute you got near him what a pained mental state he was in. ... He had a hard time, frankly, getting up in the morning."
Jennifer's sister Cindy Hawke-Renn, who, with her parents, maintains a close relationship with Petit, has devoted herself to finding out how it is that her sister and nieces were not saved; her amateur detective work helped alert the husband-and-wife filmmaking team to questionable claims in the police department's account of what happened that day. Davis and Heilbroner, who arrived in Cheshire just weeks after the murder and began a relationship with Cindy a few months later, said their original plan was never to go after the police – and that Cindy is not out to get them either. She just wants answers.
"Cindy is not vengeful," Davis said. "She is not trying to bash the police."
Petit, a vocal advocate for preserving the death penalty in Connecticut -- which was abolished for future cases in 2012 -- has been supportive of the police. Asked why this might be, the filmmakers said they believe he didn't want to alienate members of law enforcement who were key witnesses for the prosecution. "It was in his interest to maintain good relations," Heilbroner said.
Davis and Heilbroner repeatedly reached out to the Cheshire Police Department to participate in the film, and were repeatedly rebuffed. The filmmakers said they warned the department that the documentary takes a critical look at the police response. "We said, please, give us your side of the story," Davis said.
Perhaps after seeing "The Cheshire Murders," the police will wish they had.
'The Cheshire Murders' will air on HBO on Monday, July 22, at 9 p.m. ET.
© Copyright IBTimes 2023. All rights reserved.