Chicago Blackhawks vs. Anaheim Ducks: Prediction, Betting Odds, TV Schedule For NHL Playoff Series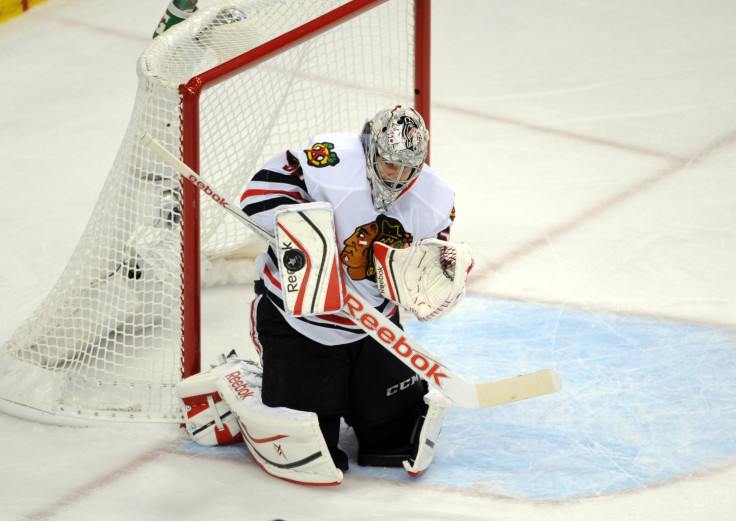 The Chicago Blackhawks enter their third straight Western Conference Finals with plans to erase the memory of last year's result. Chicago fell at home to the eventual Stanley Cup champion Los Angeles Kings in a heartbreaking Game 7, losing 5-4 in overtime and missing the opportunity to defend their Cup title.
This year, Chicago squares off against another Southern California squad, the Anaheim Ducks, with the series taking flight with Game 1 Sunday afternoon at the Honda Center.
"You know what — it's another year," veteran Blackhawks right wing Marian Hossa said to the Chicago Sun-Times about last year's playoffs. "So we've got a little bit different team. We definitely would like to end up differently this year. We know what happened last year But this is another year. You don't look behind. You always look forward."
For the Ducks, it's their first appearance in the conference finals since winning it all in 2007.
Both sides should be well rested after they waited for the Eastern Conference to wrap up its second round. Chicago last hit the ice on May 7 when they completed a four-game sweep of the Minnesota Wild. The Ducks needed five games to eliminate the Calgary Flames on May 10, but will have had almost a week to prepare and refresh their legs.
Based off their performances in the last two rounds, this seemed like the most obvious and entertaining matchup hockey fans could hope for. Chicago's dropped only two games during the postseason, with points and scoring leader Patrick Kane along with center Jonathan Toews leading the attack, and defenseman Duncan Keith sporting a 10-plus plus minus and dishing out a team-best eight assists.
The Ducks only let one game slip away so far in these playoffs, a nail-biting 4-3 overtime road loss to the Flames. Otherwise they've dominated in the first two rounds, outscoring Calgary and the Winnipeg Jets 35-18 over nine total games.
Anaheim's especially benefited from playoff points leader and right wing Corey Perry and the playmaking of center Ryan Getzlaf. Perry leads all players with 15 points, seven goals to eight assists, and Getzlaf's carried his stellar play of 45 assists in the regular season into the playoffs with 10 assists and two goals.
Each team has clearly displayed the proper firepower to claim the conference title, which is why the series could very well come down to who's better in net.
Chicago might have the edge in goal with both keepers Corey Crawford and Scott Darling playing at a high level. Crawford's gone 5-1 in seven games with a .916 save percentage, 175 saves to 191 shot attempts, and one shutout. But his backup Darling has fared even better in his postseason debut. In five games, the 26-year-old owns a 3-1 record, a 2.22 goals against average, and .936 save percentage, all of which allow the Blackhawks some flexibility if the series goes a full seven games or Crawford struggles against Anaheim's vaunted attack.
The Ducks don't have the same depth at keeper right now, but second-year goalie Frederik Andersen hasn't given them reason to worry. Boasting a .925 save percentage and 8-1 record the Denmark international's been exceptional throughout much of the postseason.
TV Schedule (All times Eastern)
Game 1: Sunday, May 17, Chicago at Anaheim on NBC 3 p.m.
Game 2: Tuesday, May 19, Chicago at Anaheim on NBC Sports 9 p.m.
Game 3: Thursday, May 21, Anaheim at Chicago on NBC Sports 8 p.m.
Game 4: Saturday, May 23, Anaheim at Chicago on NBC 8 p.m.
Game 5*: Monday, May 25, Chicago at Anaheim on NBC Sports 9 p.m.
Game 6*: Wednesday, May 27, Anaheim at Chicago on NBC Sports 8 p.m.
Game 7*: Saturday, May 30, Chicago at Anaheim on NBC Sports 8 p.m.
(*) If necessary
Betting Odds: Anaheim is favored to win the series at 10/11, compared to 19/20 for Chicago, according to OddsChecker. Chicago has the edge the longer the series goes, with Anaheim winning in seven games at 9/2, and Chicago in six or seven games also at 9/2.
Prediction: Much of this series hinges on Anderson, who will need to maintain his form if Anaheim hopes to advance past a potent Chicago attack. This promises to be a very tight series, and the Ducks may have just enough to escape.
Anaheim in 7.
© Copyright IBTimes 2023. All rights reserved.
FOLLOW MORE IBT NEWS ON THE BELOW CHANNELS