Chicago Cubs vs. Pittsburgh Pirates 2015: Prediction, Betting Odds For NL Wild Card Game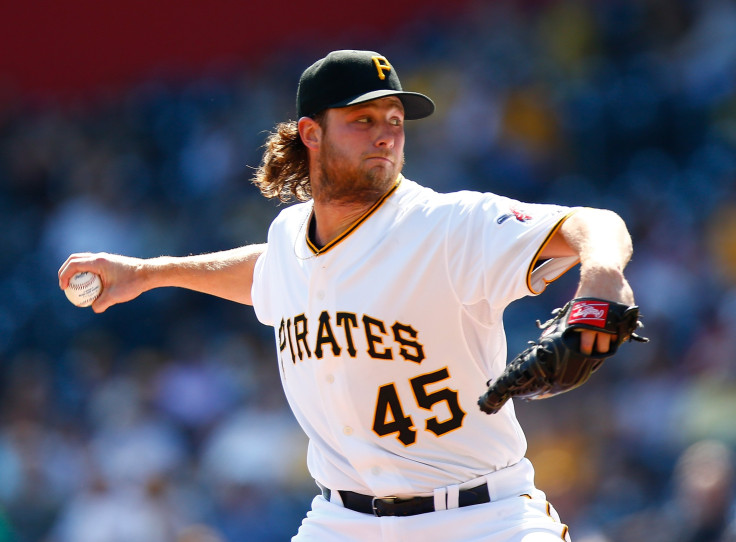 The Pittsburgh Pirates finished the 2015 regular season with MLB's second-best record, winning 98 games and earning home-field advantage in their first playoff game. But they'll have a tough time making it to the NLDS when they host the Chicago Cubs in Wednesday night's National League Wild Card Game.
Pittsburgh is tasked with trying to score off of Jake Arrieta, which many teams have been unable to do this season. The starter went at least six innings and allowed no runs in 12 starts this year, and he's been the best pitcher in baseball since the All-Star break.
Arrieta finished the season with an MLB-best 22 wins and a 1.77 ERA. He has a 0.43 ERA in six August starts, and he pitched to a 0.45 ERA in September. Two of those September starts came against the Pirates, who only scored one earned run off of Arrieta in 15 innings.
On Sept. 16, Arrieta went eight innings at Pittsburgh, allowing one earned run and six hits in a 3-2 Chicago victory. Eleven days later, Arrieta gave up just one hit to the Pirates at Wrigley Field, striking out nine batters in seven shutout innings.
Andrew McCutchen is Pittsburgh's best hitter, and he's had some success against Arrieta. The centerfielder has a .348 career batting average against Chicago's ace in 23 at-bats. But the rest of the Pirates' lineup has struggled mightily against the right-hander.
Pedro Alvarez and Francisco Cervelli are a combined four-of-30 against Arrieta. Starling Marte led Pittsburgh in hits this season, and he's gotten just four hits in 17 at-bats against the Cubs' top pitcher.
Arrieta's dominance has made the Cubs favorites to win and advance to the NLDS against the St. Louis Cardinals. Las Vegas casinos have Chicago listed as -130 favorites, and the Pirates have been given +120 odds to win on Wednesday, according to vegasinsider.com.
Gerrit Cole is certainly no pushover, and he gives Pittsburgh a good chance to beat Chicago. His 2.60 ERA ranks fifth in the NL, and he defeated the Cubs in his second-to-last start. Cole allowed one run in seven innings to Chicago on Sept. 25, though the Cubs had more success 10 days earlier, scoring four runs, three of which were earned, off Cole in Pittsburgh.
Cole was above average in the second half of the season, but he didn't pitch like a Cy Young candidate. He has a 2.98 ERA since the All-Star break, and his September ERA of 3.29 was his worst in any month this season.
Chicago's top hitters have been good against Cole. Kris Bryant has three hits in nine at-bats, and Anthony Rizzo is hitting .353 against Cole. The right-hander has allowed six hits in 17 at-bats to Starlin Castro.
Cole does have one advantage over Arrieta. He's started in two career playoff games, allowing three earned runs in 11 innings. Arrieta has never pitched in a postseason game in his career.
The Pirates have lost four of their last seven games, and no playoff team is playing better than the Cubs. They've won eight consecutive games, outscoring their opponents by 25 runs during that time.
Prediction
Unless he's facing Clayton Kershaw or Zack Greinke, it's almost impossible to pick against Arrieta when he's on the mound. He's allowed either one or no earned runs in nine of his last 10 starts, and Cole could seal the Pirates' fate if he allows even just one run.
Chicago over Pittsburgh, 3-0
© Copyright IBTimes 2023. All rights reserved.