As China Changes Leadership, Taiwan Looks On With Hope -- And Amusement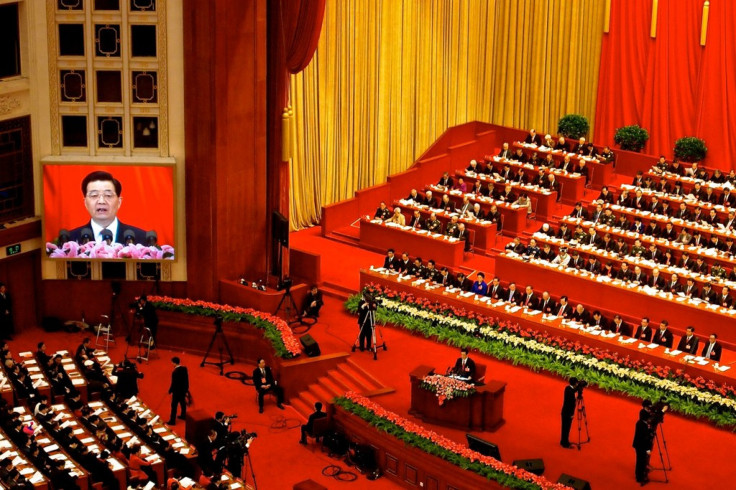 All eyes are on China, as the world waits for Thursday, when the Communist Party will finally unveil, at the end of its 18th National Congress, the leaders who will rule China for the next ten years.
People in Taiwan and in the special administrative region of Hong Kong are paying especially close attention to the movements in Beijing.
Following the strict tradition passed down through four generations of leaders including Mao Zedong, the process of forming the Politburo Standing Committee –nine men (they are, according to most speculation, all men) who essentially rule the entire country of 1.3 billion -- is highly secretive. Observers have little to go by other than the public utterances of leaders.
"The whole party must keep in mind the trust the people have placed in us and great expectations they have of us," said outgoing President Hu Jintao at the Congress, addressing specifically the rising public concerns about official corruption and "unbalanced, uncoordinated and unsustainable [economic] development."
Hu's speech set the tone for the next generation of leaders, including some ambitious goals such as doubling household income by 2020. The speech itself led to innumerable reports and analyses that attempted to decipher the subtle meanings behind each word.
Reporting on Chinese politics is very different from reporting on American or any other Western country's politics, for it requires extensive close readings and speculation. Chinese politicians are mostly, by longstanding custom, careful speakers whose vague political jargon requires interpretation.
And that's what the world's reporters have been doing in the past week: incessantly analyzing the press conferences of party delegations from each province and of important central government units.
This presented rare opportunities for the global press to seek direct response from politicians: both Taiwan and Hong Kong sent their best journalists. Though the responses were mostly scripted and clearly well-rehearsed, reporters were still able to extract pertinent information regarding political and economic implications for their regions.
The messages from Chinese lawmakers were presented in a convoluted way, but the implications of these words hold such importance for the people in China, Hong Kong and Taiwan that no one takes them lightly.
Economics is the principal focus of this Congress. Both Hu and Wen Jiabao, the outgoing prime minister, have publicly warned that the nation's growth relied too much upon investment and not enough on household consumption.
The latter plummeted to an all-time low in the past decade, going from 45 percent of total GDP to 35 percent. (In the United States, consumer spending represents about 70 percent of GDP.) Many consumers in China still choose to save most of their income to combat rising inflation and to compensate for the state's inadequate health care and retirement programs.
Also, the state-run banks kept interest rates so low that many people diverted their savings into the housing market, and a housing collapse could potentially lead to a long period of economic decline.
In addition, China's economy is in fact already facing a drastic slowdown.
GDP growth this year has slipped from an average of 10.7 percent in the past ten years to 7.7 percent, signifying the transition of the nation's economic development to moderate expansion.
However, it's not all bad news. The slowdown has been interpreted by some analysts, including Michael Pettis in the Financial Times, as an opportunity for rebalancing.
Reporters from Hong Kong and Taiwan have focused extensively on economic development in China, especially with respect to trade relations with China's regional neighbors.
However, the political implications of the leadership change in Beijing are just as important.
Taiwan's media focused extensively on how the transition would affect the existing trading partnership across the Taiwan Strait. By analyzing Hu's speech and Taiwanese President Ma Ying-jeou's responses, most media expect cross-strait trade to rise in the coming years.
Moreover, Taiwanese media interpreted Hu's opening speech as very friendly, with hopeful visions of deepening cultural and economic ties with Taiwan.
Hu still emphasized that all efforts supporting the independence of Taiwan and consequently the division between Taiwan and mainland China remain unacceptable, but Taiwanese media did not perceive that emphasis as denoting hostility. It was just the norm; that's what Beijing always says about Taiwan, no more and no less.
Moreover, Ma and Hu seemed to be sharing a consensus on maintaining the "One-China" principle set in 1992, which claims that there is only one China, but with the two sides maintaining a different view of what that one China represents.
On a lighter note, Taiwanese media reacted with amusement to the extraordinary, harsh security measures employed in Beijing during the congress – for example, sales of knives are prohibited, and handles for rolling down car windows have been removed (so that people can't throw flyers out when driving.)
Moreover, after the Congress convened last Thursday, the Internet in China went through an extensive lockdown – a security measure adopted by the Chinese government to prevent widespread opposition against the Communist Party.
For example, on November 8, when the Chinese Communist Party convened the Congress, the Weibo social networking site (China's version of Twitter) logged only 500 comments – clearly the victim of state-controlled censorship.
These reports, however, also hardened the perception Taiwanese people have of repression on the Mainland.
For the Taiwanes, freedom of speech and democratic elections have become such an intrinsic and inseparable part of life that Beijing's behavior when it comes to suppressing political dissent seems farcical and strange.
© Copyright IBTimes 2023. All rights reserved.